Bieber in a Bottle
The exploding market of celebrity perfumes.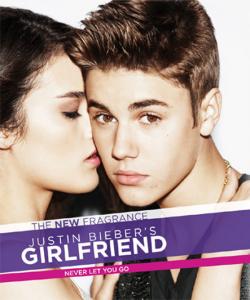 When Justin Bieber released Girlfriend, his second perfume, last month, his teenage fans weren't the only ones salivating. Bieber's first scent, Someday, had netted $3 million in its first three weeks at Macy's last summer, prompting the department store's president to announce it "the biggest celebrity fragrance launch on record." In a market glutted with celebrity fragrances, that's saying something. Never mind that Someday smelled "like crayons mixed with bubblegum" in the words of one snarkster; to 12-year-old girls, that particular mixture apparently smells like love.
The celebrity fragrance market has so exploded in the last 10 years that many in the industry worry the field is cannibalizing itself. Seventy-three celebrity fragrances were launched last year alone, up from nine a decade before, according to Michael Edwards, the industry expert who maintains a database called Fragrances of the World. Marketers and retailers like celebrity perfumes and colognes because they tend to introduce a younger clientele to the idea of buying fragrance and because their buzz draws more shoppers into stores.
So yeah, of course Snooki has a perfume (it smells of kiwi and "pink cupcake"), which she peddled on HSN, and Katy Perry has two, which she sells in excruciatingly cute cat-shaped bottles. And for some reason, Bjorn Borg has five. And P. Diddy favors Tarzan-ish names for his colognes, like I Am King and I Am King of the Night. Even Tilda Swinton came out in 2010 with her own scent, inspired by the Sufi poet Rumi and the scent of ginger, though she's one of the few truly distinguished celebrities who has. (Life is unfair: Swinton offers us just one perfume, while Antonio Banderas has more than 30.)
So how do you craft a celebrity fragrance? Increasingly, clever packaging is the key to breaking through a cluttered market. Bottles come studded with rhinestones or glow lights or, in the case of Bieber's Someday, with a huge pink flower and "a removable crystal heart charm from Justin." As for the smell, well, this isn't rocket science. While fashion houses may be more experimental with their scents, the expert noses behind celebrities tend to craft tame fragrances, broadly accessible to younger consumers and their untrained noses.
"They're soft and they're sweet and … they're easy to wear," says Karen Grant, the beauty industry analyst for market research firm NPD Group. "The consumer they're engaging with is new to fragrance in some way, so she's not going to understand something that's too difficult."
Still, within that world, there are categories. There are the youngest celebrities who tend to offer edible scents—fruit candy, cupcakes. There are the celebrities who churn out perfume after perfume, tweaking each formula just enough to merit a new bottle and new shelf space at Macy's. There are the bad girls, who offer a little spice. Herewith, a brief and selective taxonomy of some of the latest celebrity scents.
When he launched Girlfriend in June, Justin Bieber promised the scent would prove "more mature" than his first. This was a relative description. If Someday was meant for the tween fan, Girlfriend is for that tween's barely pubescent older sister. Lemony and bright with a hint of Juicy Fruit from its berry top notes, it smells like youthful optimism. It is Bieber's persona bottled, points out beauty marketer Karen Young—"perky," "bouncy," "all-American" (even though Bieber is Canadian).

A cursory smell session at Macy's suggests the younger the celebrity and the cuter her image, the more sugary the scent. Katy Perry has described her second scent, Meow!, as "very sweet" and "inspired by that magical place, Candyfornia!" Selena Gomez launched a scent this summer so cloying it could be called Eau de Grape Slushie.
And along with the sweet scents come bright, plastic, juvenile packaging. Even as Bieber has been debuting a more mature look and sound (as well as a growing fondness for theatrical crotch grabs), his perfumes look like they belong on the shelves of Toys R Us. One commenter on Fragrantica, a site for perfume addicts, described Girlfriend as looking like "a purple vibrator that was stuffed into the ribcage of a unicorn." Which is surprisingly apt.