The TV Club, 2014
Entry 16: The Roosevelts: An Intimate History was so good I stopped playing Candy Crush.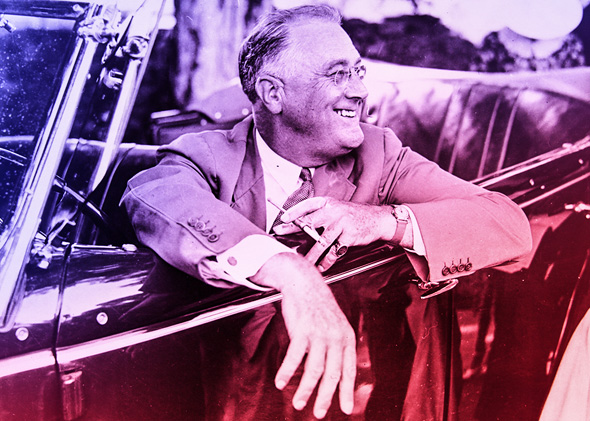 I must second Willa's love for Gaby Hoffmann. As Girls' Caroline Sackler and Transparent's Ali Pfefferman, she created exasperating characters that could easily have been one-dimensional brats. Instead, she was able to convey the past hurts and damage that shaped those messed-up women. Brava x 2!
Mo, you sang the praises of Sarah Lancashire, who came to a lot of Americans' attention for the first time this year in Happy Valley, and I've got to join in the chorus on that one, too. I've been watching Lancashire since the late '80s when she made her Coronation Street debut. Back then she managed to find real depth in a silly comedic role, and 30 years later, she brings so many layers to every part that she reminds me of a living, breathing mille-feuille. (I just remembered that earlier this year I wrote about Lancashire's many "crème-brûlée characters … hard and brittle on the outside, soft and mushy under the surface." I promise never again to compare her to a sweet treat.)
Lancashire is a double-dipper, serving soft-centered (GODDAMMIT!) fabulousness on both Happy Valley and Last Tango in Halifax, but another couple of two-rolers who deserve special mention are Niecy Nash and Laurie Metcalf. I've been in love with Nash's comedic stylings since her turn as big-butted, bumptious Deputy Raineesha Williams on Reno 911! This year's roles—on Getting On as DiDi, a good nurse who has to put up with endless nonsense from her idiot bosses on a geriatric ward, and on The Mindy Project as Jean Fishman, the lesbian chief of obstetrics who has to put up with endless nonsense from Mindy Lahiri and her colleagues at Shulman & Associates, including Mindy's accidental courtship—are in a much quieter register. Still, nobody expresses the sentiment known on the Internet as SMDH more effectively than Nash. Meanwhile, Metcalf is bringing brittle back on The McCarthys, where she's the Good Wife–loving materfamilias of a sports-obsessed Boston family, and on Getting On as Jenna James, the oblivious, research-obsessed physician who happens to be DiDi's boss.
Another standout "performance" came in a documentary series. I know this is heresy, but I've never really cottoned to Ken Burns' work—at least not before this fall, when I stayed in a hotel for a week during a reporting trip to Alabama. Years of fast-forwarding through the ads on my home DVR have left me constitutionally incapable of sitting through TV commercials, so I switched to PBS, where I got hooked on The Roosevelts: An Intimate History. So hooked, in fact, that when I got home, I watched the entire seven-part, 14-hour series all over again. Of course, the story of Theodore and Franklin and Eleanor is pretty extraordinary in and of itself, but it was the point in the fourth episode when Burns' longtime collaborator Geoffrey C. Ward told the story of FDR contracting polio that gripped me. There was so much empathy in his voice when he described the emotional impact of the disease—"It produces terror, unreasoning terror; you just can't believe that the legs you depended on simply don't work," he said—that it was clear he'd felt that terror himself. There was no more Candy Crush for me during the rest of the series.
Mo, I'm glad you mentioned Defiance. I'm so impressed by the creative team's willingness to take its time unspooling plotlines. After all, it surely isn't coincidence that in this story of humans learning to get along with the alien races that have invaded Earth, the men of the McCawley family, who own the town's mine and thus control its natural resources, are played by First Nations actors. Yet as far as I recall, Defiance has never overtly referenced that bit of casting. But your praise for Jaime Murray reminds me how many great actors are on shows that fly under the critical radar.
Take Elementary. When the CBS take on Sherlock Holmes premiered back in the fall of 2012, I complained that the mystery in the pilot was a "disaster." (In that same piece, I heaped praise on Vegas and Made in Jersey. Oops.) I daresay the plots have gotten stronger since then, but I barely notice anymore. The platonic relationship between Jonny Lee Miller and Lucy Liu, as Holmes and Watson, is so fascinatingly complex, I don't really care what pretext brings them together. And just last week as I was watching Law & Order: SVU, I was struck by how much the acting has improved over 16 seasons. Christopher Meloni, Richard Belzer, Dann Florek, and many others may have bidden the show farewell, but Mariska Hargitay, Kelli Giddish, and, yes, Ice-T are killing it these days.
I could keep typing for another 16 years, but I have television to watch.