Justified, Season 4
A new mystery for Raylan and a new foil for Boyd.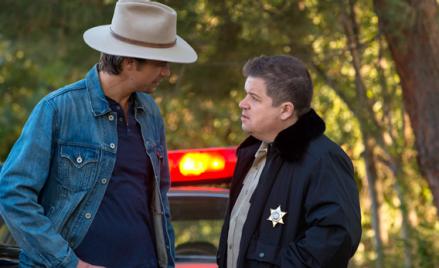 When we last visited Harlan County, Ky., Robert Quarles—transplanted Detroit mobster, Boyd Crowder rival, and Oxycontin addict—had been disarmed by Limehouse; Arlo Givens was in jail after killing the man he thought was his son and taking the blame for a murder that Boyd committed; and Raylan Givens was, for the moment at least, free from any FBI or internal-affairs investigations.
While Quarles' demise was just vague enough that he could theoretically come back from the dead at some point in the future, Season 4 of Justified returns to FX tonight with the promise of a new foil for Boyd (Walton Goggins) and a new (old) mystery for Timothy Olyphant's Raylan to solve. There are plenty of new faces—Patton Oswalt will play a constable hired by Raylan to watch Arlo's house, Joe Mazzello a snake-handling preacher, and Ron Eldard an old friend and new partner of Boyd—but from previews it seems the season's primary plot is a 30-year-old cold case that has something to do with Arlo Givens (Raymond J. Berry) and will have Raylan examining his own childhood.
Whatever new bad guy this cold case brings out of the woodwork, the treat of Justified will remain watching these fascinating core characters evolve. Boyd, however bumbling in the past, is clearly relishing his role as the crime boss of Harlan, even as he struggles with weirdly dwindling sales of Oxy. Arlo is still twisted and demented, and I'm sure he can still cause trouble even from behind bars. And Raylan? In many ways he's still the brash, unrepentant badass that he's always been. But now he's also about to become a daddy. Could this season's mystery, which will take him back to his own childhood, have any effect on the father-to-be?
I will be discussing Season 4 here on Slate in a Justified TV Club, chatting with a rotating cast of critics and Justified fans. We will look for clues to the case, analyze the turf war between Boyd and Preacher Billy (Joe Mazzello), and try to keep track of all of Raylan's past and present lady friends who pop up. Beware: There could be some gunplay involved.