RuPaul's All Stars Drag Race
It shoulda been Yarlexis!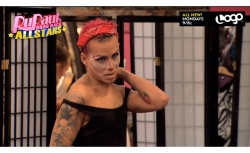 Last week it was Superstorm Sandy and this week it's a little election or some such distraction: given the lack of good commentary on last night's delightful episdoe of Drag Race around the web today, I'm starting to get concerned about people's ability to prioritize. At least I have the solace of knowing via Facebook that one good friend is combining the joys of drag with his civic duty—Ms. Thang werked a "scarf, glasses and voting heels" on her trip to the polling place this morning! Wonder if I can get those rush delivered from erstwhile RPDR sponsor TrannieGear.com?
Anyway, while we anxiously wade through the awkward, content-less marshses of cable news today in anticipation of the dry land of results tonight, at least we have the finality of last evening's elimination to provide some stability. Fan-favorites Latrice Royal and Manila Luzon have passed through the plywood door of the Interior Illusions Lounge (I refuse to use the new name) and into a dank Hollywood soundstage for the last time. While Dan and I both agreed that it was the proper decision given Manila's lackluster lipsynch, I have to say that I'd rather it had been Yarlexis. As Tanner Stransky points out over on EW.com, the level of competition in this shortened-season is super high, with two queens departing each week. Considering Yarlexis' apparent inability modify their performances from Latin gonzo to the more glamour-with-an-ambivalent-dash-of-camp tone of the show, Rujubee, Shad, and Latrilla would have made a more compelling final six.
However, it appears that in commenter-land, some people would rather not have any queens competing against one another at all. Melvin Dean Baker writes:
…I'm so over drag culture. I came out in the early 80s and the vibe of the pre-AIDS drag culture was this nasty, cattyiness in which people projected their bitter, internalized homophobia on each other. That disappeared for a while at the height of the epidemic when we pulled together and cared for each other. It's sad to see the worst elements of this mean culture re-emerging with younger LGBT folks, driven in part by the undue praise for the downsides of a drag culture that has as one of its goals the scoring of points by taking down other queens with the witty, nasty comment…Surely there are new, better ways to express queer gender identity than to recycle this old tired culture of the past.
I can see where Baker is coming from—the shade he doesn't care for can certainly seem vicious at times—but I think we have to consider the issue of sincerity in "the library." Most queens would tell you that the art of reading is not really about tearing another sister down, but instead about demonstrating wit, verbal prowess, and quick-thinking (gay values that, of course, go back to Oscar Wilde's time). At the end of the day, being shady is just a parlor game, and everyone that's playing has already agreed to be there anyway; it's not unlike a straight comedy club in which audience members are jabbed a bit in the spirit of good fun. Moreover, being a drag queen is, generally speaking, not a "gender identity," but rather a job. In addition to being good performers and entertainers, queens have to be funny, and throwing shade is a huge part of that.
Speaking of shady, can you make out what's going on in this mysterious teaser clip for Drag Race Season 5 (excuse me, V)?