Friday Night Lights, Season 5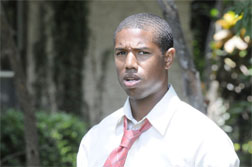 Hey, TV Club—great to be back. Thanks for having me again.
So here I sit, in sunny and warm Los Angeles, and I have to say—I'm still not used to this shit. It's December. The holiday season is in full swing. I wanna get all melancholy and open some red wine and decorate the tree while snow falls and Bing Crosby croons "White Christmas." Instead, today we watched "Rudolph, the Red Nosed Reindeer" on TiVo after yoga and then took the kids to the beach for a swim.
OK, we didn't do yoga. We were making a rib roast. But we did hit the ocean for a dip, and that's weird. It's December, for goodness' sake.
Before I dive in, I'd like to report that Friday Night Lights has been nominated for a Writer's Guild Award for Best Dramatic Series. This is the fifth consecutive series nomination from our fellow writers. I am delighted. I am honored. I am humbled. And I am fully aware of Mad Men. At this point, I know Matt Weiner's acceptance speech by heart. Mad Men is a great show. I personally love it. But maybe it's time to share the love, OK? Maybe this year life will imitate art, and we will pull out a dramatic last-minute victory. Just maybe. …
On to the show. We're up to Episode 6, almost halfway through the DirecTV season, and I want to begin by quoting Plotz. He noticed something about the episode (written by Ron Fitzgerald) that I am going to copy and paste right here:
Before the season started, I predicted that FNL would test the Taylor marriage, but I didn't realize that it would test it in this way. This is much cleverer than Eric or Tami succumbing to adultery: Making Julie into a home wrecker undermines the foundation of Taylorism, which is that their strong marriage and family inoculate Julie.
Well said. It's not just that we like being called clever. Because we do. It's more that David has hit upon one of the central themes we wanted to tackle with Julie's character this season: What does it mean to become an adult?
Technically, Julie has left the nest, and she's in college. But just as technically, she's not that far away, and she's still a teenager. And as any of you blessed with one of these creatures knows—they are an enigma. They are the fruits of your loins and the loves of your life. And they are also a monumental pain in the ass. Because they rarely behave as expected. You nurture them, you raise them, and you try to "inoculate" them against the world with your values, but until they go out and attempt to make their way in life … you don't know whether it worked. You just don't. And that's where Tami and Eric find themselves with their daughter. The given that they thought they had—that Julie has the Taylor integrity—is being called into question. Julie is lost. And she's drifting. And whether her parents might choose to rescue her remains to be seen. …
Emily, you asked about the character of Vince's father Ornette and where he falls on the moral spectrum. I don't think I can answer that right now. Ultimately, that's going to be for the viewer to decide. But what I can say is FNL has often been about fathers and sons, and with Vince the subject seemed to be particularly loaded.
This isn't Matt Saracen, whose father was so absent. And this isn't J.D. McCoy, whose father was so present. It's much trickier. Vince has at least some relationship with Ornette, even though the man has been in prison for a while. And it's complicated by the fact that Vince's mother clearly still loves Ornette, warts and all.
But Coach is the one who's been there for Vince, literally pulling him out of a squad car and setting him on the straight-and-narrow. So now that Ornette is back, who wins? Blood? Or nonblood? Father or surrogate father? It's like a battle for Vince's soul, with the stakes of Vince's future hanging in the balance. And the fact that that future might be Vince's college football career is not by accident. We were very interested in exploring a college recruiting story, and going deeper than we ever did with Smash, by really getting into the nitty-gritty and the delicious unsavoriness of it all. Are these young men meal tickets or human beings? Depends on your perspective, I suppose. Or maybe where you live. But if you want a good example of what I'm talking about, check out ESPN's 30 for 30 segment on Marcus Dupree. This stuff happens all the time, and it's very American. It's also very dramatic. Tragic at times, but dramatic. Stay tuned.
A quick aside here. FNL has incredible series regulars, but another of its strengths is its guest casting. I love the actor who plays Ornette. His name is Cress Williams, and I find his performances to be multilayered and engaging. There's a scene in Episode 3, beautifully directed by David Boyd, where Ornette is saying goodbye to Vince. He offers a handshake, and David smartly had one of his camera operators do a closeup on the hand. I remember sitting in the edit bay, watching that scene, and being mesmerized by the image of Ornette's hand. His fingers were crooked. Crooked and vulnerable, hanging out there for a beat long enough to make us all uncomfortable, before Vince finally shakes it. I asked our editors for a still-frame of that shot for my office wall. It said a lot to me about FNL. I love it.
All right, I'm gonna wrap up now. A few bullet points to end the discussion:
We hung a lot of story on Billy and Mindy this year. Derek and Stacy totally stepped up, and, I can promise, it's gonna get even juicier. Much fun ahead.
Luke is a big part of that. Becky, too. And don't count Jess out, either.
Since I may not be back before season's end, let me just say … the episodes building to the end of the series are many of my favorites. There's gonna be some familiar faces. There's gonna be some football. And since this is Friday Night Lights, there's gonna be some dark times. But when it's all said and done, in a sublime finale lovingly and expertly crafted by Jason Katims, I think you'll all be moved. It's our commencement. The end, but also the beginning. Texas forever, baby …