Mad Men, Season 3
Week 10: Don's New Mom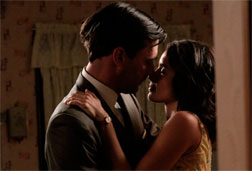 But doesn't it make sense that Suzanne would be a departure from the women Don has gravitated to in the past? Don himself is changing. Whereas in the first two seasons, with the conspicuous exception of the California interlude, Don ignored his past (and in the case of his brother, actively rejected it), this season Don has seemed downright preoccupied with his dark history. There were those flashbacks we carped about back in August, and there was Don's surprisingly frank reminiscence of his hardscrabble roots when he met Connie. And, of course, there's the drawer, into which Don dips with surprising frequency in order to commune with his previous self.
Beyond those overt nods at his own back story, Don has also found in Connie a sort of surrogate father—a dynamic the hotel titan has both encouraged and resisted. But isn't there a sense as well in which Suzanne is a kind of mother figure? Or, at the very least, in which she symbolizes the kind of nurturing, warm, nonjudgmental qualities conspicuously lacking in Don's childhood? Perhaps those attributes we find most cloying in Suzanne as a character ("She's pure. … She holds strong beliefs about the innocence of children. She's both nurturing and modern," as Julia put it) may be precisely what make her appealing to Don. I mean, the woman bakes date nut bread!
"I wish I could have known you at 8," Suzanne tells Don.
"I would've liked you," Don replies sleepily. The Oedipal subtext is pretty clear—and in case you missed it, Don follows with the wonderful line, "Long curly hair. No one has that anymore."
Since her first appearance in the Maypole ceremony, we've been discussing Suzanne as an avatar of things to come—a free spirit, a wood sprite, a hippie. But I think a big part of her appeal for Don is the opposite: She's a concession to his lost childhood, a throwback, a mother figure. "What do you want from me—love?" Connie asked Don, denying Don a gold star for the Hilton campaign. That seems to be precisely what Don's seeking, and while he may not get it from Connie, Ms. Farrell offers it in spades.
I'm glad you mentioned Pryce, John. He's really grown on me through the course of the season. There's something endearing about the resignation with which he says to his wife, "Well, go on, let's have it all, shall we?" The poor guy's getting it on all sides. I love that when he enters Bert's office he has to suggest, politely, that Cooper turn off the TV. ("Do you mind? This is rather serious.") Talk about culture shock: Here Pryce is running a going concern on Madison Avenue, and the name partner waddles around in his stocking feet and spends office hours eating sweets and watching daytime TV. And the joke, of course, is that Pryce loves it and doesn't want to leave. "I've been here 10 months and no one's ever asked me where I went to school," he tells his wife—unsurprising, perhaps, at a firm where the superstar creative director went not to Princeton but to night school.
Unlike you, I loved this episode (almost) in its entirety, Julia, and it seems worth noting that it was co-written by Weiner and Kater Gordon, who, as a recent Jezebel post observed, was sort of the Peggy Olson of the Mad Men staff. She started as an assistant to Weiner, then became a writers' assistant, then a full-time writer, before ultimately sharing an Emmy with Weiner last month for the Season 2 finale, "Meditations in an Emergency." The bizarre and disappointing postscript is that just a few weeks after the Emmy win, Gordon was let go.