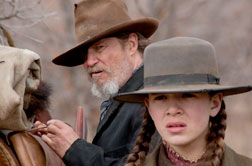 At 5:30 a.m. PT—an hour during which no one, with the exception of a new parent like yourself, should be expected to be cognizant of their surroundings—Mo'Nique, an Oscar winner for Precious last year, threw on a cute gray cocktail dress and headed to the cavernously empty-sounding Kodak Theatre to announce the 2011 Oscar nominations. The fact this took place the morning of the day that the president will give his State of the Union speech lends our confab here a faux gravity. Can you put down your baby long enough to confer with me briefly on the state of the Oscars?
This is only the second year of the expanded best picture Category, with 10 spaces to fill instead of five, and it's easy to pick out at a glance which are the "filler" pictures—movies that, worthy as they may be, don't stand a chance of winning. They're the ones that didn't also get best director nominations: 127 Hours, Winter's Bone, Toy Story 3, Inception, and The Kids Are All Right. The expansion of this category was meant to be a way to open the field to more offbeat or crowd-pleasing choices, but I wonder if the extra spots aren't destined to become a holding pen for second-class citizens. After Kathryn Bigelow's supremely satisfying double win for best director and best picture last year, it's particularly disheartening to see Winter's Bone and The Kids Are All Right, both made by women, relegated to "great film—who directed it again?" status. In fact, now that I think about it, the whole roster is looking pretty white and male this year—the only black thing up on that screen behind Mo'Nique was the swan.
Given that the two movies positioned to be the heaviest hitters were The Social Network and The King's Speech, it was something of a surprise to see the distance between the two open up so wide. The stammering monarch got 12 total nods, well ahead of the autistic entrepreneur at eight. True Grit somewhat unexpectedly pulled into second place with 10 nominations, including best director and best adapted screenplay for the Coens, best actor for Jeff Bridges, and best supporting actress for Hailee Steinfeld (who I'm unabashedly rooting for, but if that wasn't a lead performance I'll eat my broad-brimmed gray felt hat.)
The best supporting actress category had one nice surprise: Jacki Weaver, the Australian actress who played the gorgon mother in Animal Kingdom. Other surprises included Javier Bardem, nominated as best actor for Alejandro González Iñárritu's Biutiful, a movie I still haven't seen (deterred, perhaps, by Bardem's bummed-out face on the poster.) Bardem won't win, of course, but the fact he was recognized signals a degree of fondness for Biutiful that may get it the best foreign language film award.
In the foreign-language category, there was one nominee that will have film nerds whooping with delight: Dogtooth, a strikingly original and deeply perverse Greek film that might have been deliberately engineered to repel mainstream academy voters. (You can get a sense of Dogtooth's weirdness in this clip, selected and annotated by Salon's Matt Zoller Seitz.) I wasn't an unreconstructed fan of Dogtooth—I admired it rather than loved it—but now that it's wormed its way into the lineup, I'm on its side. That film's very presence at the Oscars signals a sly act of infiltration, like that "Soy Bomb" guy who stormed the stage during Dylan's Grammy performance.
Though I'm trying hard not to have any skin in this game, I'll admit I'm already pre-annoyed by the inevitable narrative sweep of Natalie Portman's best actress win. I foresee the modest, demurring interviews she's even now preparing for the talk-show circuit. The think pieces contrasting Annette Bening's maturity and Portman's youth. The adorable maternity Oscar gown that will showcase Nat's darling-but-not-yet-humongous bump (and that fashion designers are even now staging a gladiatorial death match to be allowed to design). The French choreographer boyfriend who coached her through that physically taxing performance, then knocked her up and proposed (a back story that, to me, recalls the Svengali-like central relationship of the film.) The tremulous, classy acceptance speech. Can we just pack her statuette and ship it to her right now? I've got some Styrofoam peanuts in the basement.