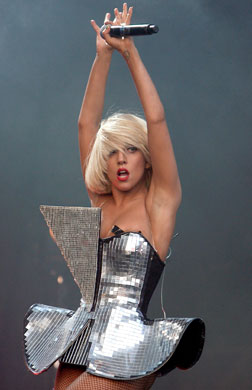 Dear Jonah, Carl, and Ann,
I'm not exactly joking. This year, much of the action in pop music was extra-musical: Gaga's fashion-forward exploits; the death of Michael Jackson; the Chris Brown-Rihanna affair; the Taylor Swift-Kanye West imbroglio; the rise of those TV talent show sexual-button-pushers, Adam Lambert and, uh, Susan Boyle. Ms. Gaga's multiplatform, pan-media, post-everything meta-stardom is just one of many current pop phenomena we scarcely could have envisioned at the beginning of this decade, and I hope we'll expand the scope of our conversation this week to reflect not just on 2009, but on 2000-09—the noughts, or aughts, or, as I prefer to call them, the Beyoncés, about which more below. But first let me dispense with the business of my year-end favorites.
1. Brad Paisley, American Saturday Night
2. Aventura, The Last
3. Micachu & the Shapes, Jewellery
4. Eric Church, Carolina
5. The-Dream, Love vs. Money
6. Miranda Lambert, Revolution
7. Yeah Yeah Yeahs, It's Blitz
8. Ghostface Killah, Ghostdini: The Wizard of Poetry in Emerald City
9. Black Eyed Peas, The E.N.D.
10. Rihanna, Rated R
1. Black Eyed Peas, "Boom Boom Pow"
2. Brad Paisley, "Then"
3. Pill, "Trap Goin' Ham"
4. Miley Cyrus, "Party in the USA"
5. Buddy & Julie Miller, "Ellis County"
6. Jordin Sparks, "Battlefield"
7. DJ Quik & Kurupt, "9 Times Outta 10"
8. Fabolous, "Throw It in the Bag"
9. Richard Hawley, "For Your Lover, Give Some Time"
10. Busy Signal, "Dah Style Deh"
11. Crystal Antlers, "Andrew"
12. Maxwell, "Pretty Wings"
13. Gene Watson & Rhonda Vincent, "Staying Together"
14. Cam'ron, "My Job"
15. Joe Nichols, "An Old Friend of Mine"
16. Aventura, "Por Un Segundo"
17. Eve, "Me N My"
18. Gloriana, "Wild at Heart"
19. Mika, "We Are Golden"
20. The xx, "Basic Space"
21. Nelly Furtado, "Manos Al Aire"
22. Jeremih, "Birthday Sex"
23. New Boyz, "You're a Jerk"
24. Big Boi ft. Gucci Mane, "Shine Blockas"
25. Trace Adkins, "Marry for Money"
My fondness for Brad Paisley will not be news to readers of past Slate Music Clubs. It took me a few listens to warm to American Saturday Night—we're hardest on those we love—but now I rate it as the best album by the star who has most consistently delivered the goods over the past 10 years. (Along with American Saturday Night, I'd rank Time Well Wasted and Mud on the Tires among the decade's finest.) The songs that got all the attention were the title track and "Welcome to the Future," the former a party-hearty ode to the melting pot, the latter a sweeping arena-rock ode to the melting pot—and to iPhones and video chats and, obliquely, Barack Obama.
Anthems like those make Paisley an easy country star for blue-state music critics to cuddle up to. But I'm with Music Club alum Robert Christgau, who singles out American Saturday Night's songs about family and domesticity. The hit was the ballad "Then," which I half-think Paisley wrote just to school Rascal Flatts, Nashville's slow-dance schlock-specialists. ("You think you can rock the prom? Boom.") In formal terms, it's a perfect power ballad, as architecturally flawless as "Open Arms." Those who aren't turned off by the genre in the first place—by big, shameless melodies that crest over stately piano chords and lines about how "the river meets the sea" etc.—will recognize "Then" as an unusually wise and moving (and clever) song about marital love, which Paisley carries off with his typical light touch.
For my money, Paisley is sentimental about the right things, and in the right proportions. But even when he's not being sentimental, Paisley is corny. The funny novelty songs for which Paisley is famous—pure cornpone. I've spent a lot of time defending Paisley from friends who diss him for being corny, but it's not corniness, per se, that they object to. The outlaw country greats whom my friends idolize are corny, too—their thing is grim, dust-in-the-wrinkles, fatalistic, Cormac McCarthy corn. Paisley's crime is optimism. The guy is constitutionally upbeat, and he doesn't try to hide it. He's incapable of good ol' boy bluster. He makes fun of it in his songs.
The truth is, corniness is part of a country singer's job, and Paisley does his job to perfection. He's as virtuoso a country star as Jay-Z is a rap star. In his New York Times reviews of American Saturday Nightand Paisley's Madison Square Garden concert, Ben Ratliff endlessly insinuates that Paisley is a hack. If by hack, Ratliff means genre artist, then, fine, Brad Paisley is a hack—a hack of genius.
Moving down my best albums list a bit, there's Micachu & the Shapes. These Londoners come on like a demented skiffle band, but they're really just a great pop group, who, as best I can tell, start with classically constructed songs, shred them to ribbons, and stitch them back together, Raggedy Ann-style. The result is the year's most pleasurably bonkers listening. Some of the credit goes to Micachu's producer, electronica whiz Matthew Herbert. But the guiding force here is Micachu herself, 22-year-old Mica Levy: musical polymath, toy guitar player, and wearer of a shag haircut more fearsomely snarled than anything Lady Gaga's glam squad could construct. Forget Adam Lambert: Levy is the most exciting pop androgyne to emerge in 2009. We'll be hearing more from her.
In subsequent posts, I hope to discuss some other music on my lists, including the high-gloss spiritual cousin of Micachu's Jewellery—Black Eyed Peas' exuberant, unjustly scorned The E.N.D. (If will.i.am isn't, as Jimmy Iovine has argued, the new Sly Stone, maybe he's the Top 40 Micachu?) But I want to wrap up today with a word about Kanye West and Taylor Swift.
There are all sorts of ways to interpret Kanye's infamous VMAs bum rush. You can call it a parable of musical race relations (black man avenges black woman's defeat by blond teenager) or a clash of genres (rapper usurps country singer). Or you can read it as psychodrama. Did West, who's never been shy about his complicated admiration for Jay-Z, "stick up" for Beyoncé to triangulate his desires vis-à-vis her husband—after all these years, is Kanye still desperately seeking the approval of his "big brother"?
To me the Kanye-Taylor showdown is really about gender—and not just about the sexism of one jackass. In 2009, women have a stranglehold on the pop zeitgeist. Taylor, Beyoncé, Gaga, Rihanna, Miley, M.I.A., Shakira, Carrie, Leona, Britney, Alicia, Mariah, Mary, Madonna, Kelly, Nelly. For the brunch crowd, Norah. For the artsy-fartsies, Neko. For the weirdos, Susan Boyle. Need I go on? Black Eyed Peas were a third-tier backpack-rap outfit when they added a bottle-blond lady MC to their lineup. Now they're the biggest pop group on earth.
As Ann wrote in an excellent Los Angeles Times column, "American popular music reconnected with its feminine side" in the '00s. Today, the male-oriented hard rock and gangsta rap genres are, commercially speaking, increasingly marginal. Indie rock remains largely guy-dominated—notice all the beards?—but indie is by definition niche. As for the pop mainstream, it's not merely by women. Often, it's of women—songs about she-wolves and single ladies that loudly, messily work through questions of post-feminist identity. The fellas, meanwhile, have retreated to secondary, supporting roles—usually as behind-the-scenes gear-heads, making the beats for the gals to sing over. Even Kanye West, arguably the biggest male pop star of the past decade, looks diminished these days. In order to get a word in edgewise, he has to interrupt the acceptance speech of one female superstar to stick up for another one.
But now look who's filibustering. Time for me to put a sock in it and cede the floor to the experts.