Oscars Prediction Dartboard: Who Was Wrong-est?
Visualizing Oscars predictions.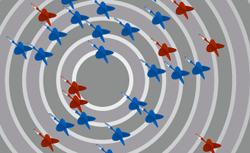 Predictor
Correct
Tom O'Neil
Gold Derby
91%
Paul Sheehan
Gold Derby
82%
Michael Musto
Village Voice
82%
Dave Weigel
Slate
82%
L.V. Anderson
Slate
82%
Anthony Breznican
Entertainment Weekly
82%
Michael Hogan
Huffington Post
82%
Anne Thompson
Indiewire
82%
Scott Feinberg
Hollywood Reporter
82%
Jeffrey Bloomer
Slate
73%
David Rothschild
Huffington Post
73%
Richard Horgan
Mediabistro FishbowlLA
73%
Dave Karger
Fandango
73%
Ben Zauzmer
International Business Times
73%
Danny King
The Film Stage
64%
Pete Hammond
Deadline Hollywood
64%
Thom Geier
Entertainment Weekly
64%
Tariq Khan
Fox News
64%
Glenn Whipp
LA Times
64%
Steve Pond
The Wrap
64%
Susan Wloszczyna
USA Today
64%
Chris Wade
Slate
64%
Thelma Adams
Yahoo
64%
Keith Simanton
IMDB
64%
Emma Roller
Slate
55%
Allison Benedikt
Slate
55%
Christopher Rosen
Huffington Post
55%
Byron Boneparth
Slate
55%
Matt Atchity
Rotten Tomatoes
55%
Aisha Harris
Slate
55%
David Haglund
Slate
55%
Alex Suskind
Moviefone
55%
Kevin Polowy
Next Movie
55%
Chuck Walton
Fandango
55%
Ramin Setoodeh
Newsweek Daily Beast
55%
Forest Wickman
Slate
45%
Mark Hughes
Forbes
45%
Dan Kois
Slate
27%
Jeremy Stahl
Slate
27%
David Plotz
Slate
27%
John Swansburg
Slate
27%
Bryan Lowder
Slate
27%
Katy Waldman
Slate
18%
–
% correct
Picture:
Actor:
Actress:
Director:
Sup. Actor:
Sup. Actress:
Orig. Screenplay:
Adapt. Screenplay:
Anim. Feature:
Docu. Feature:
Cinematography:
Slatesters
Others
The Oscars may be less consequential than presidential elections, but it's another opportunity to gamble for predictive bragging rights. Some, such as the Huffington Post's David Rothschild, have adopted a data-driven, Nate Silver-esque approach, while others simply seem to combine their personal preferences with nebulous theories of the film industry. Now that the Oscars are over, who made all the wrong calls, and who should be condemned for witchcraft?
In the dartboard above, each dart represents the percentage of correct Oscar calls a commentator made out of 11 categories: Best Picture, Best Actor, Best Actress, Best Director, Best Supporting Actor, Best Supporting Actress, Best Adapted Screenplay, Best Original Screenplay, Best Animated Feature Film, Best Documentary Feature, and Best Cinematography. Red darts represent Slate writers, while blue darts represent writers from other publications. Hover over each dart to learn more.
Correction, Feb. 25: Due to a bug in this feature, the scores of some predictions that correctly predicted Searching for Sugar Man would win Best Documentary were off by 9 percentage points. The bug has since been resolved.