The Dude Abides
Jeff Bridges gives the performance of the year in Crazy Heart.
After you've seen Crazy Heart, come back here and check out our Spoiler Special discussion. You can also download the program here, or you can subscribe to the Spoiler Special podcast feed via iTunes or directly with our RSS feed.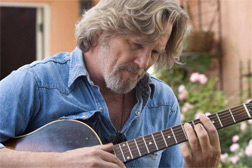 Every detail of Jeff Bridges' performance in Crazy Heart (Fox Searchlight) is so delicious you want to sop it up with buttermilk biscuits: the counterintuitive line readings, the throwaway bits of business, the way he walks and smokes and drinks and flirts and sings. In Bridges' hands, the down-and-out country music star Bad Blake becomes a kind of Fender-playing Falstaff, his pathos inseparable from his humor and his weakness inseparable from his strength. On first viewing, Crazy Heart seemed like a pretty good movie with one great performance. After a second time through, it's sneaking up on the title of my favorite film of the year.
The debut feature of the young writer/director Scott Cooper, Crazy Heart deals with the cliché of the alcoholic, over-the-hill performer the way a good country song deals with the cliché of honky-tonks and Chevy trucks: by embracing the familiar tropes with wit and craft and making them its own. In fact, the film features an actual Chevy truck, the '78 Suburban that Bad Blake drives from town to town with his equipment in the back, gigging in ever-less-impressive venues. The first words we hear him speak are "Shit. It's a fuckin' bowling alley."
In the small New Mexico town where he plays that bowling alley, Bad meets Jean (Maggie Gyllenhaal), an aspiring music journalist who wants to interview him for the Santa Fe paper. Despite the 20-year difference in age, they fall in love, quickly and completely convincingly. (Heretofore, the sexiest screen couple of the year was Clooney and Vera Farmiga in Up in the Air, or possibly Streep and Stanley Tucci in Julie & Julia. Henceforth it's Bad and Jean all the way.)
Bad drives on to the next gig, but he and Jean maintain a long-distance connection, despite her doubts—she's a single mother who's been burned by love before. (I know, I know. Just own it.) Bad and Jean circle each other gingerly until a physical injury forces him to admit his need for her, as well as to confront the sorry condition his Johnny Cash-level addictions have left him in. On the career front, Bad faces a similar choice: He can keep touring the same downwardly mobile dives or swallow his pride and open for Tommy Sweet (Colin Farrell), the young country star who was once his protégé. Tommy has done Bad some wrong in the past that's never fully disclosed—it's enough to know that there's bitterness between them. Farrell is never quite believable as a country boy, but in an odd way that's just right since his character is meant to be something of a slick pretender. Gyllenhaal is even harder to buy as a girl out of Enid, Okla.—her East Coast pedigree is too indelible—but we believe that Jean is crazy in love with Bad, and that's all that matters.
Reading this plot summary, you might think you know what kind of movie this is, but you'd be wrong. As Bad Blake, Bridges displays not a trace of the masochistic wallowing in degradation that characterizes the conventional musician-on-the-rocks biopic (and which was so ably parodied in Walk Hard.) He never slurs his speech when playing drunk, nor does the director cut from his flop-sweat-covered brow to a restless audience. Even at his lowest point, Bad has flashes of self-awareness and humor; he may be committing slow suicide, but he's doing it with a wry smile. Bridges' great strength as an actor is his seeming effortlessness. Unlike a lot of his more solemn fellow thespians, he doesn't like to show his work. He's Zen in the best sense, alive and open, creating things in the moment. It was this quality that made The Big Lebowski's Dude such an unforgettable character—one who has, in a sense, outlived the movie he appeared in. (I barely remember the plot of The Big Lebowski, but I often consult with my inner Dude.) Bad Blake is the same way; you walk out of the movie unable to stop imagining what might have happened to him before and after the story takes place.
I'll end this sloppy kiss of a review with the observation that the songs written for Bad to play are all good, and one of them is sensational. (Bridges does his own playing and singing—not a stretch, as he's been a guitarist for more than 40 years.) I can hardly wait for the soundtrack to drop on Jan. 19. (Why so long, New West Records?) The music coordinator for the film was T-Bone Burnett, and he co-wrote Bad's songs with a group of musicians including Ryan Bingham (who also has a small role as a pickup band leader), and the late Stephen Bruton. I don't know if these songs are credible as the monster country hits they're supposed to be in the movie, but they're catchy as all get-out, with lyrics that suit Bad's style of almost jaunty self-loathing: "I used to be somebody/ But now I am somebody else." A few of the songs get played several times over the course of the film, and with each performance they accrue new meaning: the old crowd-pleasers Bad is sick of playing, the new song he's inspired to write by Jean, the one he wrote for Tommy Sweet that made the apprentice more famous than the mentor. It's rare for the music in a film about musicians to advance the narrative in this way—another of the textural details that makes this apparently simple tale of addiction, love, and the possibility of redemption feel so unusual, and so true.