The Last Word
Christopher Hitchens' widow on his life, his work, and his death.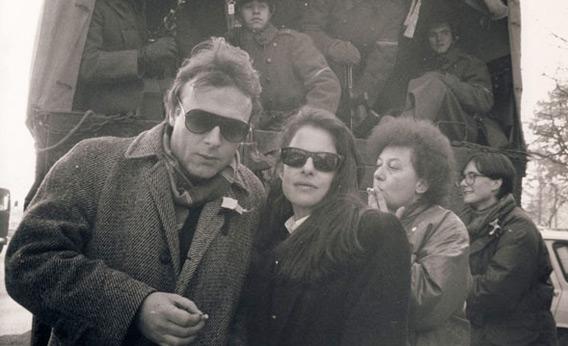 The following is Carol Blue's afterword to her husband Christopher Hitchens' book Mortality, out in September from Twelve.
Onstage, my husband was an impossible act to follow.
If you ever saw him at the podium, you may not share Richard Dawkins' assessment that "he was the greatest orator of our time," but you will know what I mean—or at least you won't think, She would say that, she's his wife.
Offstage, my husband was an impossible act to follow.
At home at one of the raucous, joyous, impromptu eight-hour dinners we often found ourselves hosting, where the table was so crammed with ambassadors, hacks, political dissidents, college students, and children that elbows were colliding and it was hard to find the space to put down a glass of wine, my husband would rise to give a toast that could go on for a stirring, spellbinding, hysterically funny 20 minutes of poetry and limerick reciting, a call to arms for a cause, and jokes. "How good it is to be us," he would say in his perfect voice.
My husband is an impossible act to follow.
And yet, now I must follow him. I have been forced to have the last word.


It was the sort of early summer evening in New York when all you can think of is living. It was June 8, 2010, to be exact, the first day of his American book tour. I ran as fast as I could down East 93rd Street, suffused with joy and excitement at the sight of him in his white suit. He was dazzling. He was also dying, though we didn't know it yet. And we wouldn't know it for certain until the day of his death.
Earlier that day he had taken a detour from his book launch to a hospital because he thought he was having a heart attack. By the time I saw him standing at the stage entrance of the 92nd Street Y that evening, he and I—and we alone—knew he might have cancer. We embraced in a shadow that only we saw and chose to defy. We were euphoric. He lifted me up and we laughed.
We went into the theater, where he conquered yet another audience. We managed to get through a jubilant dinner in his honor and set out on a stroll back to our hotel through the perfect Manhattan night, walking more than 50 blocks. Everything was as it should be, except that it wasn't. We were living in two worlds. The old one, which never seemed more beautiful, had not yet vanished; and the new one, about which we knew little except to fear it, had not yet arrived.
The new world lasted 19 months. During this time of what he called "living dyingly," he insisted ferociously on living, and his constitution, physical and philosophical, did all it could to stay alive.
Christopher was aiming to be among the 5 to 20 percent of those who could be cured. (The odds depended on what doctor we talked to and how they interpreted the scans.) Without ever deceiving himself about his medical condition, and without ever allowing me to entertain illusions about his prospects for survival, he responded to every bit of clinical and statistical good news with a radical, childlike hope. His will to keep his existence intact, to remain engaged with his preternatural intensity, was spectacular.
Thanksgiving was his favorite holiday, and I watched with awe as he organized, even as he was sick from the effects of the chemotherapy, a grand family gathering in Toronto with all his children and his father-in-law on the eve of an important debate with Tony Blair about religion. This was an occasion orchestrated by a man who told me in the hotel suite that night that this would probably be his last Thanksgiving.