Published by

Coming Clean
A Podcast that Goes Behind the Scenes of TV's Best Dark Dramas
Television's most macabre—and memorable—moments have made death, drugs and seedy underbellies of every variety one of today's most delectable guilty pleasures. And much of what is spine-tingling, gut-wrenching and sometimes a tad trauma-inducing is a product of the work of the creative geniuses you don't see onscreen.
Listen here or on iTunes to learn how some of the masterminds in the industry go beyond blood and brains to bring gritty TV to life.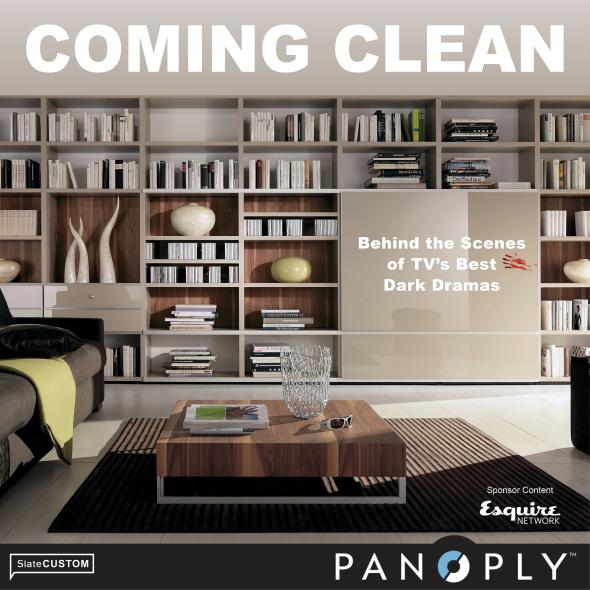 Press play on the Coming Clean podcast to learn how production and special effects legends bring their visions to life, what they do to stay emotionally sane on the job, how to win a fight with Steven Spielberg, the value of keeping blood and guts "classy"—and if they've crossed over to the dark side for good.
Josh Zepps, host of the HuffPost LIVE and #WeThePeople LIVE podcasts and self-proclaimed dark drama junkie, sat down with such an all-star roster, a who's who from TV's darkest dramas:
Ed McCardie, the co-creator, producer and writer of Esquire Network's first original scripted series Spotless.
Special effects legend David H. Watkins of Dexter, Star Wars, and Alien fame.
Louis Cioffi, longtime Dexter editor.
Dave Porter, the acclaimed composer responsible for the soundscapes of Breaking Bad, Better Call Saul and The Blacklist.
Larry J. Cohen, a writer, director, producer and researcher for both film and TV, including the series Borgia.
Take a deeper behind-the-scenes dive into Esquire Network's new series, Spotless. Check out a photo-led day-in-the-life and firsthand testimony from a true-life crime-scene technician and the star of Spotless, Jean Bastiere, played by Marc-André Grondin. You can also explore the gore of an interactive crime scene online, you know, just in case you ever need to use those clean-up tips and tricks firsthand.
Spotless premieres November 14th 10|9c only on Esquire Network.
Click here to watch the first episode of Spotless!