Published by

Cleaning Up Death, Mopping Up Murder
It's all in a day's work for these crime-scene technicians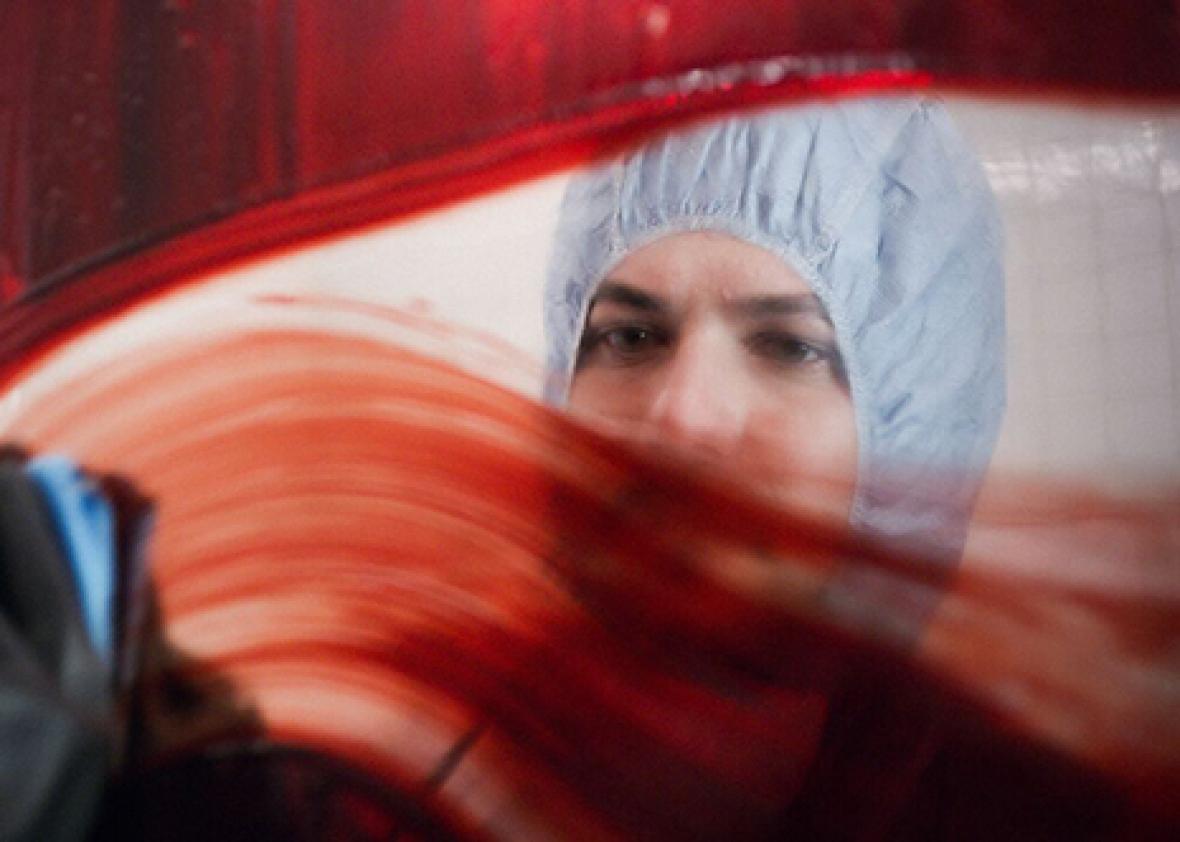 You get a call. It's work. You hurriedly get dressed and get moving. Except it's 3 a.m. and you're on your way to a crime scene, hazmat suit in tow. Jobs like these are always delicate, deadlines are extremely sensitive. Blood seeps deeper into carpet fibers, the stench of death grows more putrid. You'd better get there fast.
Crime-scene cleaners, sometimes referred to as "aftermath technicians," deal with tragedies on a daily basis. They make all that is morbid, the blood, guts and filth, disappear – at least on the surface.
Every crime scene tells a story, and every crime-scene cleaner must brace themselves to be confronted with all the gory details. There's no telling what secrets each crime scene holds, but once you're in the thick of it, every crime scene talks.
The job is not for everyone, but it's one of the most rapidly growing industries in America. Beyond removing the biohazards, crime-scene cleanup allows the friends and families of victims to temporarily outsource their pain. It spares them from a job no one – except for these experts – would ever be prepared to do. Crime-scene cleaning can allow those closest to these tragedies to take their first steps toward moving on.
Scott Vogel, crime-scene cleaner and Director of Operations at EmergiClean, a family-run trauma scene operations company in Linden, New Jersey, provided insights into a process that is always dark, but very often healing. Vogel and his tight-knit family team have overseen 700 jobs to date. To fully experience a day in the life of a crime-scene cleaner, we accompanied Vogel on a "routine" murder cleanup.
Somebody's Got to Clean It
Most crime-scene cleaners hope not to look too deeply into the incidents they tend to, but they often have no choice once they arrive. Grueling and gruesome work, crime-scene cleaners can leave a location looking spic-and-span, but they can't always leave what they've seen behind.
Vogel knows this all too well – and so does Jean Bastiere, played by Marc-André Grondin in the Esquire Network series Spotless. Jean is a family man that seems to have everything – a loving family, a successful crime-scene cleaning business, and a bright future – but also a dark past.
We spoke with both Vogel and Bastiere – Grondin stayed in character for this interview – about their very messy worlds.
Can you walk us through a normal day?
Vogel: Every single day is different. The problem is our day doesn't start that normal. It could start at 2 o'clock in the morning. I get out of bed, call my guys and say, "Hey, come in early." I normally arrive at the scene first, to make sure insurance is covered, and explain everything we are going to do to the homeowner. I'm also there to kind of bring down the tension. When you go on a job, there is always a good half hour to 45 minutes of questions: What's going to have to be done? Are they covered for insurance? How much is this going to be? It is very hard to describe a "normal" day.
Bastiere: For me, most of the time, it is the police who will get the call before we do. When there is a dead body, the police are always involved. If the neighbors smell something, they are going to call the police. The call can come at any time, and I have to go to the scene, wherever it is. Like Scott, I make an estimate – how much time, how much money it will cost to clean the whole thing. And once it is done, I call in a couple of people if it is a big scene and we start working.
Is there a peak time of year for crime-scene cleaning?
Bastiere: Yes and no. There is always going to be death, but I would say spring. Most people are depressed around spring. January through March, people see less light. There are more suicides. During winter, if a room is cold, you might not smell a job right away. As for crime, crime happens in every season.
Vogel: Yeah, our normal busy time is April through June. And then August through October, those are our busier months. But last year, I was busy every week of the year. And every other day it has been hustle, hustle, hustle.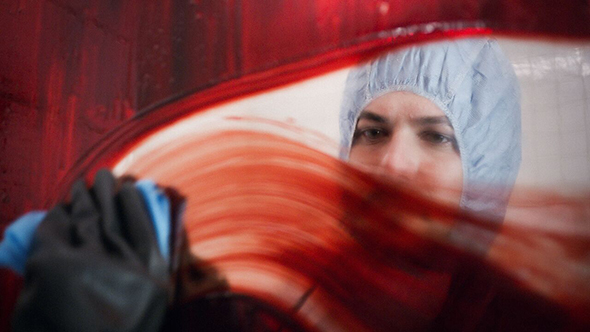 Is there a standard way you approach a crime scene? Does the cleaning need to be done in a specific sequence, say for a murder?
Bastiere: It depends on how the person was killed. Knowing what happened helps me. Finding little splotches of blood or pieces of brain matter helps me do a better job. I think it is important to take some time to understand the scene and what happened. I like to ask questions if the cops are there, in order to do a better job.
How do you interact with the family or surviving victims of a crime?
Bastiere: Sometimes family members directly call us. For crimes it is a bit different. There's much more police involved. If someone dies and gets found one month or two months later, it's basically because there are not a lot of people in their lives that were looking for them. Most of the time, people that do my job ended up doing this job because someone in their family died and they called a bunch of places to clean up and nobody would do it – so they ended up doing it themselves.
What do you find to be the hardest part of the job?
Bastiere: Dealing with loneliness. It is not dealing with family members; it is dealing with loneliness. Going through someone's belongings, you are seeing pictures of that person's life. If that person is 70 or 80, you can see them when they were 30 or 40 when they had a life and family and friends. You wonder, "How do you end up like this?" With nobody around and nobody looking for you when you die. I think that is the hardest part – aside from cleaning up scenes with kids.
Vogel: That is why we've tried to stay a family business for this long. We communicate within our group. We have inside jokes. They aren't related to the job, but it gets us through that job from an emotional standpoint.
Are there any jobs that you won't do?
Vogel: I can't do kids. I just can't. It's too emotional for me, especially since I have a one-year-old at home.
Bastiere: Anything legit, I will do. It is my job. If I don't do it, someone else will. I have a lot of bills to pay and a company to run. Doing shady things like what my brother asked me to do, like getting balls of heroin out of a dead woman's stomach in my basement, is not something I would choose to do.
What is fulfilling about crime-scene cleaning?
Bastiere: I am a bit obsessive-compulsive, so having a really messy scene and getting rid of everything in a couple of hours, I think that it is satisfying. Also, we help people. When your family member commits suicide, the last thing you want to do is clean up their mess. I think we help families get through hard times in a very respectable and professional manner.
What makes your job different than regular cleaning?
Bastiere: Anyone who smells a dead body never forgets it. When you have blood and guts, it is in the air. Beyond what you can visually see, most of the time the hardest thing to get rid of is the smell. And sometimes even after using a bunch of chemicals, it doesn't always work. We have a big machine that literally kills everything in a room. So, we put this in a room and it kills all of the germs everywhere.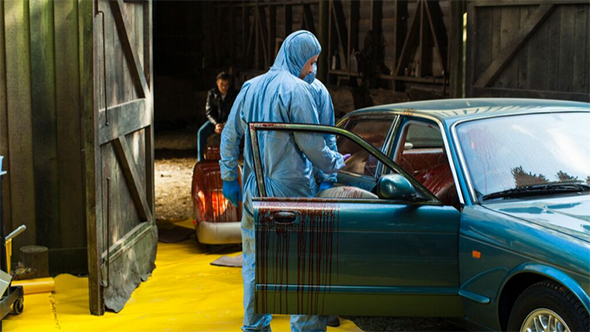 Can you talk about the most disturbing thing that you have seen?
Bastiere: Not really. I don't think it would be respectful for the family – but obviously a frozen dead girl surrounded by shrimp in a freezer is something weird that I don't get to see often.
How do you decompress after seeing something that disturbing?
Bastiere: Hanging out with my kids and making dinner with my wife... Having a good sex life can help. It can be a great distraction.
Do you think relationships can be difficult for a crime-scene cleaner?
Vogel: It is, but it's not. I'm in a family business, so that makes it even harder. Is there internal fighting within families? Absolutely. Does it bother my wife that I have to go out at two or three in the morning? People who try and help others always have to sacrifice something. Have I a missed dinner? Have I missed time at home with my one-year-old? Absolutely, but I want my family to be proud of me. I want everyone in my personal life to be proud of me.
Bastiere: I think that it is harder than if you had a regular job. You are working weird hours. You don't talk about your job. If you are in a relationship with someone who is slightly paranoid, it won't last. You have to be with someone who respects your line of work.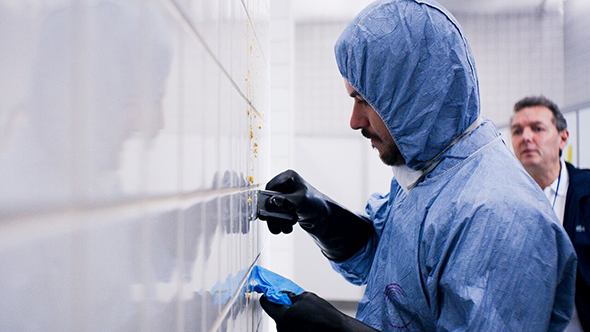 Has this job numbed you to crime and death?
Vogel: I think I'm able to hold back my emotions a lot better than most people now – because I have to.
Bastiere: Yeah, maybe a little bit. I have a shield in between what I see and feel. I think you get used to death. You are not okay with it, but you get used to it. You get on a scene and it bums you out, and it hits you somewhere. I don't think you can be totally okay with what you end up dealing with.
On a lighter note, are there any cleaning tips you can offer us?
Vogel: Our bodies are used to germs. Our bodies need certain bacteria. If you take all of the germs out, you will get sick instantly. Bleach is harmful; it is corrosive so you will destroy items. When people want to use bleach, they have no idea that there are other chemicals that will do a better job.
Bastiere: If you can't do the job, ask your mom. If your mom can't do it, call us.
Spotless premieres November 14th 10|9c only on Esquire Network.
Click here to watch the first episode of Spotless!