"Now I Have a Machine Gun. Ho Ho Ho."
Slate's guide to overlooked Christmas movies.

Metropolitan
Whit Stillman's Metropolitan (1990) isn't a Christmas movie; it belongs, fittingly, to a more exclusive club: the Christmas break movie. On winter vacation from Princeton, Tom Townsend (Edward Clement), a West Sider of limited resources, falls in with a group of well-to-do East Siders in the thick of New York City's deb season. It seems there's a severe shortage of escorts, and Tom, against his better judgment (he's a Fourierist, after all), is conscripted into accompanying young Audrey Rouget (Carolyn Farina) to a fortnight of dances and after-parties. Along the way, Audrey convinces Tom to read Jane Austen, question his faith in Fourier, forget an old flame from his Pomfret days, and fall in love with her—all before New Year's. * Metropolitan's affectionate satire of preppies—I'm sorry, of the urban haute bourgeoisie —is unrivaled, but its pleasures are also nostalgic, and not just for viewers inclined to nod along when Nick Smith (Chris Eigeman) rues the decline of the detachable collar. The luxury Metropolitan really makes you yearn for is school vacation: two weeks of staying out till dawn, sleeping till dusk, and generally being beholden to no one.— John Swansburg

'R Xmas
Those who associate the holiday season with captivity and extortion will relate to Abel Ferrara's mordant slice-of-life'R Xmas. Here, the usual stress and aggravation of the Christmas rush is compounded when the male half of a husband-and-wife team of heroin suppliers (Lillo Brancato Jr. and Drea de Matteo) is abducted for ransom by a ring of crooked cops just before Noel. (The scenario is based on an actual early-'90s NYPD corruption scandal.) The kidnappers' timing couldn't be worse for the couple, since most of their staff has hightailed it to the Caribbean for some winter R&R. Ferrara, director of the sleaze operas King of New York and Bad Lieutenant, specializes in exploring the grimy, treacherous New York underworld, but here he moves with uncharacteristic tenderness and—true to the memory-dredging effects of the Christmas season—even a bemused sense of loss: Released eight years after its December 1993 setting,'R Xmas is very much a period piece, transpiring just before Manhattan became a Middle American retail destination and ceased being, well, an Abel Ferrara movie. The cops (led by Ice-T) are menacing, but nothing in the film terrifies quite so much as a New York City toy store just before yuletide. When Brancato looks on as upper-crust moms deploy their manicures in a scrap over merchandise, his nonplussed expression sums up the existential condition of the last-minute Christmas shopper.— Jessica Winter

Ordinary People
What better way to celebrate the birth of Christ than with tears, attempted suicide, and a proclamation of atheism? Much of Robert Redford's 1980 directorial debut, Ordinary People, takes place around Christmas, though the holiday is barely recognizable through the film's thick haze of tragedy and family dysfunction. Conrad Jarrett, a clinically depressed teenager, has just returned home from a psychiatric ward after slitting his wrists. His beloved brother has recently died in a boating accident, for which Conrad is partly to blame. His parents, sheepish Calvin (Donald Sutherland) and controlling, image-obsessed Beth (Mary Tyler Moore), are hiding a crumbling relationship behind a facade of normality—but the house looks lovely with all the lights! Instead of inspiring a unifying spirit of goodness, everything holiday-related ends up signifying the disintegration of family. The Christmas tree is a sad, skeletal thing, and the only time the family gathers 'round it is to verbally abuse one another. One of the film's most revealing scenes takes place in a Christmas-decorated McDonald's, where Conrad tells his girlfriend he doesn't believe in God and that life, for him, is like falling into a hole. Makes your family's squabbling over the holiday ham feel positively festive, doesn't it? — Andy Bouvé

2046
Hong Kong director Wong Kar-wai makes lush, fetishistic films about the melancholy of loneliness, and 2046 is his bittersweet ode to the loneliest time of year. The movie swirls back and forth, between Hong Kong and Singapore in the 1960s, and into the hallucinatory future of the title year, as imagined by Tony Leung's writer hero. But Christmas exerts a strange gravitational pull. Title cards pop up periodically, situating the action on Dec. 24 of a given year. 'Tis the season for nagging regrets and misbegotten hook-ups. Surrounded by sad strands of tinsel and the silken tones of Nat "King" Cole's "The Christmas Song," characters muse out loud about how awful it would be to spend a night like this alone. The holiday blues even infect Leung's whimsical science fiction—the coldest sections of his story's time-traversing bullet train are known as 1224 and 1225 (i.e., Christmas Eve and Christmas Day) and come with a warning that "passengers are advised to hug each other to keep warm." (Leung's character and alter-ego, traveling alone, must make do with an android cabin attendant.) Wong's great subject is time—its pitiless passage, the way it distorts memory, our helpless desire to regain or halt it—and in 2046, Christmas is the cruelest anniversary of all.— Dennis Lim

Meet Me in St. Louis
Meet Me in St. Louis, which spans a year in the life of the Smith family, is not a traditional Christmas movie. But the climactic Christmas scene so aptly captures the yuletide spirit, the film belongs in your Netflix queue alongside It's a Wonderful Life.
Despite his family's fervent protests, Mr. Smith is moving his family from St. Louis to New York just after Christmas so he can take a new job. But Christmas Eve brings unexpected events. Esther's (Judy Garland) beau proposes. She wants desperately to say "yes" unequivocally but she can't bear to stay behind when her family moves. She heads home, head heavy, to find her baby sister, Tootie (Margaret O'Brien), waiting up for Santa. Tootie, too, is distraught about what the move will bring. Esther soothes her sister and quietly begins singing "Have Yourself a Merry Little Christmas," the bittersweet classic that was composed for the movie.
The carol perfectly captures the moment: The Smiths, on the eve of life-changing events, want to enjoy their last sweet moments at home, together, and to believe that next year life will present fewer obstacles. Mr. Smith is touched by his daughters' sadness, and, as he walks through his dismantled house—pictures removed from walls, the grandfather clock wrapped up—he suddenly realizes he can't move his family away. He wakes everyone up to share the news, and they're buoyant. This movie is about what it means to be home—being with family you love, comforting them. And it's about the joy that comes from bringing others happiness—the ultimate Christmas gift.—Jill Hunter Pellettieri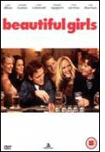 Beautiful Girls
Beautiful Girls may not be a traditional holiday movie—it takes place post-Christmas; there is nary a wreath to be found—but it hits the same nerves rubbed raw by a seasonal visit home. Willie C. (Timothy Hutton) returns to his hometown ostensibly to attend his high-school reunion, but really to mull a crossroads in his life. Is it possible to go back to where you came from without thinking about where you're going? Beautiful Girls captures the peculiar melancholy of a pilgrimage home in the dead of winter: the lure of the pretty but desolate snow-covered town you grew up in, the strangeness of staying in your childhood room, the awkwardness of seeing family members you may no longer have much to say to, the pull of hanging out with the buddies you used to know so well. And, last but not least, the appeal of the girl next door, a "beautiful girl"-to-be (a teenage Natalie Portman). Beautiful Girls is about when to give up your highest hopes and settle for a real life. Is it possible to become an adult but still stay cool forever?— Ellen Tarlin
Correction, Dec. 17, 2007: Fourier's name was originally misspelled as Faurier. (Return  to the corrected sentence.)