How To Make a Justin Bieber Song
Producer Ariel Rechtshaid explains every holler and handclap in "Thought of You."
"Thought of You" arose in a typically contingent, unforeseeable way. According to Rechtshaid, he and Diplo received a call from Usher requesting a meeting, so the two of them began working up a chord progression and some drum tracks. When they played the embryonic song for the star, though, everyone agreed that its tone felt slightly too bright. Usher, who is close to Justin Bieber, gave Rechtshaid his blessing to present the track to the Bieber camp. Though Rechtshaid didn't know much about the Canadian sensation, he reached out to the singer's team just before jetting off to the Caribbean to record reggae with Snoop Lion. The day he got back, he rushed into his first Bieber meeting with material he hadn't given much thought to for weeks. But none of that mattered; Justin loved "Thought of You"; Rechtshaid went home the same day and began tightening, polishing and adding effects. A few days later, he recruited Eric Belinger to write the top line (the melody and lyrics), some of which Bieber would alter and riff on during recording. The whole thing came together "remarkably quickly," Rechtshaid recalls.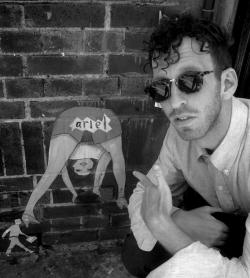 But what exactly goes into a hit like "Thought of You"? For Part 2 of our interview, I picked out a few of the song's most intriguing sonic elements and asked Rechtshaid to explain how he achieved that sound.
Slate: Any general comments about your goals for the song before we get to the specific sounds?
Ariel Rechtshaid: I was attempting to combine elements that didn't fit. Dreamy guitars with gospel claps, pitched dancehall airhorn with baby voices, tribal rhythms with disco orch hits, funky bass with a lot of distortion. In the end it was a pretty weird track. Fun but unusual. Eric Belinger really tied it in with a super catchy top line.
Slate: Great. I'm going to ask you about the sounds that occur at certain points in the song.
Slate: The song starts with a repeated note that's sort of a rhythmic drone.
Rechtshaid: It's a guitar loop doubled with an ARP Solina (string synth from the '70s).
Slate: Then there's an effect that sounds like a human voice crescendoing.
Rechtshaid: It's a reverse reverberation of Justin saying the first word ("girl"). It's achieved by reversing the word ("girl" in this case), printing a reverb off of the reversed word, and then flipping the reverb around. The end result sounds like a ghost swelling up and the word ("girl") slowly forming.
Slate: A bass line comes in with Justin. It's very crackly.

Rechtshaid: It's a bass guitar heavily distorted through a fuzz pedal. I use ZVEX woolly mammoth to achieve what you call the "crackle."
Slate: At the same spot again. Are those handclaps? Why handclaps?

Rechtshaid: Yes, I was messing around with rhythms and wound up putting the claps on the upbeat, kinda like a gospel thing.
Slate: A bit later, a low, echoing sound is alternating between two notes.

Rechtshaid: That's a few things together opening up in a filter: My voice, guitar, piano, and some synth pads are all blending together.
Slate: In the pre-chorus—is that a kid's voice shouting yeah?

Slate: At the beginning of the second verse, I hear an ethereal, drifting effect. I think it's holding one note, but the timbre is changing as the verse continues.

Rechtshaid: That's my voice bending up and down between two notes singing "ooh."
Slate: During the bridge, a lot of the layers strip away. What instrument makes those bell-like chord sounds?
Rechtshaid: It's my Mason and Hamlin upright piano filtered and with reverb.
Slate: What's happening with the siren right before the chorus comes back in?

Rechtshaid: That's a sound that accidentally came out of my Prophet-5 synth. Love the unpredictability of old analog synths. It makes coming up with new ideas easy.
Slate: What about the electronic beeping notes toward the end?

Rechtshaid: More fun with the Prophet-5.
Slate: Tell me about the zipper sound that finishes it out.

Rechtshaid: That is a typical dub/dancehall air horn cut up and pitched up gradually. I like how it brings the song to a close.
This interview has been condensed and edited.