Where Is Jay Gatsby's Mansion?
And can I visit it?
Harbor Hill was out-done only by Oheka Castle—excusable, considering Oheka is still the second largest private home in America and was conscientiously designed to one-up Mackay. Sitting on 443 acres, the castle was modeled after Maison Lafayette, which is essentially just a bigger version of Maisons-Laffitte, designed by the same French architect. Both even attempted to veil their newness with "a thin beard of raw ivy." The triangulated roofs, elaborate stonework, and chimneys for 39 fireplaces are quintessentially French and reinforce the "period craze" of the 1910s, during which Gatsby's house was theoretically built, if you use Fitzgerald's context clues and do the math. Oheka was so period driven that it moved William Adams Delano, an architect of the caliber that gets immortalized in rare and gorgeous coffee table books (alongside his pithy quotes), to say, "Every owner wants to have a name for the style in which his house is built. I find this both difficult and annoying … [most people] are not satisfied with accepting a good house, well arranged, without a fancy name."
Delano would have been particularly peeved by Winfield Hall, then, the estate of Frank Winfield Woolworth, an art lover who turned his upstairs hallway of bedrooms into an interior design timeline. Among them was the Ming Dynasty suite, Empress Josephine room, Marie Antoinette room, Napoleon room, and three different Louis—XIV, XV, and XVI. (For visuals, consult the coffee table book.) Gatsby, too, had "Marie Antoinette music-rooms and Restoration salons … period bedrooms swathed in rose and lavender silk and vivid with new flowers." Woolworth's library was wood paneled in French Gothic style. Gatsby, too, had a "high Gothic library, paneled with carved English oak, and probably transported from overseas." And the music room, which occupied the entire west wing of the house, was lit with stage lighting, trimmed with gilded moldings—the humble milieu for a tremendous Aeolian organ. Gatsby, well, he had a piano. (Note: Baz Luhrmann does bless him with a full organ in the upcoming film.) Nevertheless, the men's puddings had plenty of the same ingredients. Delano probably wouldn't have been fond of Gatsby either.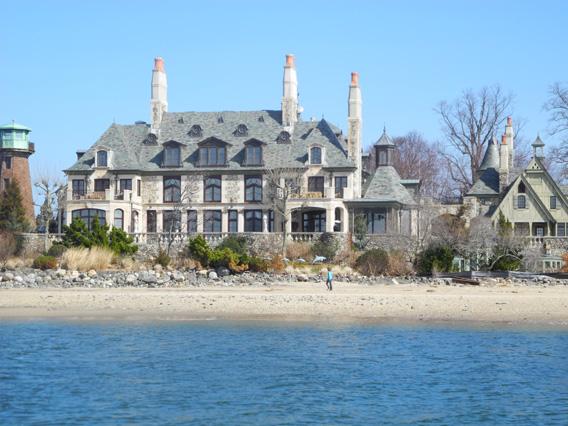 Another scholarly favorite when it comes to the Gatsby house-guessing game is Beacon Towers, originally designed by a widowed Vanderbilt and modeled after Blair Castle in Scotland. William Randolph Hearst bought it later on. Alva (said widow) traveled to see Blair and is said to have remarked, "My dear, my castle in Sands Point, U.S.A., is far more authentic!" Complete with turrets and a façade of off-white stucco so smooth that it looks Photoshopped even in grainy black-and-white pictures, Beacon was also authentic to its nickname, "Cinderella's Castle," and looks more akin to the backdrop of a fairy tale stage set than an actual home—an elusiveness that lends itself so well to the narrative of Gatsby. Like Harbor Hill, Beacon no longer exists. Only Oheka and Winfield remain to be visited.
And then there is Kings Point. Located at the end of what is now named Gatsby Lane, the property was first owned in 1851 by John Alsop King Jr., the well-endowed son of New York Gov. John Alsop King. During Fitzgerald's time, it housed Richard Church of the Arm & Hammer Baking Soda clan. Most recently, the crumbling estate fell into the hands of an elderly widow, Marjorie Brickman Kern, whose family bought the property in 1951 and converted it to a family compound of small houses—not unlike Nick Carraway's—dotting the property behind a formal manse sitting on the throne of the very tip of West Egg. Marjorie's two sons, Russell H. Handler and Frederick John Handler, were the last men standing of the Brickman family, and in the mid-1990s, a family feud took shape as the brothers began to battle over their inheritance. Credit cards were exploited; tricks were played to inherit a great portion. And then one day in 2006, Jennifer Eley, the wife of John F. Handler, was found dead in the pool.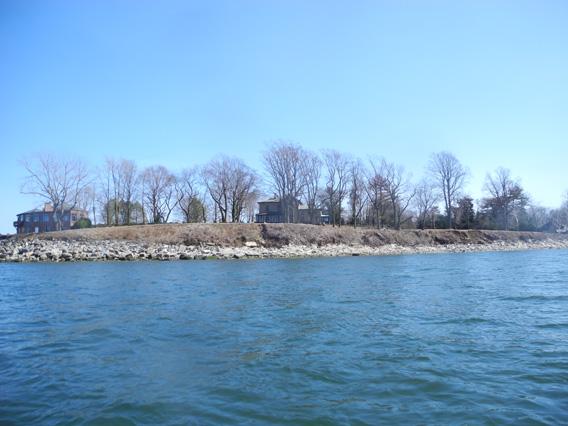 The property continued to deteriorate until it was sold in April 2012 for much below its $39.5 million asking price, a fate similar to so many others of its kind. Nearly one-half of the homes that once gleamed along the Gold Coast were abandoned after the Great Depression and torn down by the '70s. Even for American royalty, triple-digit acreage and double-digit staffs were too much to fund forever. Like Gatsby's "huge incoherent failure of a house," they drowned in their own sauce. But there's something sexy about this sad fate, too. The fewer clues left, the more the moneyed mystery of the Gatsby mansion begs to be solved.
Fitzgerald, of course, drew from many sources to create a spectacle that, when pulled apart, really did exist. But the full spectrum of all that the house reflected is still revealing itself, what with the shady pool murders and state of estates continually in flux. As if Fitzgerald was in touch with our times to a psychic degree, too, the recession did not spare the Gold Coast and left many dreamlike mansions ownerless—green lights in their own right that slip back out of reach with a single change of tide. Perhaps it's not so much which mansion was Gatsby's; it's which one is destined to be the next.
*Correction, May 6, 2013: This article inaccurately referred to the village of Sands Point as part of Manhasset.