Cindy Sherman's Knees
Celebrating a hall-of-fame conceptualist and great American trickster.
Cindy Sherman was not the first woman to invest her best energies in fretting about hair and makeup and decorating, but she is the greatest. Cindy Sherman, a heavy-duty retrospective at the Museum of Modern Art through June and touring the country for a year thereafter, cements and plasters and tastefully bedazzles her reputation for shading great stories in unforgettable images. This photographer can capture the essence of an individual in the weight of an eyelash and define a worldview with a well-chosen accessory.
Shooting herself in character as B-movie archetypes and ironized fashion icons, old masters and grand dames, she is a hall-of-fame conceptualist. Her head for ideas—about truth and beauty and all the rest of it—endears her to theorists who have put together a quite lucid body of commentary on her work. Indelibly enigmatic, she tickles their pates but evades their clutches. What is Sherman saying about women by turning herself into inflated matrons, infinitely reproducible ingénues, Palm Beach gargoyles, wannabe glamour girls, fashion victims, fashion perpetrators? In interviews, she is as warm as anyone but as blank as Andy Warhol's stare. She once told Betsy Berne: "The work is what it is and hopefully it's seen as feminist work, or feminist-advised work, but I'm not going to go around espousing theoretical bullshit."
In general, Sherman photographs corkscrew the viewer's perspective in a way that is delirious and profound. Looking at one of her "Untitled Film Stills"—the series of faux ephemera, 8-by-10 images of anonymous aspiring stars of an imaginary cinema—we try to identify with the character portrayed, with the personality who would invent such a character, with unseen lovers and antagonists, with the craftswoman who executed the strict study in character and space, and recursively so on forever until it all comes back to you and your sense of your self in the movie adaptation of your life always playing in your head.
Good stuff, but it would mean little if Sherman weren't such a muscular formalist, one with a keen fixation on frames within frames and an eye for striking borderlines. Take a gander at "Untitled Film Still #42." If Sherman had never made it big in the postmodern condition game, she would have been an ace architectural photographer.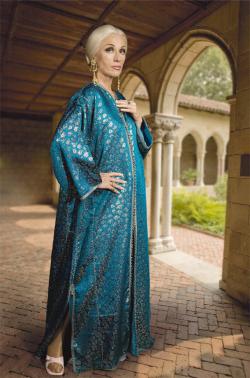 I like her knees. Being a woman and a girl and a body artist, Sherman has her mind on the inevitable issue of hemlines—not to mention silent prayers and abrupt supplications, and skin and bone and structure. Very canny, she cuts them out of "Untitled #96" from her 1981 "centerfolds series," her first turn to color. This character—stunned by the gods, melting like orange sherbet in her sweater, proverbially knocked out of her bobby socks—clutches a torn fragment of the newspaper classifieds. The text promises connections for singles and offers promotions from psychics ("Know Yourself. Know Your Future.") and the number to call for a rental apartment at the corner of Allen and Delancey. It's like a bit of Braque ripped from the headlines, and the quadrangles of her gingham and the tile on which she is dreamily reclined boogie and woogie like a Mondrian in heat.
The show—curated by Eva Respini with Lucy Gallun—is put together as a narrative. If it dallies with Sherman's grotesquerie to a punishing extent, well, what do you expect? An artist ready to make her body over must linger seriously on the matters of death and decay in extremely strange ways. But one does wish that there had been to display the porcelain dinner service she created for Limoges, where she more or less serves her head on a platter as Madame de Pompadour. At the very least, it should be on sale, at a stratospheric price, in the gift shop; the art-star tactic of commenting on art-as-commodity is approaching at least its 100th anniversary, and Sherman is as sly as anyone at satirizing her patrons, at putting food on the table by biting the hand that feeds her. Also, the fact that John Waters does an Interview magazine-type dialogue with Sherman in the catalog has me wondering what he'd be like as a voice on the audio tour.
At MoMA, in the outer gallery, multiple Shermans hover in a mural like 18-foot queenies, backed by toile wallpaper while she wears a variety of parodic costumes and a digital facelift. She is a colossus and a clown and a way to dress up the wall and a mascot, like Bob's Big Boy. In the first gallery—a statement-making selection of career high points that works to preface running themes—I was enchanted by "#479," student work that gets a gold star. (It's a before-and-ever-after photo-booth metamorphosis; a plain girl in glasses becomes a glam sex ghost, and the thing plays like a Lou Reed song.) I was arrested by "#153" (a kind of death mask suggesting Laura Palmer as Gulliver in Lilliput) and bewitched by "#466," one of her "society portraits," a picture of handsome avarice and imperious welcome. The exhibit is architectured to privilege the history paintings where Sherman variously smiles like Mona Lisa and grins like Bacchus in a picture where she plays herself playing Caravaggio playing Bacchus. In the last of 11 galleries, we encounter the film Doll Clothes, delicate as a Joseph Cornell piece, a looped sliver of stop-motion animation. Here, paper-doll Cindy flips through the plastic envelopes, and the daily problem of what to wear becomes a permanent farce.
Anticipating an age in which the publicity photo is the only sort of photo there is, Sherman hit upon a pure idea at a young age and has developed it, sometimes more fruitfully than others, ever since. The issue of her supposed "real self" brings reality into question in very many ways, few half as annoying as this self-reflexive sentence. She is a subject and an object, an artist and an art critic perennially reviewing her own self-image. Some retrospectives leave you with the feeling that, OK, you've figured out who this artist is and what she's about, and you tuck her away for a little while. But you cannot get Cindy Sherman's number. You see the "real" her either always or never. A great American trickster, this photographer managed to steal her own soul and hide it away in every frame.