The Voice of the Poets
The life and work of an audiobook narrator.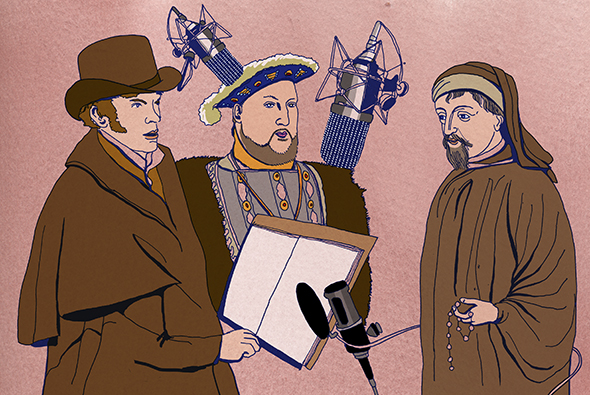 Listen to the conversation between author Bruce Holsinger and audiobook narrator Simon Vance by clicking on the player below:
Bruce Holsinger, who teaches medieval literature at the University of Virginia, is the author of A Burnable Book, a debut historical thriller set in Chaucer's England, out now from HarperCollins/William Morrow. The audiobook is narrated by Simon Vance. Neil Gaiman has called Vance "the gold standard of narrators," while Hilary Mantel writes of his recording of Bring Up the Bodies, "As if by telepathy, he has preserved the rhythm of the text as I heard it when I wrote it." In this conversation, the novelist invites his narrator to discuss sound, voice, and sense in historical fiction, as well as the unique role of audiobooks in bringing fiction to life.
Bruce Holsinger: Simon, you've recorded audiobooks for some of the world's most admired and influential authorial voices across genres and modes: Hilary Mantel, Amitav Ghosh, Anne Rice, Roberto Bolaño. And you've also brought literary history to audible life through your recordings of Trollope, Dostoyevsky, Dickens, Bram Stoker, and the list goes on. Listening to your recording of my novel, A Burnable Book, has been a truly transformative experience for me. I only wish I'd been able to hear the story in your voice before submitting a final draft of the book, as your reading helped me hear and see things I hadn't noticed before and might have decided to push in different directions. But what has your own experience as a narrator taught you about literature? Are there things we can get out of an audiobook that we can't experience through silent reading?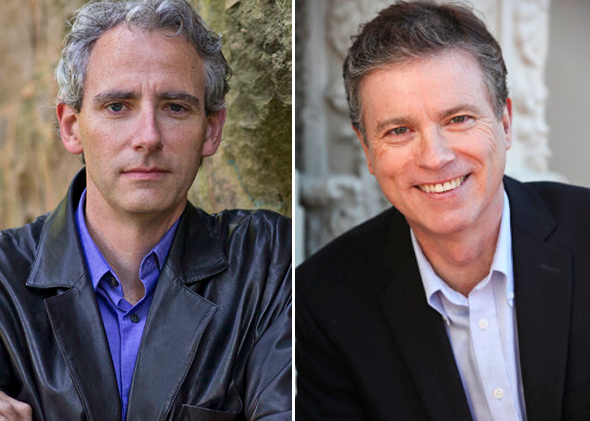 Simon Vance: There is still a divide between those who think audiobooks are "cheating" and those who swear by them—but I think the distance between those factions is narrowing. I have total respect for people who enjoy the feel of the book (or tablet!) in their hands and the ability to interpret the author's words in their own way. But I also think it's possible to view the audiobook as an artistic endeavor in its own right. Many people read to themselves so fast—sometimes scanning the page in apparent moments of not-much-going-on to get to the next bit of action—that the audiobook listening experience can actually be richer for the way it forces one to listen to the book at a narrator's pace. I have been told so many times by people who have read a book and then listened to my narration of it that they find so many levels they hadn't realized were there. There is also the need to understand the written text, and here an "educated" narrator can help enormously: I think there's a large population of people with little time for the sentence structure and archaic grammatical styles used in, say, Trollope. When the work of clarifying the meaning is already done by the narrator, these reader-listeners find a whole new level of enjoyment in those texts.
Holsinger: I imagine historical fiction represents a particular challenge in your line of work. Do you ever develop what you think of as a "period voice"? When narrating Bring Up the Bodies, for example, was there a Reformation voice you tried to invent? Or is voice more determined by the idiosyncrasies of character?
Vance: Definitely the latter. Mantel writes her characters in a contemporary style—they are not prancing about saying "forsooth," they are talking in a way you or I might (if you or I happened to be a servant of the king). I am not going to research how a mid-16th century landowner might sound, but I am going to give some sense of the class of that character in a way that might identify them as such today. I am aware of some of the changes in vowel sounds over the centuries in British society, but I don't want to throw up too many extra bells and whistles that will have a listener thinking, "Oh, that's a very authentic accent," instead of enjoying what the author is getting across. I will generally contemporaneanize (is that a word?) the dialogue in the same manner that I might give everyone in a book set in, say, Sweden, British-class accents rather than have them all talk like the Swedish Chef …
Holsinger: Ah, the Swedish Chef—one of my own favorite voices, and one my sister and I mimicked excessively when we were kids! So what are some of the most challenging historical voices you've narrated in your career, whether from contemporary historical fiction or 19th-century novels?
Vance: I had a huge temptation to give Mantel's Henry VIII a magnificent British regal voice in the manner of, say, Richard Burton. But Henry actually was ridiculed (in private, of course) for having a rather high-pitched tone, and Mantel mentions this in the novel. So I had to find something that was distinctive enough to be ridiculed by other characters but still not sound cartoonish. I have had nothing but fun creating the voices of Dickens' and Trollope's characters. I am an actor, and I rely on my instincts much of the time. I don't always plan how these people are going to sound. I often absorb who they are and see what comes out when I open my mouth. (Of course, then I have to remain consistent throughout the book.)
Holsinger: Though the voices of characters aren't the only or even the primary voices you're responsible for creating, are they? You also have to voice the narrator, and your voice becomes the way listener-readers will experience the landscape, the visual culture of fictional worlds, and the details of everyday life like food, clothing, and so on. In effect you're creating a complete soundscape for every novel you narrate.