Why Even the Shrunk-Down Republican Border Bill Is Turning Into a Debacle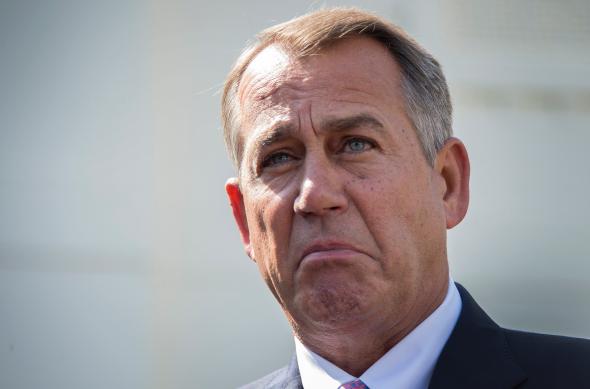 On Tuesday, after talking to some House Republicans, I surmised that most were ready to pass a scaled-down "emergency" border control bill—less than $700 million, when the White House wanted $3.7 billion—because it looked good. Conservatives and reform-minded moderates seemed to agree that it was better to return to their districts having "done something."
Democratic aides started asking me if the GOP was actually ready to do this, if it had the votes. Via Sam Stein and Elise Foley, I see why they were asking: They were whipping their members to vote no. Makes sense, given that Nancy Pelosi had already denounced the "unjust and inhumane proposal" of the Republicans, which actually reduces foreign aid for the troubled Central American states that the child migrants are fleeing and uses it for border control.
If the GOP does nothing, and if Republicans explain that there's no point acting due to the recalcitrance of the president to deal with the policies that are causing the crisis, the focus will be on the president. Republican incumbents won't have problematic legislation to defend or questions to answer about what further compromises they'll make. Republican challengers won't have to defend or attack GOP legislation. Instead, the focus can be on the president—on his refusal to enforce the immigration law, on the effect of his unwise and arbitrary executive actions in 2012, on his pending rash and illegal further executive acts in 2014, and on his refusal to deal with the real legal and policy problems causing the border crisis.
For a couple of weeks now, we've seen polling that suggests Kristol is right. Voters are aware of a border crisis, they are aware that Barack Obama is president—they blame him for nothing getting done. This makes it hard for John Boehner, Kevin McCarthy, et al. to convince their flock that they'll be blamed for any of it.
And what happens when the GOP leadership starts bleeding support on the right? Take it, Jake Sherman and Seung Min Kim:
On Wednesday evening, House GOP leadership was setting up a process that would schedule a Thursday vote on the Republican funding package. If it passes, the House would be required to vote on legislation targeting the Deferred Action for Childhood Arrivals program, which has shielded from deportation hundreds of thousands of young undocumented immigrants who have grown up in the United States.
Hey, wasn't it just last week that Ted Cruz was asking for this? It was—and it was just this week that Cruz talked to and met with House conservatives, urging them to defund DACA in the House. Now, instead of just passing something-or-other with the word "border" in it, House Republicans are looking at one bill that Democrats are inclined to vote against and one that Democrats are 100 percent dead-set against.
If you cast your mind back to Tuesday afternoon, you may remember Harry Reid teasing Republicans by saying the House's more radical bill would be fixed in the House-Senate conference. Boehner accused Reid of trying to sabotage the delicate process in his House. He probably was—how can you not, when the other guys are making it so easy and behaving so predictably?