The Immigration Bill, Like Every Bill, Is a Vehicle for Trolling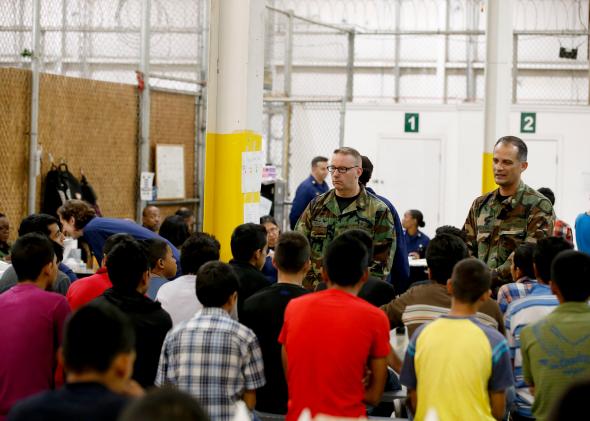 House Republicans met this morning for their weekly strategy session, and they came out—mostly—ready to back a scaled-down emergency immigration bill. That whole child migrant crisis at the Mexican border? Handled. The president had requested $3.7 billion in new money; House Republicans had cut that number by more than $3 billion, while repealing a 2008 law that gave Central American immigrants a separate detention path, and raiding the foreign aid budgets for Guatemala, Hondura, and El Salvador.
House conservatives were, according to other members, fairly muted. There was some griping from "the usual guys," said Rep. Devin Nunes, but no one threatening to blow up the plan.
"I think that there is a sense among a lot of people that something has to be done," said Louisiana Rep. John Fleming. "I think there may be people willing to vote for it who think it doesn't contain what it needs to contain. Of course, my contention all along is that we never get credit if something passes the House and never makes it into law. If we pass something we know isn't going to be law, it's just political messaging. In this case, it's playing defense, covering ourselves, by saying we did something before we left."
The only possible threat, expressed by Alabama Rep. Mo Brooks, was that Senate Democrats might use this bill as a Trojan horse for a more comprehensive immigration reform.
A few hours later, Sen. Harry Reid raised that exact possibility.
"If they pass it," he said in his weekly presser, "maybe it's an opening for us to have a conference on our comprehensive immigration reform. If they're finally sending us something on immigration, maybe we could do that."
This drew an immediate condemnation from John Boehner, and more speedy countertrolling from Senate Republicans.
"He clearly doesn't want to do anything other than get a blank check," said Sen. John Cornyn. "I think he's trying to get the House to back down. The House has been the responsibility party here, coming up with a bipartisan solution."