Timeline Lets You Browse Hundreds of Historical Documents From the Vault Blog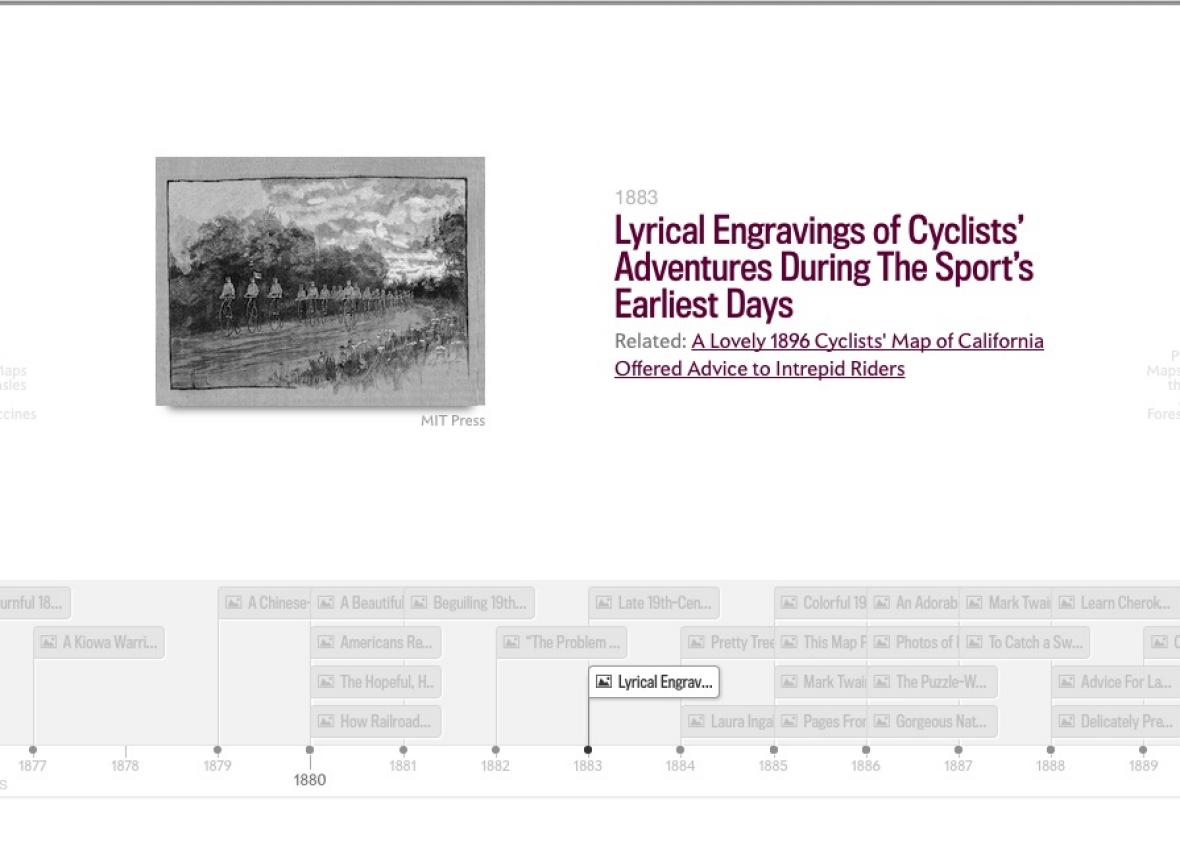 Something that's always bothered me about the Vault has been the way posts can end up feeling unconnected to a bigger historical picture. Sure, I try as hard as I can to write about the way each document fits into its period of origin, but the Internet is a relentless decontextualizer. If you found this blog through one of its popular posts, like the medicinal plants map of the United States or the CIA's guide to workplace sabotage, it's unlikely that you were able to browse documents from the same time period that I'd written about in the past—unless you were killing a lot of time at work that day.
So I've done something I've wanted to do for a while: placed all three years and four months of Vault posts on a timeline, so that you can see all of the documents I've put on the blog, in their chronological context. The master timeline is below, and each archived and forthcoming Vault post will eventually feature a smaller embedded version underneath the document image. I'm hoping that the interface will make the blog's archives more fun for casual readers to browse and more useful for teachers and researchers, who might need to identify documents from a specific time period.
A side effect of creating this timeline—and of picking out the "related" links for each document, which connect the posts thematically across time—has been to point out the strengths and weaknesses of the Vault's range. Many of the posts are clustered in the decades between 1850 and 1950, with a preponderance appearing in the late 19th and early 20th century. This is an era that has always fascinated me, and it's a time that offers many public-domain documents without difficult copyrights to determine. Still, I need to try harder to get both older and newer items up on the blog.
As for subject matter, I'm good at covering certain things: American cultural history; black American history; the history of childhood and education; and the history of science, especially natural science. I'm less solid elsewhere: the history of nonblack and non-Native American minorities in the United States; the history of politics; the history of any other country besides the United States (and, maybe, France, the U.K., and Japan).
Part of this spottiness has to do with my own training as an American cultural historian and with the projects I've undertaken alongside the Vault, which have put me in contact with particular archives. (In the case of black history, the Vault benefited greatly from my research for our Slate Academy: History of American Slavery podcast.) Part of it has to do with the things that seem to resonate with readers. Documents that relate to a familiar concept (flappers), person (H.P. Lovecraft), or episode in American history (the Civil Rights movement of the 1960s) seem to be easier to explain and "sell" to readers than documents from abroad that refer to things that aren't at the top of our minds (and that might not be written in English).
Maybe I'm wrong about this! Let me know. Likewise, if you know of documents from other countries, or from ancient or contemporary history, that you think would work in this space, don't hesitate to reach out.