| 
Posted Monday, May 20, 2013, at 5:30 AM
At the FDR Library, one exhibit holds the contents of Eleanor Roosevelt's wallet. While many of the cards and slips of paper from the wallet are fascinating (a Met membership card, a scrap of a poem about the importance of good cooks), this pistol permit is perhaps the most surprising.
Read More »
 | 
Posted Friday, May 17, 2013, at 11:30 AM
Handwriting in late-nineteenth-century letters is almost universally beautiful: regular, precisely slanted, and pleasing to the eye. This broadside, which outlines the principles of a popular system of instruction in cursive writing at the time, proves that achieving that style took a lot of work.
Read More »
 | 
Posted Thursday, May 16, 2013, at 11:35 AM
In mid-May, 1933, Americans learned that students in German universities planned to burn a long list of books deemed "un-German." Helen Keller, whose How I Became a Socialist was on this list, wrote this open letter to the students a day before the burning took place.
Read More »
 | 
Posted Wednesday, May 15, 2013, at 11:15 AM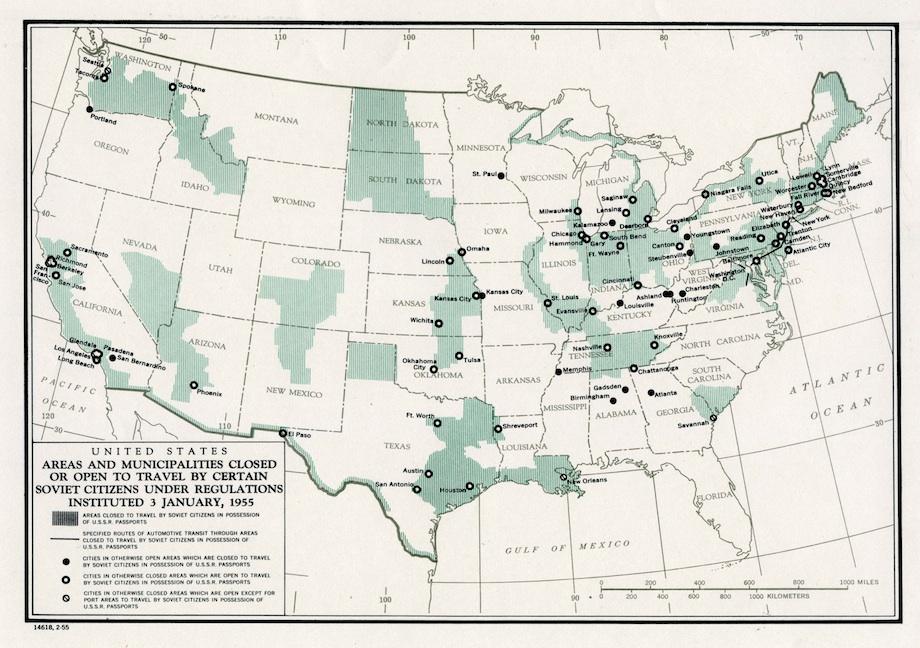 Image courtesy of the Rockefeller Archive Center. Item record: Rockefeller Family Archives (III) Record Group: 4 Nelson A. Rockefeller – Personal, Series: Washington D.C Files, Subseries: O.9 Special Assistant to the President Declassified Materials, 1954-1956, 1969 Box: 4 Folder 94.


If you were one of select few private Soviet citizens granted permission to visit the United States in 1955, you could take in a Cubs game or ski Jackson Hole, but if you wanted to sample Memphis barbeque or check out the factories in Youngstown, Ohio, you'd be out of luck. That's because a National Security Council directive had, on January 3, 1955, allowed some "Soviet citizens in possession of valid Soviet passports" into the country, while extending controls previously placed on visiting Soviet diplomats and official representatives to apply to their travel.
Read More »
 | 
Posted Tuesday, May 14, 2013, at 11:45 AM
The Star Trek Guide. 1967. Call number f AC95.A100.967s. Purchased with the Roger Eliot Stoddard Book Fund, 2011. Collection of Houghton Library, Harvard University.

These excerpts from a 31-page photocopied writers' guide for the original Star Trek series show how early Trek episodes were crafted. The guide, written in 1967, was meant to help writers for the year-old show—as well as prospective writers working on spec scripts—nail the tone and content of a typical Trek episode.
Read More »
 | 
Posted Monday, May 13, 2013, at 11:00 AM
This newsletter was produced by a group of men based in Berkeley, CA, who were working for the ratification of the Equal Rights Amendment. The sheet was sent to interested activists throughout the late 1970s, as the feminist movement worked to secure the support of enough states to win the amendment's permanent attachment to the Constitution.
Read More »
 | 
Posted Friday, May 10, 2013, at 11:30 AM
Frederick B. Schell, "Arrival at Chickasaw Bayou of Jefferson Davis' Negroes from His Plantation on the Mississippi Below Vicksburg, Mississippi," ca. 1863. Graphite on beige paper. New-York Historical Society, purchase of James B. Wilbur Fund.


In this field sketch, artist Frederick B. Schell, working for New York's Frank Leslie's Illustrated Newspaper, documented a group of recently-freed slaves arriving in the Union camp at Vicksburg. This relatively common event was made uncommon by the name of the enslaved people's former owner: Confederate President Jefferson Davis.
Read More »
 | 
Posted Thursday, May 9, 2013, at 2:15 PM
From the files of Reagan's Special Assistant to the President and Director of Correspondence, Anne V. Higgins. Image courtesy of Swann Auction Galleries.


This telegram, sent to Ronald Reagan from Leonard C. Kirk in March 1983, contains a draft response written in Reagan's hand. The sheet of paper goes up for sale through Swann's Auction Galleries on May 23.
In his message, Kirk states his approval of Reagan's defense policy before going on to identify himself as a "black unemployed Viet Nam veteran who considers you a worse president than Tricky Dick Nixon." Kirk tells Reagan that he believes him to be a "closet racist and a friend of the rich."
Read More »
 | 
Posted Wednesday, May 8, 2013, at 10:30 AM
Brooke's Your Reflector Number I (Personality) Quiz from the Secretarial Training Program in Waco, Texas from January 1959 to June 1959 (Online catalog identifier 7280725).
This personality quiz, recently unearthed at the National Archives at Fort Worth, was meant for future secretaries taking a course with the Department of Labor's Bureau of Apprenticeship and Training.
Published in 1959, the quiz was most certainly directed to young women, who would have made up almost all of the pool of future administrative professionals. As such, it's a valuable representation of the kinds of emotional work that women were expected to do in the office.
Read More »
 | 
Posted Tuesday, May 7, 2013, at 12:30 PM
Photo courtesy of Alex Bateman.

During World War II, soldiers serving in Allied armies formed several exclusive clubs honoring troops who survived harrowing ordeals. Though unofficial, these clubs offered a morale boost to their members, as well as to other soldiers, as proof that survival—against all odds—was possible.
Read More »