Roy Moore's Wife Has Been Spreading Fake News and Misleading Endorsements Online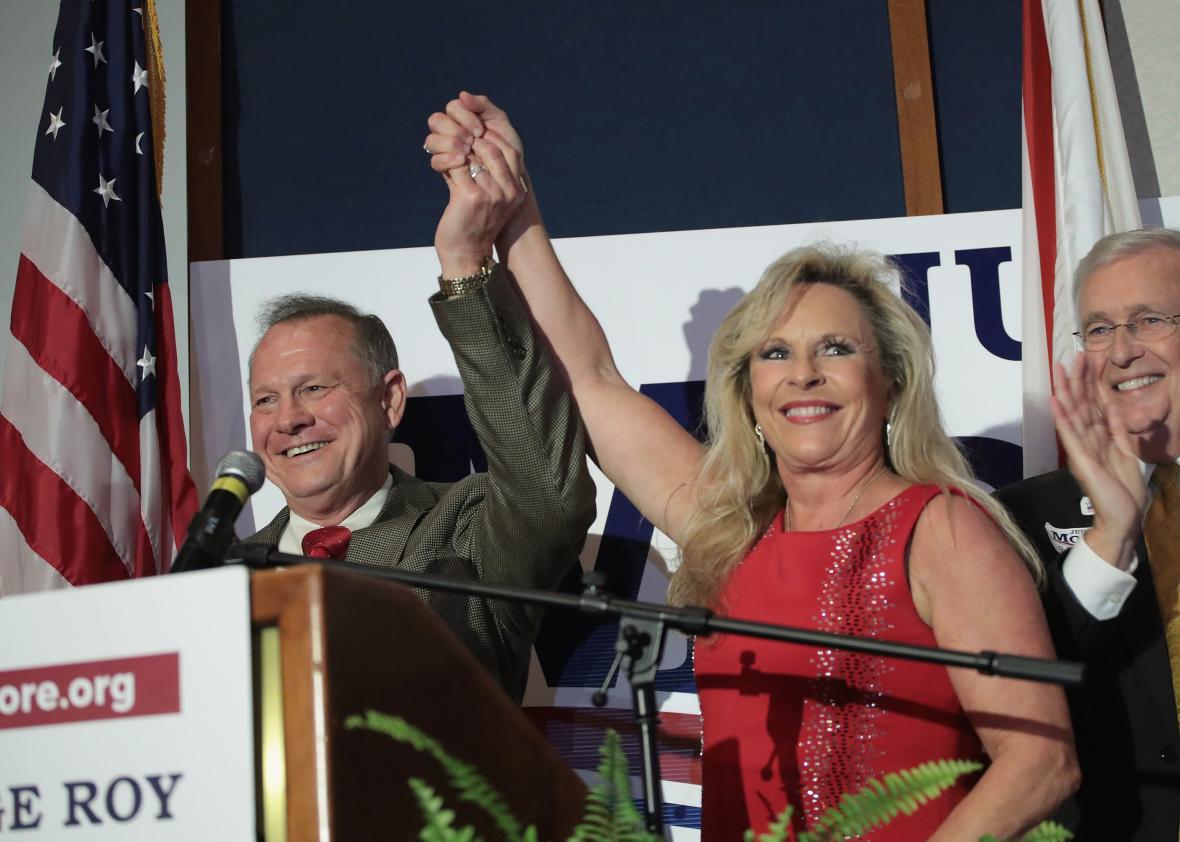 As Senate candidate Roy Moore faces another allegation of sexual misconduct—this time the assault of a minor—and leading Republicans call for him to step aside, his wife has been spreading misleading endorsements from religious leaders as well as falsehoods and fake stories, including the claim that the Washington Post paid the accusers to come forward.
Kayla Moore is also the president of his "Christian values" nonprofit, the Foundation for Moral Law, which the Washington Post reported had been secretly paying Roy Moore a salary not disclosed in federal tax filings. Moore has been adamant on social media and in interviews that allegations against her husband are fabrications, promoting fake news on her Facebook pages that attempt to disprove the allegations.
And on her Facebook page and on group pages related to Roy Moore and his brand of conservatism in Alabama, Kayla Moore wrote in praise of her husband as an "immovable rock in the culture wars," followed by a list of 50 pastors, indicating those named supported Roy Moore despite the backlash. But as AL.com reported, the letter she shared on Facebook seems to be a version of one posted on the campaign website before the primary in August. After AL.com published the letter, several of the named pastors said they had not been contacted or asked about the allegations, and at least one asked for his name to be removed from the list.
In another direct appeal to her friends and followers posted later in response to the allegations, Kayla Moore stated that "we are gathering evidence to money being paid to people who would come forward" as part of a plan—now still just a threat—to sue the Washington Post:
After the accusations came out against Judge Moore his polling numbers did not change, so do you think they will let up?? We knew something was coming, just did not know what next. This is the same Gloria Allred that did the very exact same thing to Trump during his campaign . Going on two months now they've been on a witchhunt here in Etowah County and our state advertising people to step forward with accusations…
Washington establishment and Democrat Party will stop at nothing to stop our campaign. Prayers appreciated....
Beyond making misleading statements herself, Kayla Moore also shared false or misleading stories from right-wing sites that attempted to portray the allegations as a liberal conspiracy.
Before she claimed she was collecting evidence of payments to women to come forward, she shared a link from an obscure site that appears to spread fake news. That article flimsily claimed—based apparently off a screenshot of a tweet from someone who heard this news secondhand—that the Washington Post had offered one woman $1,000 to accuse Moore.
Kayla Moore shared one link from the conservative site Gateway Pundit that attempted to discredit the signature from Roy Moore in one of his accuser's yearbooks, evidence that contradicts Moore's claim he has never met the accuser, Beverly Young Nelson. "IT'S A FAKE! Analyst Says Judge Roy Moore Signature Inside Gloria Allred Accuser's Yearbook Was FORGED," the headline declares. The post points to tweets from a writer who the site says is "known for his insightful take on politics" (and whom Breitbart calls a "Twitter thread genius") but who does not appear to claim any expertise in handwriting analysis. (The writer, however, has described himself as "the planet's only expert on World War I flame throwers.")
She shared another post from the conservative site Gateway Pundit, citing a Breitbart article, with the headline "REVEALED: Mother of Roy Moore Accuser Admits WaPo Convinced Daughter to Go Public." The story moves past this unimportant and tonally misleading claim—persuading hesitant sources to talk is a basic skill of investigative journalism—to argue the first accuser's mother proved the allegation false by telling Breitbart "matter-of-factly" her daughter did not have a phone in her room, as the Washington Post story states, but that "the phone in the house could get through to her easily."
"If [the accuser's mother] cannot accurately recall if Moore called a phone in her room, what else was falsely claimed?" the story asked, before going on to describe the accuser as a "real piece of work."
She also shared a post from a WordPress-hosted blog called 70News meant to smear Leigh Corfman, one of the accusers, with a series the unsubstantiated and bizarre tweets such as these:
I'M FROM ETOWAH COUNTY, ALABAMA, AND LEIGH CORFMAN SEEMS TO HAVE DATED MY BROTHER IN 1976, MAKING HER OLDER THAN 17 AT THAT TIME! NOT 14, IN 1979. ROY MOORE IS BEING SMEARED OR THERE IS TWO LEIGH CORFMAN ... SOMEONE IS LYING ON @MooreSenate INVESTIGATE GADSDEN HIGH ANNUAL PLEASE

— 🍺 Marion Talley 🍹 (@Shadowboxer50) November 9, 2017
And so on. Other Facebook pages appeared to share Kayla Moore's posts, and she shared some of them to pages with names like Friends of Roy Moore and Tea Party. She also posted a photo of Beverly Young Nelson's well-known attorney, Gloria Allred, with the caption, "what it's really about!"
Kayla Moore has been a somewhat public figure in Alabama because of her role as president of the Foundation for Moral Law, founded by Moore, that has, according to reporting from the Washington Post, served to promote Moore's career. In her role, she has spoken out in support of the "Christian values" causes she and her husband champion, and she has decried the "radical gay agenda," denounced the appointment of a gay woman as commandant of cadets at the U.S. Air Force Academy, and urged Alabama school districts to ignore complaints about school prayer.