John Kelly Calls Robert E. Lee "an Honorable Man," Says Civil War Caused by Lack of Compromise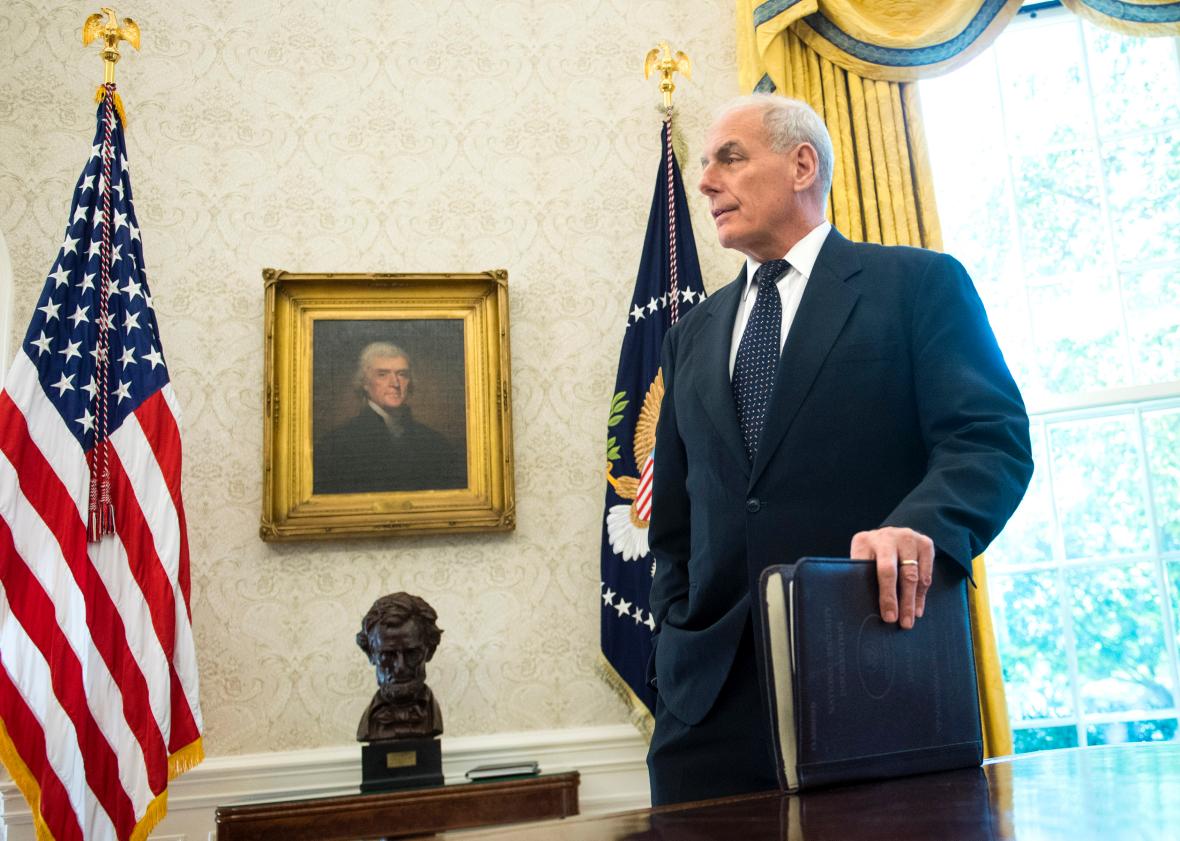 White House chief of staff John Kelly, sometimes considered by critics (and members) of the Trump administration to be "the adult in the room," called Robert E. Lee "an honorable man" and said the Civil War was the result of a lack of compromise.
On the first night of former right-wing radio host Laura Ingraham's new show on Fox News, Kelly talked about the Mueller investigation, China, his work as the head of the Department of Homeland Security, and his recent statements about Rep. Frederica Wilson regarding Trump's phone call to a Gold Star widow.
When Ingraham, who was decidedly for keeping Confederate statues, asked Kelly about a church in Alexandria, Virginia, that decided to remove plaques honoring George Washington and Robert E. Lee, Kelly responded with the argument that we should not judge people—including, apparently, those who literally led the battle to keep people enslaved—without putting them in historical context:
I think we make a mistake, though, and as a society and certainly as, as individuals, when we take what is today accepted as right and wrong and go back 100, 200, 300 years or more and say what those, you know, what Christopher Columbus did was wrong.
I would tell you that Robert E. Lee was an honorable man. He was a man that gave up his country to fight for his state, which 150 years ago was more important than country, it was always loyalty to state first back in those days. Now it's different, today. But the lack of an ability to compromise led to the Civil War. And men and women of good faith on both sides made their stand with their conscience, where their conscience had them make their stand.
As Ta-Nehisi Coates countered on Twitter, there were actually plenty of compromises over slavery before the Civil War in an effort to prevent conflict, and during the Civil War, Lincoln made many concessions to the South. How the Civil War could have been avoided is a historically complex question, but as Slate's Jamelle Bouie noted on Twitter, ultimately any compromise that would have satisfied the South would have meant further perpetuating the institution of slavery.
Final thought, for here at least,
on the Civil War. Focus on compromise only makes sense if you view slavery as bad but not *that* bad.

— Jamelle Bouie (@jbouie) October 31, 2017
Kelly was until recently lauded as someone with the potential to maintain order in the White House and stand up to unethical behavior from the administration. Earlier this month, some began to question that conclusion when Kelly, in defending Trump in the president's disagreement with a Gold Star widow, mischaracterized remarks by Rep. Frederica Wilson, the congresswoman who publicly said the widow had been offended by Trump, in an effort to damage her reputation.