What Was the Purpose of Friday's Inauguration Clashes?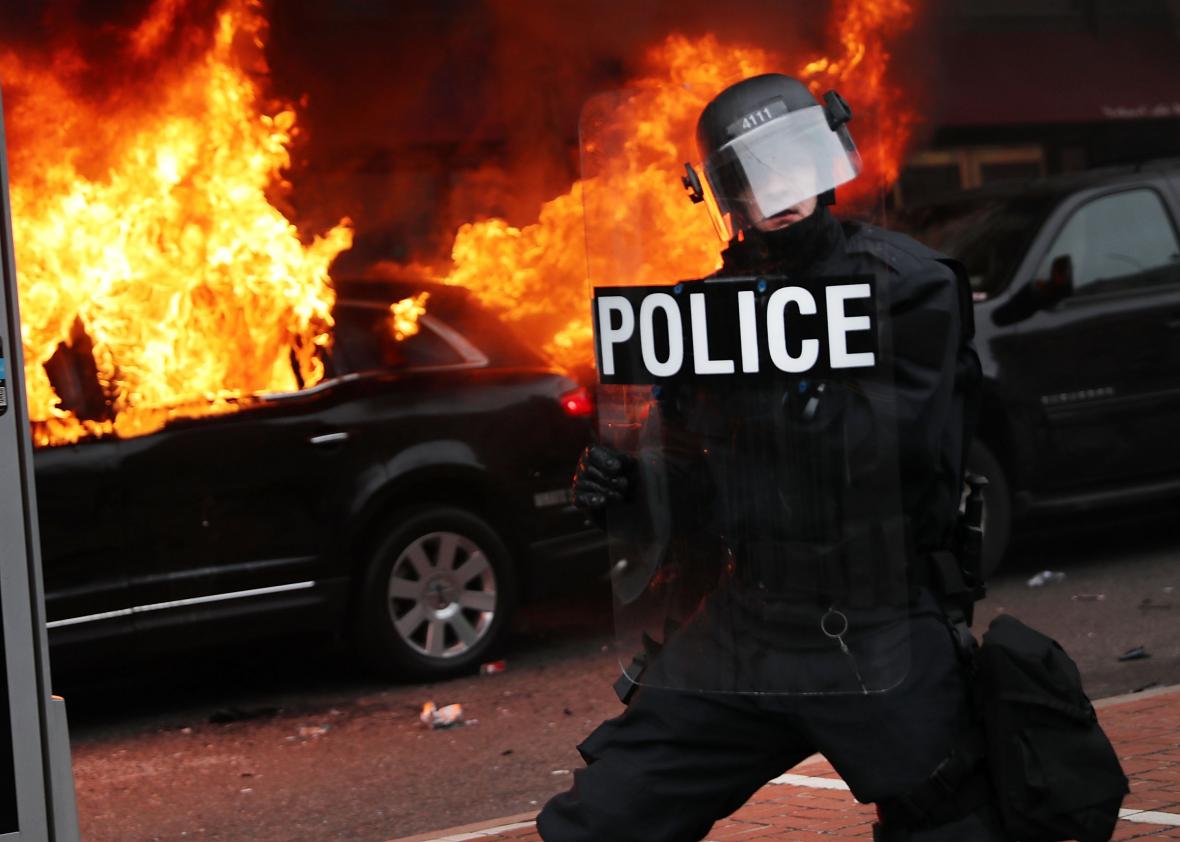 The most serious protests against the start of the presidency of Donald J. Trump are slated to occur in the form of the Women's March on Washington and related sister marches across the country on Saturday. Organizers of that effort have said they expect a possible quarter of a million men and women to peacefully protest a president who has been accused of multiple sexual assaults, promised to appoint Supreme Court judges who would overturn Roe v. Wade, and is reportedly planning to gut Justice Department funding to combat violence against women, apparently just for kicks. So the message of protesters in Saturday's fully permitted rally seems to be pretty clear: Donald Trump has proved time and again to be bad for women and bad for America.
What was less clear was the overarching goal of some of the much smaller protest actions that took place around Washington on Inauguration Day itself. One of the main protest groups, DisruptJ20, said that its protests were designed to be "a series of massive direct actions that will shut down the Inauguration ceremonies and any related celebrations—the Inaugural parade, the Inaugural balls, you name it. We're also planning to paralyze the city itself, using blockades and marches to stop traffic and even public transit."
The organization included a map of protest sites titled "Inauguration Clusterfuck 2017."
You can debate the merits of direct action aimed at disrupting the celebrations for both the peaceful transfer of power and also for a man who has treated Democratic norms as nuisances that can easily be swatted away in his quest for power. But what seems clear is that a small number of these actions—taken away from the main parade route—got out of hand.
To wit, here are some things that happened on Friday:
A few blocks away from the inaugural parade route, a limo was set on fire in downtown Washington.
There were repeated clashes between police and protesters at that same spot in Franklin Square, with the Washington Post reporting that some demonstrators were "throwing rocks, bricks and chunks of concrete and taking newspaper boxes and barriers and putting them on the streets."
"During the afternoon clash, the protesters started a fire in the middle of the street using garbage bins and newspaper boxes, and some climbed trees and light poles," the Post additionally reported.
"When one police SUV tried to drive through the crowd, several protesters dressed in all black tried to block it; when the SUV sped up, pushing the protesters aside, one picked up a rock, threw it, and smashed the vehicle's rear window," the Post reported as well.
Black-clad self-described "anti-capitalist and antifascist" protesters around that same K Street corridor area broke things, set fires, attacked businesses, and injured three officers, one of whom was struck by a thrown object.
More than 90 people were arrested as police claimed violence had caused "significant damage to a number of blocks in our city."
A number of protesters went to checkpoints for entering the inauguration, some attempting to prevent attendees from reaching the event.
One bystander, the Post reports, was hit in the head by a flashbang or percussion grenades that were either thrown by protesters or police. He was cut and bleeding.
A Trump supporter who was bleeding from a welt on this cheek said a man hit him with a rock after he had attempted to tackle a different anti-Trump protester.
Again, much of the reported violence occurred around the Franklin Square site in downtown Washington just north of the White House and southeast of Dupont Circle.
To be clear, none of the Disrupt events on the official "Inauguration Clusterfuck 2017" appeared to have been planned around Franklin Square. The group held a variety of protests on a series of different social justice topics all around the city, including a larger permitted event at McPherson Square attended by Michael Moore. My colleagues in Washington have been attending a number of those peaceful demonstrations throughout the day and will be reporting more on them later. And the D.C. chief of police emphasized that the violence was caused by a relatively small number of protesters. "It's a very, very small percentage of the number of folks that came here to peacefully assemble in our city," said interim chief of police Peter Newsham.
But it was enough for Mayor Muriel E. Bowser to send out a series of tweets condemning the violence.
Again, I respect your right to peacefully protest but the damage that has occurred today is unacceptable and not welcome in DC. #Inaug2017

— Mayor Muriel Bowser (@MayorBowser) January 20, 2017
What was accomplished by civil disobedience that turned into violence from a small number of protesters? Those demonstrators did not seem to be offering explicit goals along with the acts of violence.
And as my colleague, Leon Neyfakh, noted on Friday, within minutes of his inauguration, Trump's White House websites had issued a warning to protesters of all stripes, saying, "Our job is not to make life more comfortable for the rioter, the looter, or the violent disrupter."
Hopefully, law enforcement in the era of Trump doesn't take violent clashes from a small number of people as an excuse to clamp down on peaceful practitioners of the right to freely assemble, as hundreds of thousands are expected to do across the nation on Saturday.