50 People Killed, Many More Wounded, in Orlando Club Mass Shooting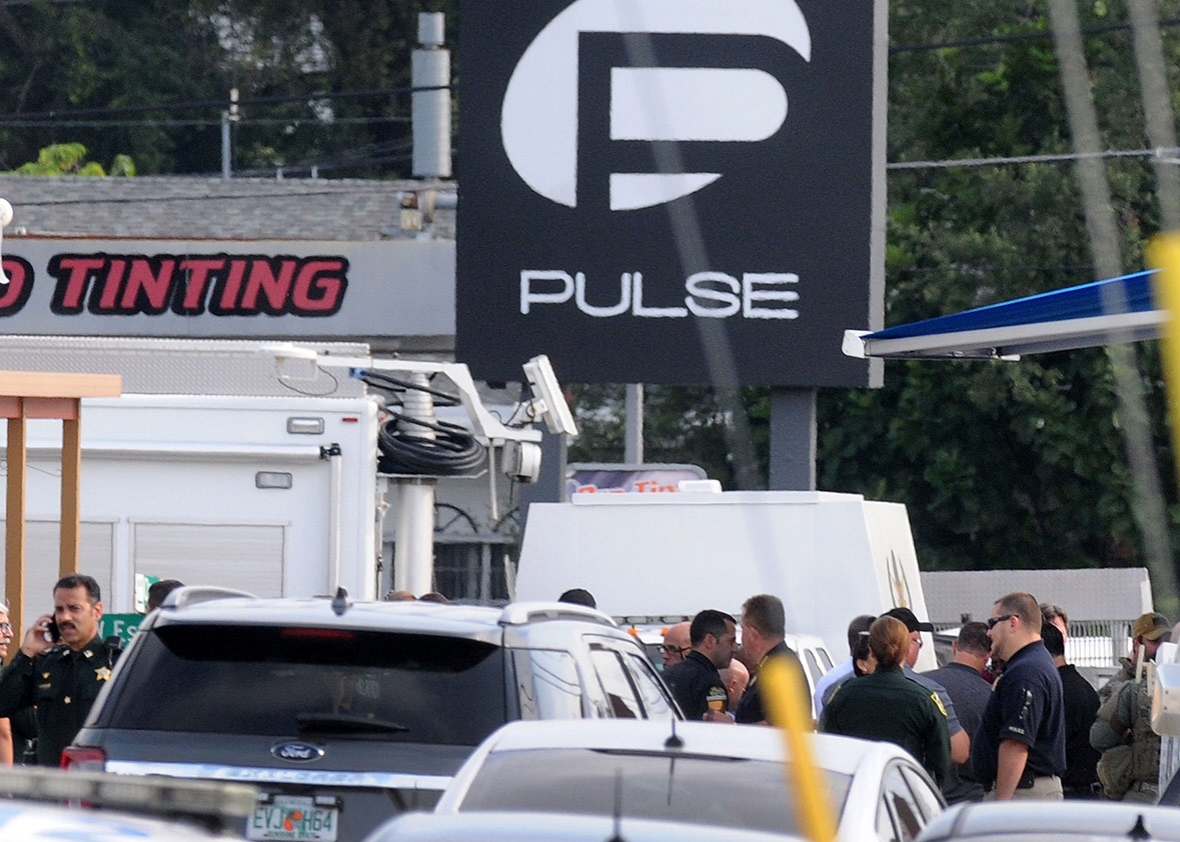 Fifty people were killed and another 53 wounded early Sunday when a gunman opened fire in a crowded LGBTQ nightclub in Orlando, Florida. The shooter has been identified by law enforcement as Omar Mateen, a 29-year-old American citizen living in Florida who worked as a security guard. Mateen reportedly pledged allegiance to ISIS before the massacre and may also have been motivated by homophobia. The incident is the worst mass shooting in U.S. history. Below is our live-blog about the incident, which was updated throughout the day Sunday. For the rest of our Orlando coverage, click here.
Update, 12:14 p.m.: The ISIS chatter continues from Congress, this time from Rep. Adam Schiff, a California Democrat:

Rep. Schiff, who is always cautious, says Dept. of Homeland Security told him Orlando shooter made pledge of allegiance to Islamic State.

— Damian Paletta (@damianpaletta) June 12, 2016
Update, 11:59 a.m.: Sen. Bill Nelson, a Florida Democrat, raises the specter that the shooter has ties to ISIS. "I have checked with intellegence staff and they do believe that there is some connection to ISIS but I might say that is not official," he told reporters. "This is the largest issue of mass shooting and it appears to be an act of terrorism but the facts—we can't say that totally yet." He then offered a second disclaimer about the unconfirmed nature of what he just said: "I'm just passing along to you the information I have that from the credible sources as well as directly. That information is not from the FBI."
Update, 11:33 a.m.: Eyewitnesses are starting to speak to media outlets. Luis Burbano, who was in the club with several friends, told CNN:
The deejay was playing a typical set that incorporated what we thought was gunshots as part of the music. Four shots, bop, bop, bop, bop. But for some reason, it was different. No one put two and two together until the fifth and sixth. Between 10 and 20, that's when everything really started getting real. Then we all at that point did a domino effect, all to the floor, everybody, at least at that part of the club. I can't speak for the main floor or anything else. At least what I saw in our section of the bar, it was just a quick drop, hit the floor, hit the ground.
Asked to describe the scene outside the club, Burbano offered this story:
I saw this kid collapse in front of me. He collapsed pretty much right next to the building. I said, what are you doing, what are you doing, get up, let's get up. I grabbed him, not realizing that his forearm was split in two. Then I realized he had a gash on his side as well. I quickly took off my main shirt and did a... tourniquet on him and kept him occupied, got to know him. He was visiting from Jacksonville. He was just here for the weekend, just to hang out there. Young, early 20s. Before I knew it, this guy was pacing, looking for a family member back and forth, and he had a bullet sticking out. The bullet, I kid you not, was this big. Half in his leg, half sticking out. I took off my other shirt and did a tourniquet really quick on him as well. So I had them both by my side until the paramedics came.

Update, 10:55 a.m.: Details about shooter Omar Mateen are beginning to emerge. The Los Angeles Times reports that Mateen is a 29-year-old U.S. citizen who lived in Fort Pierce, Florida, a town on the Atlantic coast about 120 miles south of Orlando. CNN adds that Mateen worked as a private security guard in Fort Pierce for a number of clients "including the U.S. government."
Update, 10:45 a.m.: Police chief John Mina added in his press conference with Mayor Dyer that the shooter used both a handgun and "an AR-15 type" assault rifle in the attack. Mina made no mention of the supposed "explosive device" that it was reported earlier the gunman may have been wearing.
Update, 10:26 a.m.: Orlando Mayor Buddy Dyer just announced in a press conference that the number of people dead has risen to 50. In the same press conference, he has updated the number of people injured to 53, and said that he has asked Gov. Scott to declare a state of emergency in Florida. According to a database from CNN, the victim count makes this the deadliest mass shooting in America since such killings began being tracked in 1949, surpassing the 2007 Virginia Tech massacre's death toll of 32.
Update, 10:15 a.m.: Florida Gov. Rick Scott has released a statement on the shooting and announced that he is traveling to Orlando to meet with police and local officials. His statement:
Our thoughts and prayers are with the victims, families and all those affected by this horrific tragedy. We are a strong and resilient state and we will devote every resource available to assist with the shooting in Orlando. Our state emergency operations center is also monitoring this tragic incident. I have been in constant communication with Orlando Mayor Buddy Dyer, Orange County Mayor Teresa Jacobs and state and local law enforcement this morning. I would like to also thank all the first responders who quickly came to assist and help those in need.
Update, 9:47 a.m.: Both NBC News and CBS News are reporting that the suspect in the shooting is Omar Mateen.

Update, 9:44 a.m.: USA Today has more information on Pulse, which it says was opened in 2004 "to promote awareness about the area's lesbian, gay, bisexual and transgender community." The brother of one of the owners died of AIDS, and the club, according to its website, was created to honor him.
It was important to create an atmosphere that embraced the gay lifestyle with décor that would make [the owner's brother] John proud. Most importantly, (we) coined the name Pulse for John's heartbeat — as a club that is John's inspiration, where he is kept alive in the eyes of his friends and family.

Update, 9:37 a.m.: People who were at the club during the shooting have told reporters that, when the shooting started, they thought it was just part of the music. Kenneth Melendez, a regular clubgoer, told the Sentinel: "At first, when I heard the shots I thought it was part of the music, but then we realized it was really happening. I started running and saw someone bleeding from the arm and I was like wow this is really happening and I kept running."
Original post: About 20 people are dead, and 42 wounded, after a mass shooting at Pulse nightclub, a gay club, in Orlando, Florida early this morning. Police are calling this an act of terrorism. The gunman is dead. From the Orlando Sentinel:
A gunman took scores of people hostage overnight inside the nightclub between 2:00 a.m. and 5:00 a.m.; about 42 people were taken to area hospitals, [Orlando Police Chief John] Mina said.
Officers killed the gunman, who has not been identified, in a shoot out and referred to him as a "lone wolf." He was carrying an assault rifle, a handgun and was possibly wearing an explosive "device." The Orange County Sheriff's Office hazardous device team is now searching the area.
Mina said that "approximately 20" people were dead and that about 320 people were in the club when the shooting began. The FBI is taking the lead in the investigation, and agent Ron Hopper said the suspect is not from the Orlando area.

This is the biggest mass shooting in the U.S. since Newtown in 2012, when 26 people, including 20 children, were killed. It is, police said, unrelated to the shooting of Christina Grimmie, a former contestant on NBC's The Voice, which also took place in Orlando at the Plaza Live theater on Friday.
This post will be updated with new information.