Can You Trust Navigation Apps During a Major Emergency?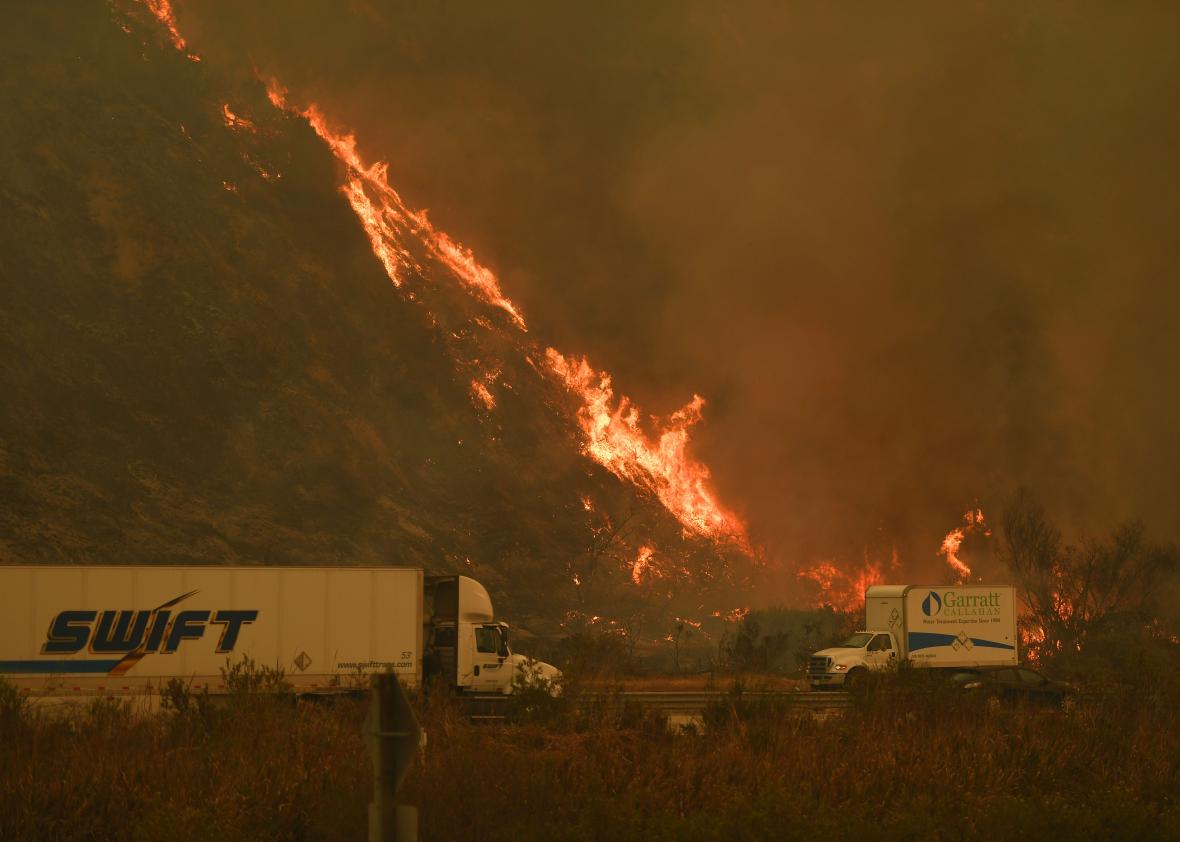 At least five wildfires have been blazing in Southern California over the past week, engulfing tens of thousands of acres and more than 150 homes.
On Wednesday, the Los Angeles Times reported that the Los Angeles Police Department advised drivers not to consult navigation apps, which it said were instructing users to drive towards streets in areas that are on fire because they are less crowded at the moment.
It raised a question that could have broader implications: Can you trust the technology you use for everyday navigation in the event of a major emergency?
In this case, as the fires spread rapidly, the LAPD isn't pointing to a systematic issue with the apps. Anibal Lopez, a representative for the department, told Slate, "We're not telling people not to use the navigation apps. We want people around some areas to use them with caution."
He noted that not all navigation apps are necessarily experiencing this issue, though he declined to name specific apps on the record. Officials at roads blocked off from the public due to fires have had to turn back cars because drivers have been directed there by their navigation apps.
According to USA Today, the Waze app did not alert a reporter of fires in Bel Air on Wednesday morning. There were also a number of people on Twitter reporting problems with several apps:
Google maps, waze, and apple maps all seem to think I can take the 405 to work and drive right through the fire without any problems. That's a problem.

— Punk&Spice Latte (@sch4) December 6, 2017
Waze, which has received much of the scrutiny, was active on Twitter in response. It says it's working with transit officials to keep maps updated with road closures.
Navigation apps do often have features designed to assist users in the event of natural disasters or other emergencies. Google launched the SOS Alerts tool for its Maps app in July, which provides news stories, emergency phone numbers, and other updates related to crises in affected locations. Google itself has released two maps that indicate the locations and conditions of the fires. And during Hurricane Irma in September, Google Maps marked road closers and used crowdsourced alerts from Waze to compile information on travel conditions during the storm.
A spokesperson for Google, which owns Waze, sent Slate a statement:
To provide access to accurate and useful transportation information, we use algorithmic and manual methods to account for everyday and emergency road closures. These road closures also appear on our LA Fire Crisis Map, embedded as part of our SOS Alert on Search. We'll continue to update the map in real time to address the changing conditions on the ground and help Los Angelenos get around safely.
The prospect of GPS-enabled systems directing people towards a crisis raises concerns for self-driving car technology, which could face a similar flaw. However, the U.S. Department of Transportation and other emergency-preparedness researchers have been studying how automated vehicles could actually make evacuations for natural disasters like hurricanes and floods faster. Hopefully, that would be the case for fires as well.
Future Tense is a partnership of Slate, New America, and Arizona State University.