Twitter Is Shutting Down a Conservative Group's Automated Tweets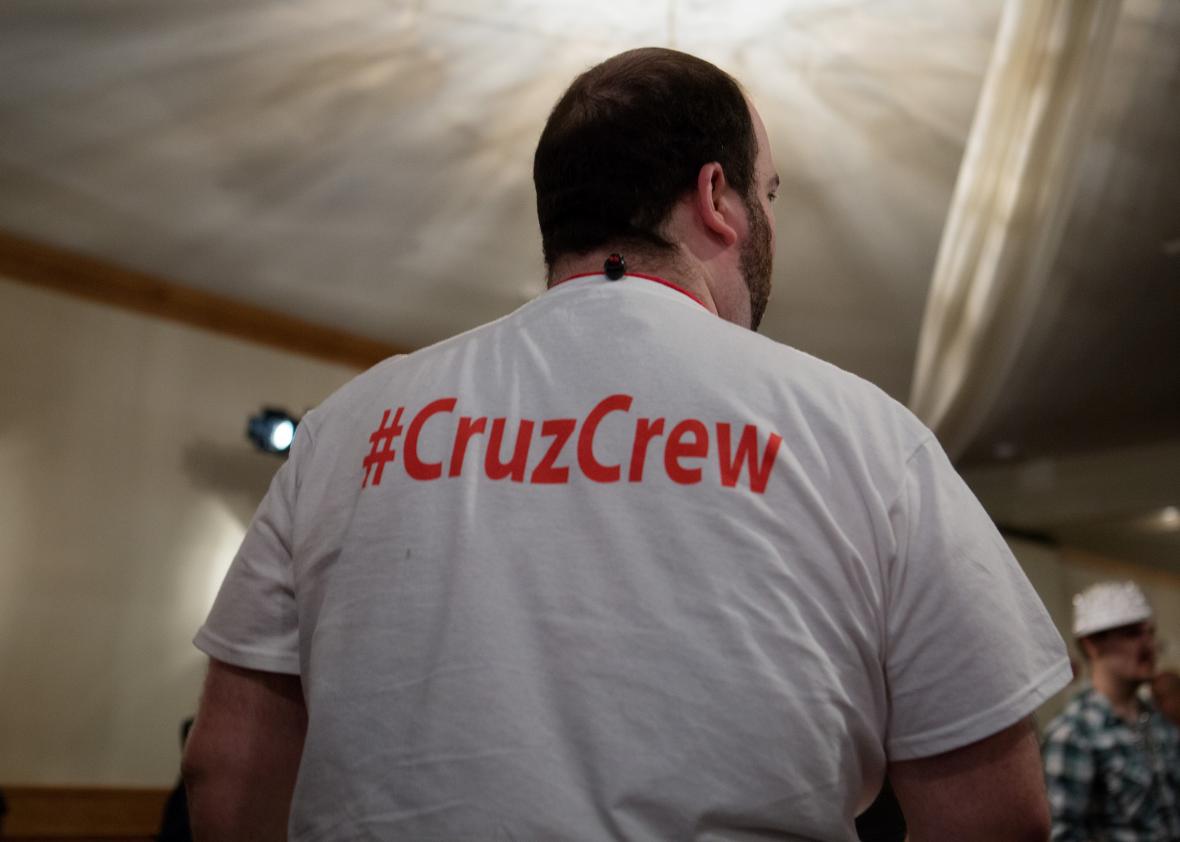 Twitter has restricted a conservative group known for its political tweet campaigns from being able to repeatedly send automated, prewritten messages to its nearly four million followers.
The Patriot Journalist Network, commonly called PJNet, is known for bombarding Twitter with thousands of posts per day about political debates, and the group has received gratitude from half a dozen congressmen and senators, including North Carolina Sen. Richard Burr and Virginia Rep. Rob Wittman.
The network was founded in Florida in 2012 and now claims more than 500 members and close to four million aggregate followers on its Twitter accounts. As previously documented in the Washington Post, the group holds "hashtag rallies" in which its members coordinate with each other to send out a mass of tweets on a particular topic.
Researchers at the University of Pennsylvania found that on some days in 2015, the PJNet hashtag appeared on up to 70 percent of tweets related to the controversial Common Core education initiative. At one point the group claimed to be able to reach 21 million Twitter accounts. Other issues of interest to the group include immigration and Israel, with hashtags like "#BuildTheWall" and "#IStandWithIsrael." Its members also supported Texas Sen. Ted Cruz during the 2016 Republican presidential primaries with the hashtag "#CruzCrew."
PJNet recently threw its support behind Roy Moore's Senate bid in Alabama, which Moore acknowledged in a tweet:
I can't thank all of the #PJNET Patriots enough for your support!

Can't wait to see all the tweets from tonight's Twitter Rally! #ALSen

— Judge Roy Moore (@MooreSenate) June 30, 2017
PJNet relied on a Twitter app for these previous social media campaigns, which were developed by the group's founder Mark Prasek. The app helped users build tweets with prewritten text and pictures and allowed them to post the tweets on a consistent schedule, even multiple times in an hour. This sort of automation can allow a user to reach an audience of hundreds of thousands of accounts.
The app was accessible through the PJNet website, which prominently features links leading to a page that allowed you to authorize the app on your account. (If you try to click on the links now, though, you'll be taken to a Twitter error page.) Individual users could then use the PJNet app's dashboard to quickly and conveniently construct tweets.
Yet Twitter abruptly decided to handicap the group, Prasek said in a series of YouTube videos. On the evening of Oct. 11, some members of the Patriot Journalist Network began having trouble logging into PJNet's app. Prasek says that he then went to examine the server and saw that all of the tweets, including posts that had been scheduled beforehand, were failing to send. He then discovered on Twitter's programmer interface that his application had been restricted.
Prasek reached out to Twitter to inquire about the restriction. After some back-and-forth by email—during which time he says Twitter appeared to reactivate and then resuspend the application—the company notified him that his application had been "restricted or suspended due to one or more violations of our Developer Agreement and Policy, Automation Rules, Display Requirements and/or Twitter Rules."
After another appeal, Twitter informed Prasek that the app had been restricted for posting spam. The email from Twitter, which Prasek forwarded to Slate: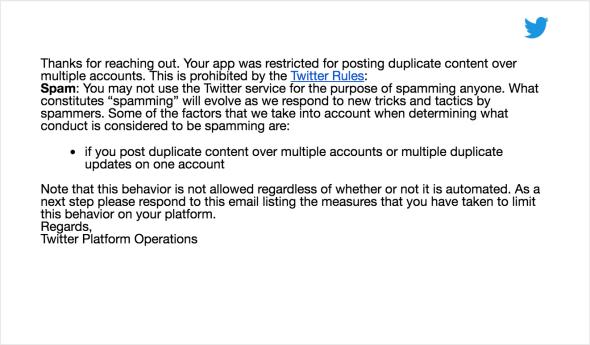 In response, Prasek has decided to jettison the feature of the app that allowed someone to send out tweets on a repeating schedule. "Twitter decides the rules. We don't. We are a guest at their dinner table," he said in a video describing the incident. "If your account is suspended, you can't possibly be on the field of play waging the battle that we are in." He hopes that by altering the application, the group will still be able to use its other features, such as its hashtag tracker and specialized search engine. They will be able to send out single tweets at a preset time, but members will no longer be able to set this process on repeat.
It's unclear what exactly precipitated Twitter's decision. Prasek says that no changes had been made to the application in the last couple of years. When Slate inquired about the PJNet account, a Twitter spokesperson replied, "We do not comment on individual accounts, for privacy and security reasons."
Twitter, along with other social media platforms, has recently come under fire for possible Russian influence in the 2016 election, including bots allegedly linked to the country that mostly posted messages supporting Donald Trump and opposing Hillary Clinton. Bots accounted for 20 percent of all election-related tweets, according to researchers at the University of Southern California. Twitter has subsequently pledged to crack down on bots.
But PJNet insists that its accounts aren't bots. Prasek says that the group's human members were choosing the schedules for their tweets and checking off boxes in the app to select which messages they wanted to post on their own personal accounts. They were not, Prasek says, a network of fake accounts run by an anonymous actor.
PJNet will now require more labor to fulfill its purpose without the app's repeating function. Prasek believes its members can make up for the loss by manually scheduling individual tweets and leveraging easy-to-use buttons with which users can quickly send out posts on a certain topic, allowing them to coordinate campaigns.
But at the moment, it's not clear from the emails if Twitter will find the modifications sufficient to bring the operation back into compliance with the company's policies against posting duplicate content on multiple accounts and posting duplicate updates on the same account.
Prasek hopes that PJNet will be back online with its new app sometime next week, since the coding will take some time. That plan also hinges on Twitter allowing the group to have its seat at the table again.
Future Tense is a partnership of Slate, New America, and Arizona State University.