Famous Tech Company Mattel Releases Drone Barbie and a $300 3-D Printer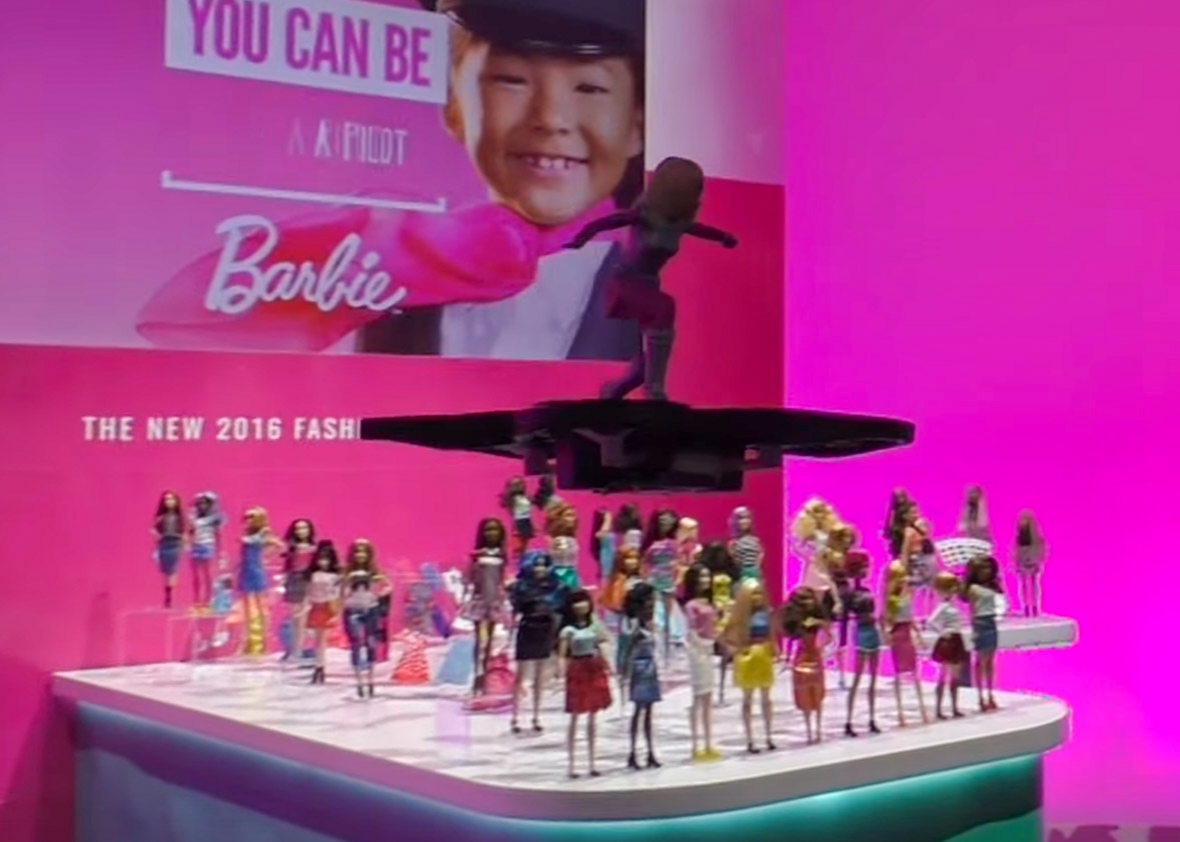 The setting: A conference room at the toy manufacturer Mattel Inc.
TOY EXECUTIVE 1: Gentlemen, we need to come up with some new Barbie dolls.
TOY EXECUTIVE 2: To the dictionary!
Grabs a dictionary off a shelf, opens it to "Dr"
TOY EXECUTIVE 2: What about Dramamine Barbie?
TOY EXECUTIVE 1: Too druggy.
TOY EXECUTIVE 2: Okay, okay. What about Drone Barbie?
TOY EXECUTIVE 1: Great! We'll put Barbie on top of a drone.
TOY EXECUTIVE 2: And we'll make her outfit pink!
The two executives shake hands. Curtain.
This may not be a precisely accurate depiction of how Mattel came up with its new Barbie-rides-a-drone toy, but I bet it's close enough. At last weekend's Toy Fair 2016, an annual trade show for toymakers, Mattel announced the impending release of the Barbie Star Light Adventure RC Hoverboard, a $60 contraption that will absolutely delight all those of you who live and die for Barbie/Silver Surfer crossover fan fiction. The toy, which should be in stores by autumn, involves Barbie in a Judy Jetson-esque outfit poised atop a real, working quadcopter—albeit a small one—that is operated by a remote controller resembling a Nintendo 64 joystick. I'll walk you through the thoughts that ran through my mind when I first saw the demo video: Cool. (pause) Not as cool as an actual drone. (pause) You can buy an actual drone for $60. (pause) Why does this product even exist?
Granted, I'm not Barbie's target audience. But Barbie's target audience has been in flux lately. Mattel has been trying to remake Barbie's image, to move the doll away from its traditional role as an avatar of anatomically intimidating materialism toward one that's more relevant to our kaleidoscopic era. "We were seeing that Millennials are driven by social justice and attracted to brands with purpose and values, and they didn't see Barbie in this category," a Mattel executive told the Telegraph in January. So diversity and empowerment seem to be the new values that Mattel would like Millennial Barbie to embody, and you could certainly do worse than those!
Drone Barbie, of course, isn't Mattel's first or only bid at toying around with science-y products. At Toy Fair last week, the company also announced it would soon release a 3-D printer called ThingMaker, which prints unnecessary plastic shapes. The ThingMaker will retail at $300, or approximately two-thirds the price of a PlayStation or an Xbox, which are toys that children will actually enjoy. And Mattel can only hope that it is better received than some of its high-tech Barbie predecessors. In 2015, Mattel introduced Hello Barbie: a doll that was also a surreptitious recording device, forever eavesdropping on conversations and uploading them to the cloud. Hello Barbie currently lists at $74.99.
Mattel certainly realizes that high-tech toys can be retailed for high prices. But there may be another reason for its dive into STEM: After releasing a computer scientist Barbie several years ago, Mattel also published a disastrous book titled Barbie: I Can Be a Computer Engineer, which elicited extremely reasonable charges of sexism when it went viral in 2014. ("If Barbie fans reading the book were wondering what it really meant to be a computer engineer, the only answer seemed to be 'something to do with computer viruses' or maybe 'getting a boy to help you,'" wrote Slate's Lily Hay Newman in November 2014.)
The Star Light Adventure Hoverboard is cheaper than the ThingMaker—side note: I would absolutely watch a movie called Drone Barbie vs. the ThingMaker—and less immediately creepy or sexist than its aforementioned techie Barbie predecessors. But the toy still positions Barbie as a glorified hood ornament on a beginners' drone. The most benevolent outcome here is that Drone Barbie could be the gateway toy that will kindle an interest in science and electronics in the child who is primarily interested in playing with dolls. The founder of a women-in-droning group called Amelia Dronehart suggested as much to MarketWatch, saying, "If your daughter likes Barbie and she likes the drone, then that may encourage her to pursue STEM. And the next drone she flies won't necessarily be pink."*
Maybe? I don't know. If I'm a kid who likes to play with dolls, I will probably be pretty disappointed that this doll is affixed to a hovercraft. If I'm a kid who likes to play with drones, then I'll probably just ask my parents why they didn't just buy me an actual drone, as opposed to a cheap quadcopter with Barbie on top. Call me a crabby, joyless Grinch, but to me this just seems like Mattel's dumb attempt to cash in on a trend rather than a serious effort to encourage the sort of curiosity and problem-solving abilities that you need to sustain an interest in science. But, then, kids are weird. Who knows what inspires them? Maybe playing with a doll riding a quadcopter will encourage children to believe that they, too, might grow up to ride atop quadcopters themselves, having Social Justice Star Light Adventures of their very own. Everyone's got to have a dream.
This article is part of a Future Tense series on the future of drones and is part of a larger project, supported by a grant from Omidyar Network and Humanity United, that includes a drone primer from New America.
*Correction, Feb. 18, 2016: This post originally misquoted the founder of Amelia Droneheart's statement to Marketwatch.
Future Tense is a partnership of Slate, New America, and Arizona State University.