The FAA's Lame New Attempt to Promote Drone Safety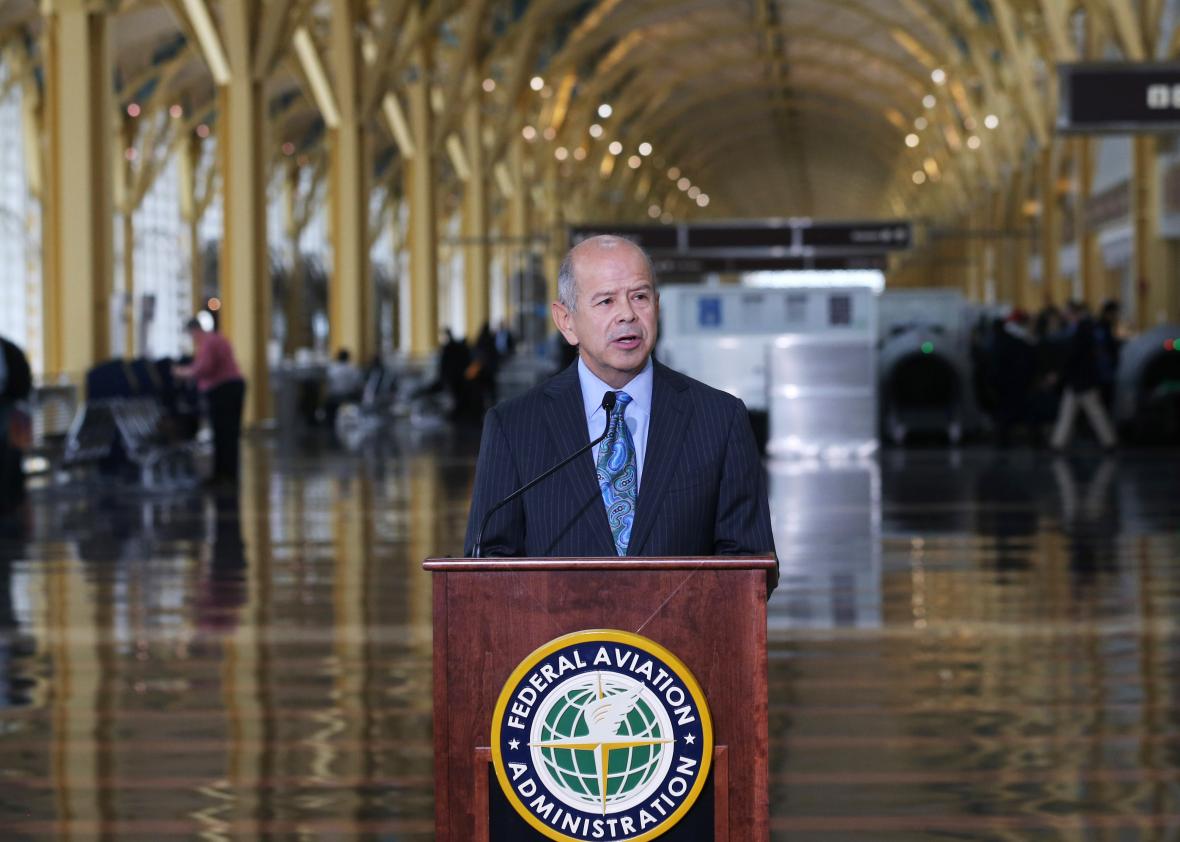 THE AMERICAN PEOPLE: " How can we stop idiot drone hobbyists from piloting their devices into restricted airspace and crashing them into stadiums, government facilities, and other sensitive locations?"
FAA ADMINSTRATOR MICHAEL HUERTA: "There's an app for that!"
This is a snippet of dialogue from my new one-act play, The American People Meet FAA Administrator Michael Huerta. Coincidentally, it is also a pretty accurate depiction of the Federal Aviation Administration's latest strategy for encouraging safe droning. Isn't it great when life imitates art?
On Wednesday, the FAA released a smartphone application intended to discourage drone users from flying into forbidden territory. The app is called B4UFLY, which would also be a great vanity license plate, or a Britney Spears song. "Knowing is half the battle" is its basic philosophy. In a press release Wednesday, the FAA noted that the app "tells users about current or upcoming requirements and restrictions in areas of the National Airspace System (NAS) where they may want to operate their unmanned aircraft system."
Though the app can't stop drone users from flying above and into restricted territory, its existence theoretically makes it harder for those pilots to claim that they were unaware that territory was off-limits. A couple of taps on the screen of your device and the "app provides a status indicator that tells users: 'Proceed with Caution,' 'Warning – Action Required,' or 'Flight Prohibited.' " I hope the app also lets users buy T-shirts featuring those three slogans, because, man, you can never have enough novelty T-shirts.
B4UFLY is an extension of the agency's existing Know Before You Fly safe-droning campaign. Though both the app and the Know Before You Fly campaign are very well-meaning, to me they're mostly reminders of how tepid the FAA's recreational-drone safety policies really are. There's no licensing system for drone hobbyists, and you aren't required to know and care about operational safety before launching your drone. The Know Before you Fly safety rules are framed as "guidelines" rather than "requirements."
This might change at some point. For now, though, B4UFLY just goes to show that, for better or for worse, drone safety in America is still seen a matter of education moreso than regulation. Speaking to a crowd Wednesday at the Consumer Electronics Show in Las Vegas, Huerta said that the app was "another important part of our education and awareness efforts to foster a culture of safety and accountability for the UAS community." Whether it'll actually be effective in that regard remains to be seen. Raising awareness is a good thing. But establishing a comprehensive suite of actual, enforceable rules and regulations would be a better thing.
This article is part of a Future Tense series on the future of drones and is part of a larger project, supported by a grant from Omidyar Network and Humanity United, that includes a drone primer from New America.
Future Tense is a partnership of Slate, New America, and Arizona State University.