What's a Fair Prison Sentence When a Drone Gets in the Way of Firefighters?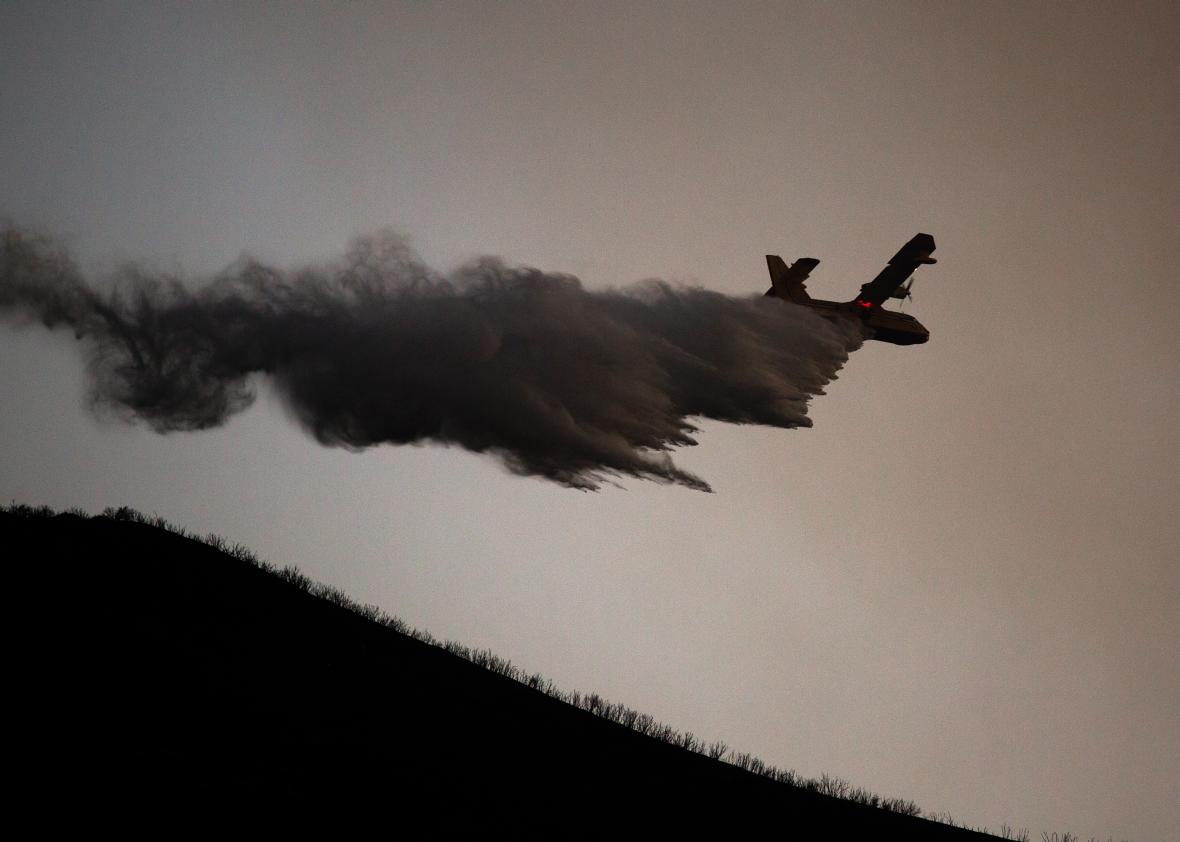 "Only you can prevent idiot drone hobbyists from getting in the way of people who are trying to fight wildfires." If Smokey Bear were to somehow time-travel to the year 2015, this would undoubtedly become his catchphrase.* (Coincidentally, "Smokey Bear time-travels to 2015" is also the premise of the sitcom I'm writing. Get at me, Hollywood!) As camera-equipped drones become increasingly popular with people who aren't spies or creepers, more and more individuals are using those drones to capture dramatic aerial images of things that are happening on the ground. And what could be more dramatic than an overhead shot of a raging fire?
Well, lots of things, probably, but that's not my main point. As spectacular as those fiery images can be, the act of getting them is incredibly irresponsible and dangerous. By cluttering up the airspace above these blazes, drones risk colliding with rescue and response aircraft; the threat of a collision can actually force these aircraft to the ground. A top U.S Forest Service official told AccuWeather.com's Jillian MacMath that the agency has recorded 25 instances so far this year of drones unwittingly disrupting emergency responders' efforts to contain and extinguish wildfires. In one widely reported California case, a drone got in the flight path of three planes that were planning to spray fire retardant on a blaze in the San Bernardino Mountains. The planes were forced to divert; the drone itself was left unharmed. "It's infuriating," a Forest Service spokesman said at the time. Who could disagree?
California state legislators, rightfully aggrieved by this photographic heedlessness, passed a bill this summer that would have prescribed six months in jail and/or a fine for anyone caught flying a drone in a manner that interfered with emergency-response efforts. But Gov. Jerry "Flame On" Brown vetoed the bill earlier this month, claiming that he was uncomfortable with the idea of expanding the state's already-dense criminal code. At the time, I wrote that the California bill had been forced by the federal government's tardiness to pass its own drone-control rules and regulations. Now, I would like to report that a federal lawmaker has finally taken future-Smokey's exhortation to heart and proposed a measure to stop emergency-response disruptions before they start.
Last week, New Hampshire Sen. Jeanne Shaheen introduced a bill called the Wildfire and Emergency Airspace Protection Act, which would prohibit recreational drone users from flying their drones in a manner that disrupts the work of firefighters responding to fires that affect federal property; this enjoinment would also apply to drone hobbyists who interfere with other, non fire-related disaster-response operations. Shaheen's bill, which has been referred to the Senate Judiciary Committee, is meant to protect federal interests, which means that it would have no impact on, say, a fire in your backyard, unless your backyard is Mount Rainier or something like that. The bill would impose a monetary fine and/or up to five years in prison for drone hobbyists whose "reckless" actions end up interfering with certain emergency responders. (This summer, California Rep. Paul Cook introduced a similar bill into the House of Representatives. Cook's bill, the Wildfire Airspace Protection Act of 2015, differs from Shaheen's in that it applies exclusively to wildfires and covers commercial drone operators as well as recreational operators.)
The Senate ought to be considering tough regulation of drones and their users, and Shaheen should be commended for bringing this particular issue to the body's attention. But wile I agree that drone disaster-disruptors should be punished and that this sort of behavior needs to be deterred, a potential five-year sentence seems excessive. The vetoed California bill only allowed for a maximum six-month sentence, after all. In a press release, Shaheen noted that her bill "would provide a greater deterrent to using drones near disaster relief efforts and send a clear message that operating them in these circumstances is unacceptable." I agree with this message wholeheartedly, and I hope that Shaheen's bill and the attendant publicity causes this message to spread. But I also think that Jerry Brown's warning about the perils of overcriminalization is worth remembering. "Only you can prevent prosecutorial overreach?" Smokey Bear might not have said it, but legislators ought to bear the adage in mind all the same.
*Correction, Oct. 16, 2015: This post originally misidentified Smokey Bear as Smokey the Bear.

This article is part of a Future Tense series on the future of drones and is part of a larger project, supported by a grant from Omidyar Network and Humanity United, that includes a drone primer from New America
Future Tense is a partnership of Slate, New America, and Arizona State University.