It's a Really Bad Week for Japan, Natural Disasters-Wise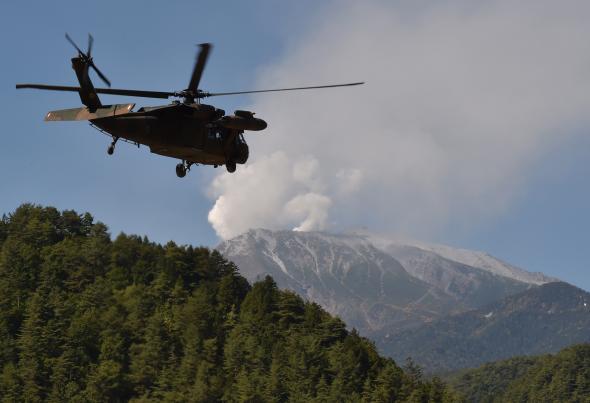 Just days after a deadly volcanic eruption in Japan, a coming typhoon threatens to complicate rescue efforts and threaten destruction of its own.
Saturday's eruption of Mount Ontake, one of the country's holiest Shinto peaks, was responsible for at least 47 deaths. Japanese police report that most victims died of injuries sustained by flying rocks or by inhaling hot air.
"I thought it was the end of the world," Gaku Harada, a professional climbing guide who helped rescue several people, told the New York Times. "I had only seen volcanic eruptions in movies and never dreamed I'd experience one in real life." (My colleague Phil Plait has also shared a terrifying video taken by hikers as the mountain was exploding.)
Now, Typhoon Phanfone, currently the equivalent of a strong Category 3 hurricane, is on track to threaten landfall this weekend. Osaka, Kyoto, Nagoya, and Tokyo could all be affected by heavy rain and strong winds, should the storm stay on its current predicted course. Mount Ontake is about 105 miles northeast of Nagoya, and should also be affected by the storm. In fact, the volcano may actually enhance the typhoon's heavy rains locally due to a process called orographic uplift.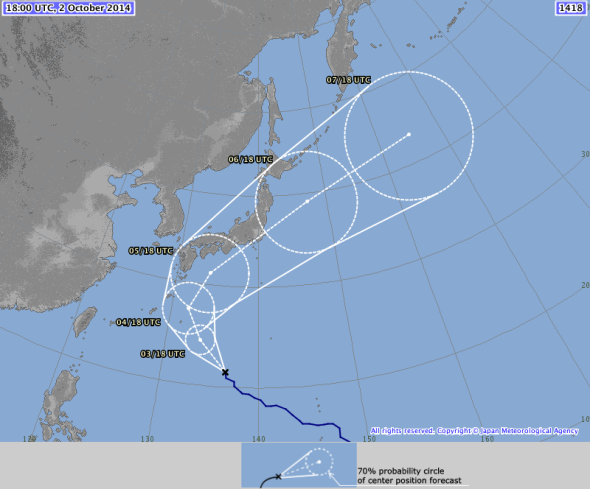 Heavy rains from Phanfone will arrive in Japan on Saturday, and are likely to bring dangerous flash flooding and mudslides. The Thursday morning 06Z run of the GFDL model predicted that Phanfone would dump widespread rains of 8+ inches across much of Japan. One area of particular concern is the Mt. Ontake volcano, which erupted last Saturday, killing 47 and leaving dozens missing. Phanfone's heavy rains will mobilize Mt. Ontake's ash deposits into dangerous mudflows, seriously complicating the search for victims of Japan's deadliest volcanic eruption in 90 years.
After quickly intensifying on Wednesday, Phanfone briefly featured a pinhole eye on Thursday. That sort of storm structure is typical of an extremely intense cyclone. Phanfone is expected to continue strengthening for the next day or two before encountering cooler water as it nears Japan.
While there's still some uncertainty as to the track of the storm's central circulation and strongest winds, Phanfone's large size should ensure a wide swath of heavy rain even if the storm's center technically fails to make landfall and stays just offshore.
Typhoon Phanfone is the eighth typhoon of the 2014 Pacific typhoon season. Two typhoons, Neoguri and Halong, have already made landfall in Japan this year.
Future Tense is a partnership of Slate, New America, and Arizona State University.