Inside Wisconsin's Mayfly Hell

If you don't like bugs, stop reading this now. What follows can only be described as a horror movie come to life.
This weekend, millions of mayflies took over a stretch of the Mississippi River. In the span of a few short hours, the riverside town of La Crosse, Wisconsin, was overwhelmed.
You've surely heard of storm chasing, but what about mayfly chasing? For meteorologist Tim Halbach, nightmares became reality on Sunday night:
There were so many bugs, they actually showed up on weather radar, with the equivalent reflectivity of a moderate thunderstorm. A thunderstorm of bugs, that is: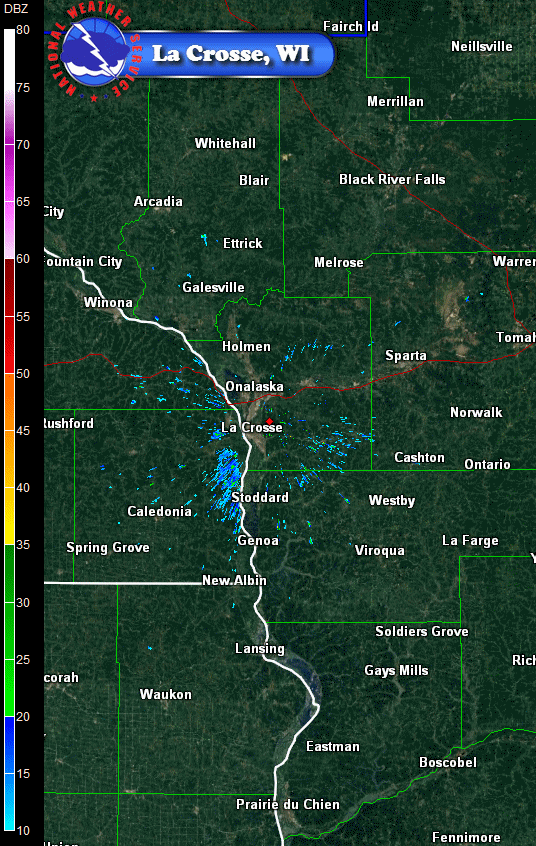 The National Weather Service in La Crosse, where Halbach works, launched an explainer page devoted to the massive hatch, which they say resulted in "swarming and piles of mayflies" (emphasis theirs). Piles?! Eeesh. I'll give them the benefit of the doubt on that one.
Mayflies have the ultimate boom-and-bust life. The bugs have spent the better part of their roughly year-long lifespan in aquatic nymph form, and they get to take flight for only a few hours—which is what happened Sunday. These hatches become wild aerial sex frenzies, after which the adults die in a blaze of glory. According to PBS, mayflies have the shortest adult phase of any known insect, just five minutes for one species.* Wired described them as "gonads with wings." But why Wisconsin? Why now? From the NWS:
While the emergence of mayflies from their river bottom mud dwelling can occur at various times through the warm season depending on the species, this particular emergence was that of the larger black/brown Bilineata species.
Adult Hexagenia Bilineata live for about a day. They can't eat. (Seriously, they don't even have working mouths.) Their annual emergence is synchronized so as to provide the best chance of finding a mate. A citizen science project coordinated by the U.S. Fish and Wildlife Service in Onalaska, Wisconsin (PDF) has helped link the annual event to cumulative weather conditions during the spring and early summer.* Since this year's been colder than average along the Upper Mississippi River, the mayfly hatch came later than normal.
I called Halbach at his office to get to the bottom of this entomological abhorrence.
I'm afraid to ask: How was it?
Mayflies are the latest buzz around here. (Everyone in the office gagged a little bit when I told that joke.)
But seriously, we were watching radar that evening, between 8:30 and 9, and it really started to pick up. The algorithm started showing that we were getting rainfall. We took a look more closely, and were like, nope, that's bugs. Winds were from the south, and you could watch the swarms being pushed gradually northward.
Watching from radar is one thing, but what on earth inspired your mayfly chase?
After my shift ended at midnight, I decided to drive back and forth to see what I could find. Maybe I'm just morbid that way. I've gone through some bug hatches in the past with the cicadas in D.C. and Chicago, with the same general sense of just being thoroughly disgusted.
Sunday night, I went to the Mississippi River bridge to see where the main mayflies were. The biggest swarm I found was just to the west of the main bridge, on an island in the Mississippi.
Coming back, I was low on gas and was going to fill up. I saw the lights of the gas station were off, and thought they were closed. In hindsight, they probably just switched off the lights to try to get rid of all the bugs.
When I finally stopped for gas, it was enough that in the few seconds of opening the door, a bunch of them had climbed in. When I got back in my car, you could hear them buzzing around inside. They're harmless, though. It was definitely a self-inflicted annoyance.
Just how rare is something like this?
Pretty much every summer we get a pretty big one that shows up. The last big one like this was in 2012. It's something we see on radar pretty often this time of year, but maybe not normally to the size we had the other night.
It's a good sign for the river that it's healthy. Some of the fishermen might not be as happy, though. The fish don't bite as well after eating so many bugs.
We've seen them hatch multiple times per year in the past, so this might not be the only one this year.
Any advice from a veteran mayfly chaser for someone who's interested in joining your ranks?
Be prepared to have mayflies all over you. And bring a shovel. I regret not having my better camera with me, too. Look for anywhere that has lights, they seem to congregate there. Knowing the wind direction in advance will help you find the clusters. As this event showed, you can use the radar images for that as well.
Since they mate and die in one day, there will be piles of them the morning after. That's what the shovel's for.
*Update, July 24, 2014: This sentence was updated to clarify the role a citizen science project has played in tracking mayfly hatchings.
*Correction, July 24, 2014: This article originally misstated that some mayflies have a lifespan of only five minutes. Their lifespan is actually roughly a year; it's the adult phase that's only minutes-long in some species.
Future Tense is a partnership of Slate, New America, and Arizona State University.