Hurricane Arthur Liveblog: Will It Ruin Your Fourth?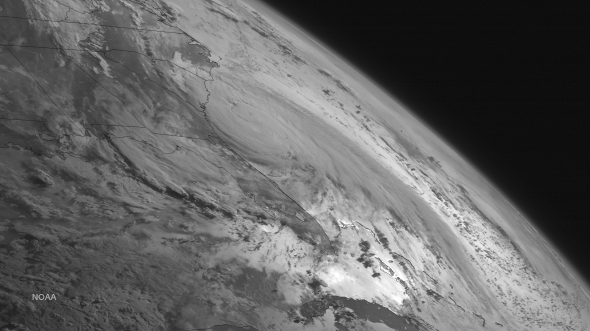 July 3, 12:30 p.m.: Hurricane Arthur is on track for an unwelcome tour of the East Coast this holiday weekend, already raining out fireworks celebrations and forcing beachgoers to flee for higher ground. First stop: North Carolina.
In its 11 a.m. update, the National Hurricane Center said Arthur's sustained winds had strengthened to 90 mph—an upper-range Category 1 hurricane. The storm should strengthen further before landfall in the North Carolina Outer Banks later Thursday, and is now expected to reach mid-Category 2 status during its close approach there.
The storm is expected to hit hardest in North Carolina, where Gov. Pat McCrory has declared a state of emergency for coastal counties.
A mandatory evacuation of Hatteras Island in the vulnerable Outer Banks was underway on Thursday. With summertime tourism at its peak, and the forecast trending stronger and closer to the coast than earlier expectations, those remaining behind to ride out Arthur on North Carolina's barrier islands may end up with a bit more storm than they bargained for.
Storm surge flooding is expected to reach five feet above ground level in some locations on the Outer Banks, creating the potential for road washouts. Wind gusts could top 100 mph during the early morning hours of July Fourth.
After its brush with North Carolina, Arthur will spend the rest of the Fourth of July traveling relatively quickly up the East Coast. Arthur's passage should be at a safe enough distance to keep wind and flooding risk to a minimum, but close enough to create a wave of rain showers and dangerous beachfront currents. Arthur will make its closest approach to New England during the evening hours on Friday: perfect timing to make Independence Day there a washout.
This radar animation from Weather Underground shows Arthur's progression over the last few days. Rain showers were already reaching the coast on Thursday morning: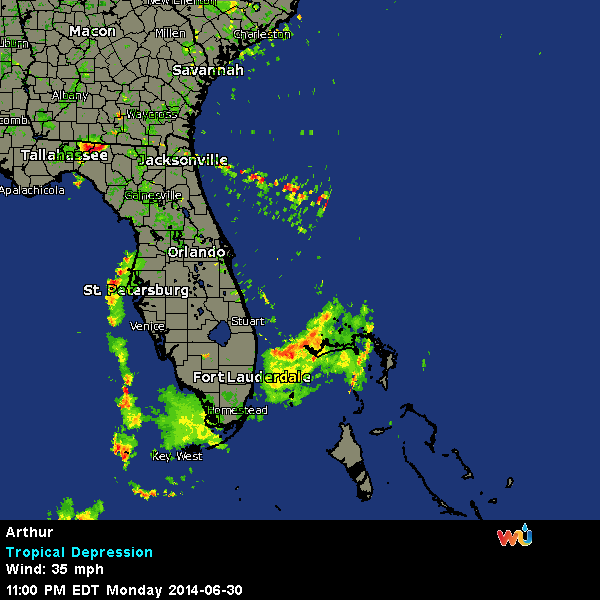 Future Tense is a partnership of Slate, New America, and Arizona State University.