"Texas Hooker" to Bring Midwest Blizzard, Tornadoes at the Same Time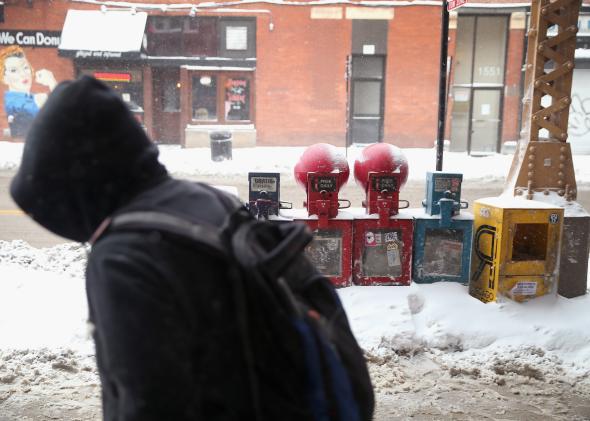 A rare and potentially powerful storm system is coming to the Midwest on Thursday, and it's just begging for its own meme.
Known to meteorologists as Panhandle Hooks, or—seriously—a "Texas hooker," the storm system could bring a foot of snow and whiteout conditions to Iowa and Wisconsin, and tornadoes to the Ohio Valley, at the same time.
[Hooks usually] originate as low pressure systems that form east of the Rocky Mountains. As the upper level flow descends the Rockies' eastern flank, the air warms by compression, and as it warms the pressure at the surface drops. The result is a phenomenon known as a leeside low. The lows that form in the lee of the towering San Juan range in southern Colorado become Panhandle Hooks.
What makes these storms rare is the fact that they are essentially a result of the local topography of the western Plains. By a chance alignment of the jetstream, colder than normal air from the Arctic, and warm, moist air from the Gulf of Mexico, these storms can quickly grow into monsters. The storms then "hook" to the northeast, making a beeline for the area between Minneapolis and Chicago.
"THE GREAT MIDWEST BLIZZARD"
One of the biggest snowstorms on record to strike the Midwest occurred just two days after an extremely rare January tornado outbreak in nearly the same area (January 24). An intense "Panhandle hook" storm tracked from New Mexico northeast up into the Ohio Valley. Chicago recorded its all-time record snowfall with this storm of 23 inches. Winds of 50 mph created drifts to 15 feet! Seventy-six people died, most in the Chicago area. This blizzard still ranks as Chicago's heaviest snowfall in a 24-hour period.
"THE 1975 MINNESOTA BLIZZARD" (Also named "Minnesota's Storm of the Century")
This classic "panhandle hook" storm brought three days of rain, snow, sleet, and freezing rain to the Upper Mississippi River valley. Snow totals were highest across Northern Minnesota, around 2 feet, where little to no rain fell. Duluth, Minnesota received 8 inches of a very heavy wet snow, while International Falls, Minnesota broke an all-time snowstorm record with 24.1 inches of snow. Very strong winds created snow drifts up to 20 feet with peak wind gusts to 80 mph.
Another Panhandle Hook storm, in November 1975, infamously sunk the Edmund Fitzgerald.*
As the hooker gathers strength, winds are expected to blow up to 60 miles per hour in western Kansas early Thursday. A blizzard warning is in effect for parts of Iowa and Minnesota, and more than a foot of snow is expected in Wisconsin and Michigan by Friday.
The NWS Storm Prediction Center has placed more than 60 million people—from New Orleans to Chicago to Washington, D.C.—in line for a multiday severe weather outbreak as a result of the storm. A few tornadoes are possible, but the primary risk will be from a very powerful cold front that could create wind gusts up to hurricane force across more than a dozen states.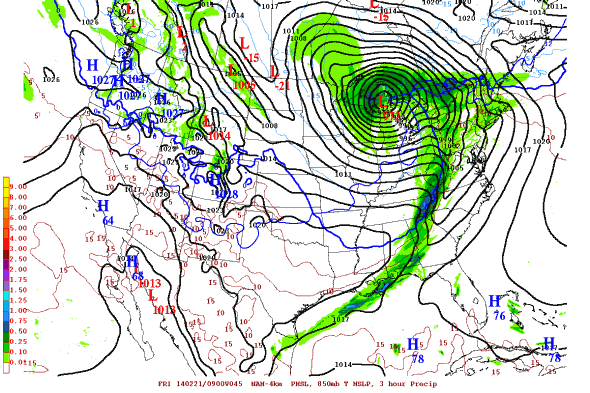 Before the storm hits, temperatures will be much warmer on the East Coast than they have been over the past several weeks as south winds temporarily take hold. But don't be fooled by the hooker's tricks: On the back side of the storm, a renewed blast of Arctic cold will linger for several days. Wednesday's longer-range weather models are even starting to show another outbreak of polar vortex-like cold weather for late next week, with temperatures 30 to 40 degrees colder than normal over a four-day stretch.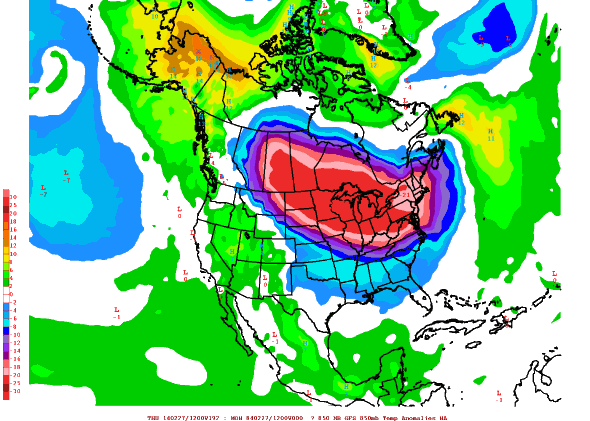 The moral of the story: You do not want to mess around with a Texas hooker.
Future Tense is a partnership of Slate, New America, and Arizona State University.