Don't Put Away the Shovel. There's More Snow to Come Tonight.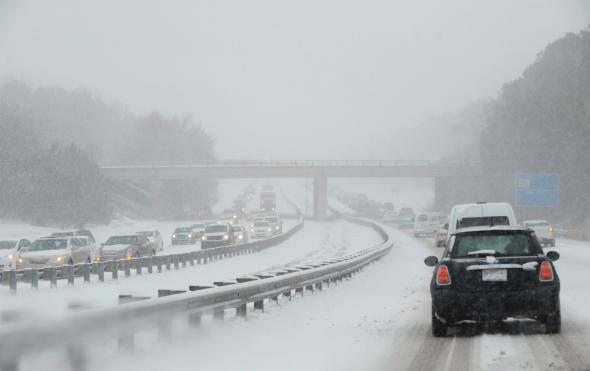 Feb. 13, 4 p.m. Eastern: So, what can we expect from this epic winter storm for the rest of night? (Scroll below to get to the live blog.)
All models agree that a second and possibly intense round of snow banding will move up the East Coast this evening and overnight. It all depends on where exactly those bands set up and if the cold air will be enough for all snow (as opposed to sleet, which would reduce totals). My bet is that, just like this morning, the models are likely underdoing the cold air present at the surface, and as a result, a significant secondary round of snow will move through.
Georgia:
Freezing rain in excess of one inch created widespread power outages across a broad swath of the state from Atlanta into South Carolina. Believe it or not, that wasn't as bad as the worst-case scenario forecasts earlier this week. Atlanta was largely spared, mainly because temperatures turned out to be a degree or two colder than forecast, turning what would have been a devastating blow to the city's trees into a couple of inches of sleets and ice pellets that weren't able to accrete onto powerlines and branches as easily.
Snow and ice have stopped falling across the state by Thursday afternoon, but the existing white stuff is still creating power outages and dangerous travel.
Any melting during the day Thursday will re-freeze and create dangerous road conditions overnight.
Carolinas:
Barring any more cars spontaneously catching fire, this epic storm is likely over for much of North Carolina. Meanwhile, South Carolina, part of the center of yesterday's freezing rain, is dealing with massive power outages and tree damage. South Carolina remains in a civil emergency as many places reported an inch or more of freezing rain Wednesday.
The Raleigh, N.C., area has received five to eight inches of snow, with up to a quarter inch of ice on top. Farther west, places like Charlotte, Asheville, and other higher elevation towns picked up six inches to more than a foot. Surprisingly, those totals didn't break many records (outside of mountain towns like Asheville, which picked up its biggest snow for the date since at least 1869, and Charlotte, which on Thursday set an all-time streak for consecutive days with at least an inch of snow–three), but the timing during yesterday's afternoon commute made for some apocalyptic scenes. Expect another inch or two of snow across the Carolinas by midnight tonight. Any melting during the day Thursday will re-freeze and create dangerous road conditions overnight.
D.C./Baltimore:
Totals of a foot to 18 inches or more have been reported across a vast swath of Virginia, West Virginia, and Maryland, just west of the major urban centers. So far, there's been about nine inches in DC and a foot in Baltimore. Factoring in this afternoon's high resolution weather models, D.C. probably has about a 30 percent chance at another 3-6 inches of snow tonight. Baltimore probably has about a 50 percent chance at another 3-6 inches of snow tonight.
Philly:
There's been a lull in accumulation this afternoon, but not before the first round of the storm pushed snow totals in excess of a foot for areas on the western edge of the city. With today's snow, Philadelphia has officially achieved its fifth-snowiest winter on record. Factoring in this afternoon's high-resolution weather models, Philly probably has about a 50 percent chance at another 4-8" of snow tonight.
New York City:
This morning's epic snow band parked over midtown Manhattan right during the morning rush hour. Parts of the city received more than six inches of snow in just two hours, and totals are already nearing a foot. Since this morning, there's been a lull in precipitation, but snow will start again for everyone between about 5 p.m. and 5 a.m.–with another round of heavy banding and rapid accumulation at times. Factoring in this afternoon's high-resolution weather models, NYC probably has about a 50 percent chance at another 4-8" of snow tonight. All told, parts of the city could end up with a foot and a half of total snow by Friday morning.
New England:
An intense band of heavy snow moved through southern New England and briefly into the Boston area around midday, bringing nearly a foot to western parts of the region. Factoring in this afternoon's high-resolution weather models, Upstate New York and western New England probably have about a 50 percent chance at another 6-12+" of snow tonight.
Boston will likely miss out on another round of significant snow tonight, but as a consolation prize, it can expect a burst of heavy rain around midnight and wind gusts approaching 45 mph.
If you find yourself in a heavy snow band tonight, the National Weather Service says to be on the lookout for thundersnow.
This picture captures just how rough the storm was in the Carolinas.
Feb. 12, 4:50 p.m.: While Atlanta waits for its ice-pocalypse, attention is beginning to focus on North Carolina as a major winter storm continues to journey up the East Coast.
Same issue as Atlanta, No snow at 6-8 am people went to work, snow falls 9-11am all leaving at the same time. #facepalm #cltwx

-- Brad Panovich (@wxbrad) February 12, 2014
One spotter in Raleigh NC is reporting a traffic speed of 12 feet per hour. Yes, feet. #Pax #snow

-- Nick Wiltgen (@WxNick) February 12, 2014
Many local cell towers are jammed - too many calls, & 911 calls aren't getting through. Stay off voice - use text except for emergencies.

-- Nate Johnson (@nsj) February 12, 2014
What's happening is an intense, small-scale, sudden-onset snowstorm feature that's tough to predict more than a few hours in advance and can quickly change the situation on the ground. Snow banding like this is expected to occur off and on from the Carolinas northward to Washington, D.C., New York City, and New England over the next 36 hours as the giant winter storm continues to gather steam.
These snow bands may emerge as the defining characteristic of this particular snowstorm, which is carrying an especially large amount of "waviness" known as negative equivalent potential vorticity. Meteorologically speaking, that extra vorticity–literally a measure of energy causing the atmosphere to form complex features at the local level–could bring a foot of snow in only a few hours over very narrow strips.
The Storm Prediction Center, a forecast branch of the National Weather Service normally known for tornado forecasting, has been supporting today's unusually tough snow and ice forecast. It cautions that snow bands will continue throughout the afternoon in North Carolina.
A Facebook group called "snOMG Charlotte Feb 2014" was offering shelter to people stranded by the sudden burst of snow.
Though much of the state is effectively shut down, heavy snow wasn't enough to cancel tonight's North Carolina—Duke basketball game, scheduled to take place in Chapel Hill. From WRAL.com:
According to ACC policy, the game will go on Wednesday night at the Dean Dome if players, coaches and officials can make it.
Even if there's no one in the stands.
As the storm moves northward throughout the evening hours, Washington, D.C. could rack up anywhere from two to 18 inches of snow, depending on the development of snow bands, the rate at which the storm intensifies and the exact track of the storm's center.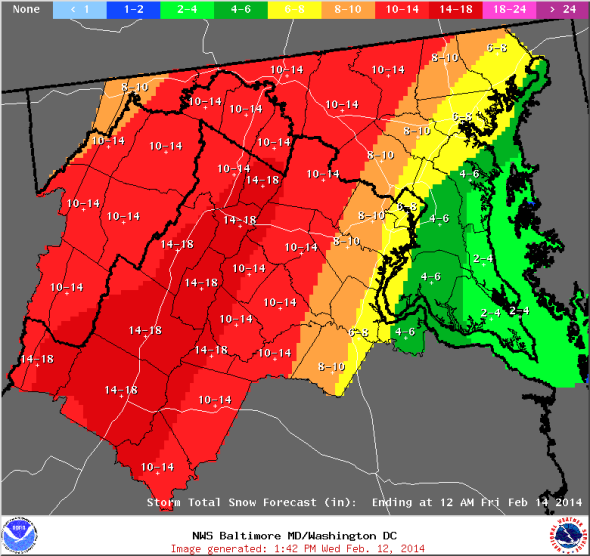 From the National Weather Service in Washington, D.C.: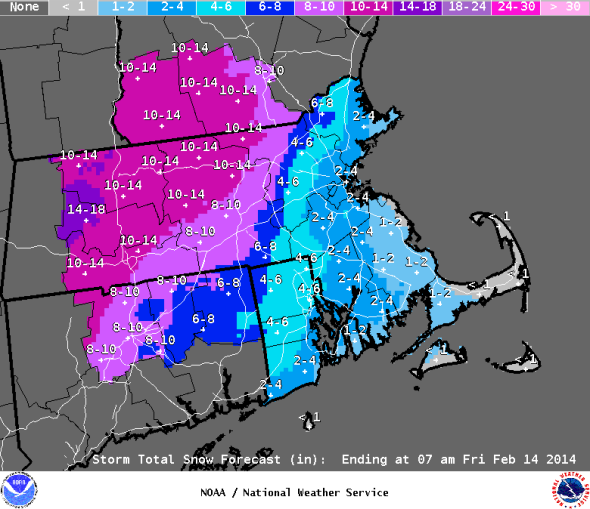 And Massachusetts could receive one to 18 inches:
Future Tense is a partnership of Slate, New America, and Arizona State University.