Drone U Podcast: We Need to Set Some Drone Etiquette Rules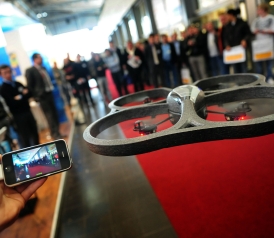 Every week on Future Tense, we highlight a talk from a leading thinker from Drone U speaking on the topic of what our drone future may look like. Drone U is produced in cooperation with the New America Foundation. (Future Tense is a partnership of Slate, the New America Foundation, and Arizona State University.)
This week Drone U features a podcast from Dr. Illah Nourbakhsh, professor of robotics at Carnegie Mellon University and author of the recently released book Robot Futures. Nourbakhsh opens his talk about drone etiquette and ethics with a story about taking his children to school. As they walked through a local park, they encountered a film crew flying a drone. The people traveling through the park were uncertain as to whether they could walk under the drone flying over this public space, and signs posted warned any images captured could be used without permission.
These challenges surrounding drone-human interaction will only intensify as we have more robots, flying or otherwise, inhabiting our environment. Nourbakhsh wonders how we will walk with robots in the halls of our workplace, or even the bathroom, when we don't know if the bots we encounter are tele-operated, self-directed using artificial intelligence, or even broadcasting what they see on YouTube. In a future where anyone will be able to make any kind of drone they can imagine, he encourages inventors to create a set of standards that will allow us to understand and ethically interact with these new systems. This talk is a must listen for those interested in the questions about drones that people are not yet asking, but soon will be.
Join us on Oct. 9 for the next episode from Drone U, featuring Ryan Calo, as he discusses drones and the law.
Future Tense is a partnership of Slate, New America, and Arizona State University.