A Heat Map of Hipsters, Yuppies, and Frat Boys in Your City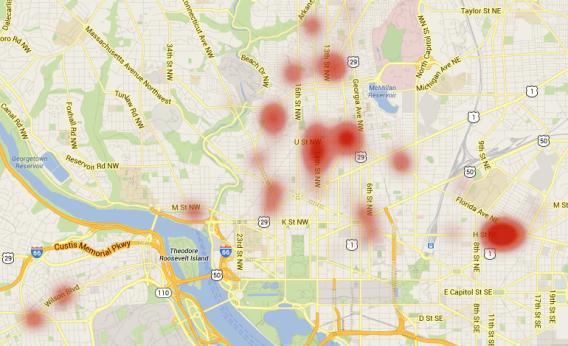 Of all the data goldmines that social media companies have acquired over the past few years, Yelp's stash of 39 million ratings and reviews of everything from dive bars to hair salons to auto mechanics may be among the most underrated. But this week the company put that information to brilliant use, building what it calls Wordmaps—heat maps that show the geographic density of keywords like hipster, frat, yuppie, and tourist for 14 major cities.

A quick glance at the New York and San Francisco maps confirms some of the obvious stereotypes: hipsters strewn along Valencia Street and Bedford Avenue, yuppies in the Marina and Park Slope. But they also highlight newer and lesser-known pockets of trendiness, like Judah and 45th Street in San Francisco or North Mississippi Avenue in Portland. Here's Portland's hipster heat map, which shows how creative that city's residents have gotten in sussing out new hoods to grace with their plaid shirts and DJ nights:
The data yield some geographical insights, such as how Chicago's Kennedy Expressway neatly cleaves the frat boys to the east from the hipsters to the west. And for those new to a city, Yelp's maps could be the quickest way yet to figure out which neighborhoods to check out—or avoid at all costs. A search for sketchy in San Francisco will steer you clear of the Tenderloin at night. And here's a look at Philadelphia's frattiest enclaves: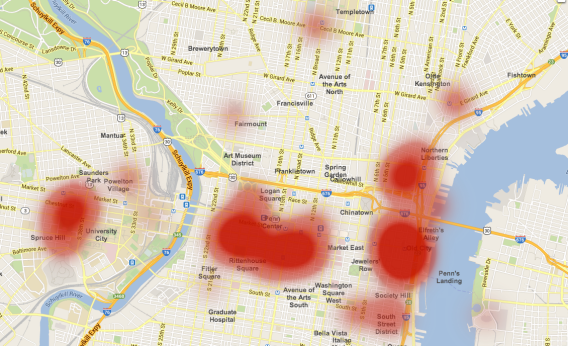 You can also sort by more utilitarian keywords, like noodles, margaritas, and of course, bacon. This handy GIF contrasts the distribution of "cocktails" to "BYOB" joints in Chicago: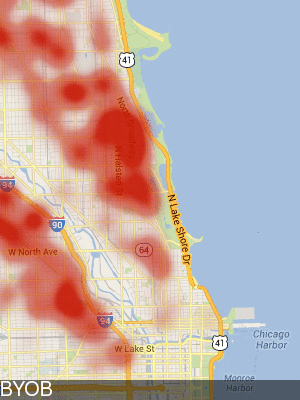 For now, Yelp's maps are pretty Americentric, covering 11 of the Yelpiest U.S. cities, plus London, Toronto, and Paris, where you'll have to substitute branché for both yuppie and hipster. But if the ratings site can overcome its recent bouts of bad press—which may or may not be justified—perhaps someday it will have enough data to give us a map of all the gin joints in all the towns in all the world, filtered according to their popularity with American expatriates. Until then, we'll always have this heat map of brasseries in Paris.
To play around with the Wordmaps for yourself, start here.
Future Tense is a partnership of Slate, New America, and Arizona State University.