A New High-Tech, Grass-Roots Effort to Fight Breast Cancer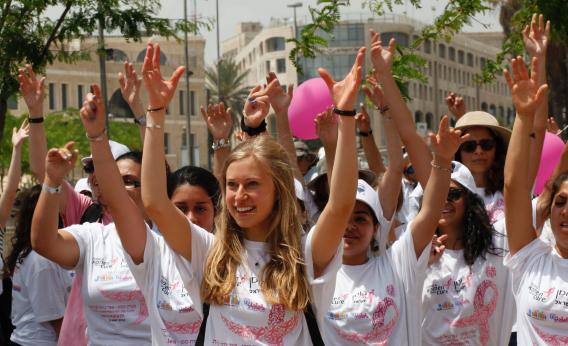 By now you've probably heard that, thanks to the Supreme Court, no one, and certainly not Myriad Genetics, can patent human genes. This decision was sensible and long overdue, but the celebrations have been short-lived. Because what you may not have heard is that Myriad still owns all of the information it has collected since the mid-1990s on the breast cancer genes—and it has no intention of releasing any of it.
Myriad's interpretations of mutations are out there, but scattered in a million pieces—in the reports it has sent out to women, or, more often, to the clinical centers where they were tested. But a new volunteer grass-roots effort, led by a few women with a family history of breast cancer, is trying to Free the Data so that scientists everywhere can analyze it and help women make informed choices about their breast-cancer risk. In collaboration with the University of California-San Francisco, the nonprofit advocacy group Genetic Alliance, and a biotech company InVitae, these women are hoping to collect even a tiny fraction of the million or so reports Myriad has sent out over the past 17 years.
"That's a long time, and it's a lot of data. What's most important is that this information is accessible and in a database that's open to all researchers," says Joanna Rudnick, one of the leaders of the project (and my best friend). Rudnick made the Emmy-nominated documentary In the Family, which aired on PBS's POV series in 2008, about testing positive for a BRCA1 mutation.
There's an outtake scene in In the Family when Rudnick is walking down the hallway at Myriad and sees the company's schematic of various mutations. "I remember thinking, 'Why does the company own that information? Why isn't this mine?' " she says.
In a sense, this project is the answer to that question. And this isn't just an academic question. After being diagnosed with breast cancer in November, she underwent months of chemotherapy, and just weeks ago, had both her breasts and both ovaries removed. Access to more of Myriad's information could have helped her make some of those tough choices.
The new database is structured so that women can enter their clinical information: age, lifestyle factors, whether they have ovarian or breast cancer, family history, and so on. And they can choose exactly how much of that information they want to share by selecting their own privacy setting.
There's a lot at stake for women who haven't yet been tested yet, too. The Supreme Court ruling means that other companies can make cheaper tests for breast-cancer mutations, and some have already started to do so. But Myriad knows vastly more than anyone else which mutations in the genes are harmful and which are not. In effect, Myriad is guarding this information like the superstore Target treats its trade secrets on customers' shopping behavior.
But this isn't about whether a thirtysomething man in Brooklyn prefers boxers or briefs. Myriad's secrecy means that women afraid of cancer will be pre-emptively removing their breasts or ovaries even when their variants have already been classified as benign.
"It's their condition, it's their genes, it's their mutation, it belongs to them," says Robert Nussbaum, professor of medicine at the University of California-San Francisco, and architect of ClinVar, an openly accessible database that the Free the Data project will feed into. "The idea of a company keeping this data as their intellectual property is disgusting."
Nussbaum says he was so convinced the Myriad patent would be struck down that he began approaching these centers more than a year ago to pool the information into ClinVar. So far, says Nussbaum, he has collected more than 4,000 reports; about one-half are already accessible in ClinVar, including 300 that were not in the public domain before.
There's also another set of projects, led by former Myriad scientist Sean Tavtigian and his colleagues, that's partly based on the information Myriad shared till 2006. Nussbaum says he's open to collaborating with those researchers.
Last weekend, the American Medical Association adopted a resolution that Nussbaum proposed, urging companies to share their genetic data. Given Myriad's unsavory reputation, it's unlikely to bow to that sort of tepid pressure. But in the meantime, this new set of activists is doing what it can to take back their DNA.
Six years ago, Myriad told Rudnick that only she and her mother had the particular mutation she carried. But in the years since, other women with the same mutation may well have been identified and may have had valuable information that could have helped her—about their prognosis, at what age their mutation led them to cancer, whether and how they survived, and which chemotherapy drugs they responded to. Only Myriad knows who those other women are—for now, at least.
Future Tense is a partnership of Slate, New America, and Arizona State University.