The Best Windows PC on the Market Is … the MacBook Pro?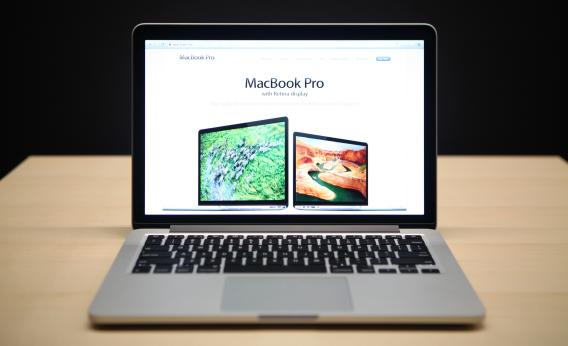 A steep drop in PC sales last quarter launched a thousand theories as to what's wrong with the PC industry. Some said PCs were dead as a category. Some blamed Windows 8. I argued the real problem was that PCs have become more durable. Why buy a new one when your old one still works fine?
But there's at least one other possible contributing factor worth considering: People are buying Macs instead. Tuesday's Apple earnings report provided some support for this hypothesis. As my colleague Matt Yglesias noted, Mac sales were down just 2 percent year over year, compared with 14 percent for PCs, and Mac revenues were actually up.
Now comes a report that grinds a little salt into the PC industry's wounds. Soluto, a cloud-based PC-services company that helps people manage and troubleshoot their computers, released its first PC purchasing guide for small businesses. The ratings are based on Soluto's own huge data set on the performance of its users' computers, including application crashes, boot times, and blue screens of death. The company focused solely on laptops running Windows, and came to a startling conclusion: "MacBook Pro is the best Windows PC on the market."
But wait: Apple's MacBook Pro doesn't come with Windows! In fact, Soluto explains, that may be one of the biggest factors in its favor. Every Windows installation on a Mac is "clean," meaning that the operating system comes exactly as Microsoft intended, without all the bells and whistles that PC manufacturers tend to add to their own products. The report admits that could be seen as "unfair competition," but adds that it's simply comparing the machines as they actually perform in the field. The takeaway: "PC makers should look at this data and aspire to ship PCs that perform just as well as a cleanly installed MacBook Pro."
To be fair, the MacBook Pro is also more expensive than any of the PCs in the comparison. The overall value winner appears to be the Acer Aspire E1-571, which ranked second in reliability despite its meager starting price of $429. Dells also dot the top 10, while as ZDNet's Ed Bott points out, HP, ASUS, and Samsung failed to crack the list at all. Here's the full list:
Future Tense is a partnership of Slate, New America, and Arizona State University.