Would You Ever Snuggle Up With a Cuddling Robot?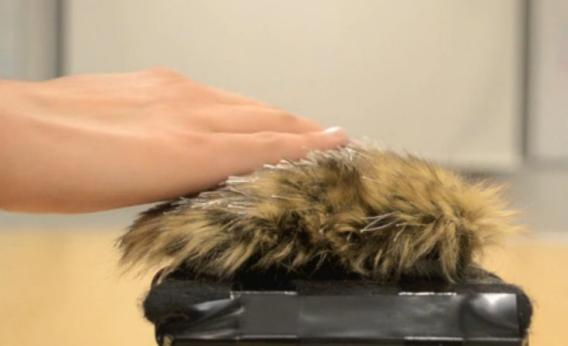 Every Friday, Future Tense rounds up the best robot videos of the week. Seen a great robot video? Tweet it to @FutureTenseNow, or email us.
This week, robots want some heavy petting, make a beautiful mess, and won't let you out of their sights.
The Sensitive Bot
Were you looking for a cuddle partner on Valentine's Day? This little robotic ball of fur wants to feel your soft touch. Cuddlebot was created by Anna Flagg, a Canadian artist and computer scientist. It can tell the difference between nine kinds of touch, responding differently to being stroked, scratched, or tickled—and it reacts based on those interactions. Flagg sees this as a step toward creating machines that respond to—and with—emotions. If it's successful, it could mean the rise of therapy robots, designed to help people feel better. So look out, llamas, this bot's coming for your job.
The Senseless Bot
This robot gets to live out your inner child's wildest dreams. With paint and some water pressure, the rolling cart makes a huge, beautiful mess of any wall. It's called the Senseless Drawing Bot No. 2, and its muse is nothing more than a little inertia. High-power water sprayers blast the paint onto the wall, and the energy from the sprayers keeps the arms moving up and down. This is a beefed-up version of its predecessor, which tagged walls one color at a time using a dangling arm. From the video it's not easy to tell how messy this bot can be. Check out the photos on Creative Applications to this thing destroy a room, and then reminisce about the days of decorating your bedroom wall with your favorite box of crayons.
The Stalker Bot
There's an easily imagined future full of drones buzzing overhead. Not just war drones (that's already a reality in parts of the world), but police, commercial, and personal drones, too. Former Wired editor Chris Anderson, now the CEO of 3D Robotics, recently demonstrated what drones can already do. In this video, he walks around a clearing in Berkeley, Calif., being followed by what appears to be a quadcopter. Anderson posted the video on his Google Plus account last week, saying he used a laptop with a GPS-enabled USB dongle, allowing the bot to follow him "like a pet robot bird." The flight is all autonomous, and you can imagine the bot's working hard in that extreme wind. Let your mind run wild with exactly what this means for the future (one worrisome possibility: stalking), but my bet is we'll be seeing more and more videos like this in no time.
The Best Employee Bot
Last week I linked to a great piece explaining why robots aren't taking human jobs anytime soon. This week, there's a clear exception to that. Looking to save some money, a Little Caesar's pizza shop in Fresno, Calif., built a robot to stand on the street and wave a sign around. Workers at the shop can wheel the bot out to the street, switch it on, and let it shake all day. It doesn't come in late, complain, or take a day off, and it only costs about $1,000 a month to rent. That's less than it would cost to have people doing the job around the clock, but of course it's not nearly as flashy as the sign-spinners you might be used to. As local sign-spinner "Princess" tells a reporter for Fresno's ABC affiliate, the robot can't match the range of motions of a human uses to grab the attention of passersby. And her best argument for why the robots aren't good at the job? "They have no class."
Cameras tucked inside robotic penguins yielded some amazing footage inside penguin colonies, which is featured in the BBC documentary "Penguins: Spy in the Huddle." More from Yahoo News.
Witnesses remember more information about a crime when interviewed by a robot. More from New Scientist.
Future Tense is a partnership of Slate, New America, and Arizona State University.