This Chainsaw-Wielding Robot Comes in Peace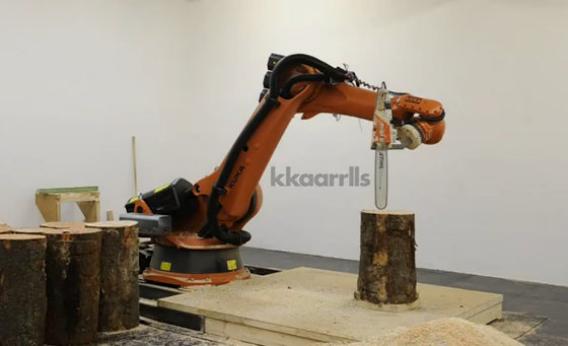 Every Friday, Future Tense rounds up the best robot videos of the week. Seen a great robot video? Tweet it to @FutureTenseNow, or email us.
This week, a robot wields a chainsaw, DARPA plans for a satellite doctor, and a 3-D printer spits out a full-size humanoid.
The Lumberjack Bot
This rugged robot doesn't have a name, but it does have one particular skill: carving two stools from one log. The chainsaw-wielding industrial arm is the creation of European designers Tom Pawlofsky and Tibor Weissmahr. When given a log, it strategically cuts into the wood to produce two stools and two additional parts that all fit neatly together for storage. The stools are carved with millimeter precision, and bits of sawdust are the only scraps left behind. The robot was shown off at last week's Passagen 2013 Interior Design Week in Cologne, Germany, where viewers could then buy their very own set of stools.
The Orbiting Mechanic Bot
We scarcely think about what happens to the satellites that orbit Earth when they have finished their jobs, unless one happens to be making its way back to us. But defunct satellites are nothing more than space litter, and their expensive components typically go to waste. Now DARPA has a characteristically far-out plan to solve this problem: use robots to mine dead satellites for parts and recycle them as new communications "satlets." The concept video here shows how it could all play out. If the idea can be put into practice, it could help clean up some of the space junk orbiting our planet and also reduce the costs for getting new communications satellites in place. So the idea is for robots to capture and disassemble satellites in order to build new ones, all while floating in orbit. Yeah, it sounds like a big task, but what would DARPA be without pipe dreams?
The 3-D Printed Bot
If 3-D printers can bring us houses, surely they can handle a mere humanoid machine. This bot, named InMoov, started out as just a hand, but its French designer Gael Langevin kept at it. The current design brings together a head, a torso, and arms, all controlled with an Arduino board. The project is open source, meaning anyone with the materials and technical know-how can follow the instructions and give it a shot. Though the skills InMoov demonstrates in this video aren't exactly astounding, it shows a lot of potential for future development, especially if a community of contributors chimes in. At a total cost that's likely less than $1,000, this design could also aid the proliferation of large, relatively versatile DIY robots.
The Sharp Turn Bot
Tails are useful tools for a lot of animals, and quite a few roboticists are finding uses for the extra appendage in the machine world. In this case, a group at the University of California-Berkeley developed a tail mechanism that enables their robot to make quick, sharp turns. The tail snaps from side to side, using enough force to change the bot's direction. With the tail, the crawling robot can manage a corner, spin all the way around, or do a "lane change," and the process works whether the bot is on slick tile or a rocky terrain. Berkeley's Biomimetic Millisystems Lab has a bunch of innovative devices inspired by real-life creepy crawlers, including the recent super-fast roach robot and another with a clever vanishing act.
Does the rise of robots mean a rise in unemployment? Industry experts at the Automate 2013 trade show say it's just the opposite, expecting robots to usher in up to 3.5 million new jobs around the world by 2020. Read more in the New York Times.
Did you know the word robot came to the English language by way of a Czech play in 1921? VICE takes a look at the play and what its greatest legacy means today.
Robot chauffeurs could be the key component of flying cars. An MIT professor and former Navy pilot offers insight in the Boston Globe.
Future Tense is a partnership of Slate, New America, and Arizona State University.