The Funny, Embarrassing, and Disturbing Ways People Can Use Facebook's New Search Tool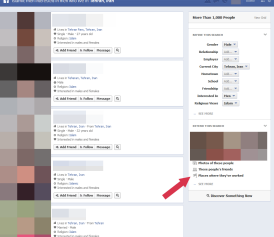 London-based Web prankster Tom Scott has hit on the simplest way to drive home that point: A Tumblr blog called "Actual Facebook Graph Searches," which consists of screenshots of actual searches that are now possible on the site (or will be soon, for those who don't have the feature yet). Some are merely amusing or embarrassing: "Mothers of Catholics from Italy who like Durex," for instance. Some expose apparent hypocrisy, like "People who like Neil Patrick Harris and Focus on the Family." Some are potentially creepy, like the one below: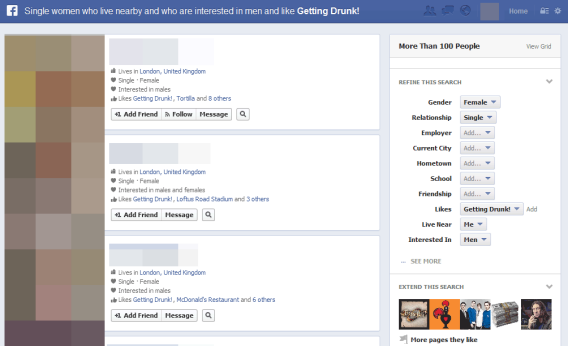 And some could theoretically land people in prison, or worse: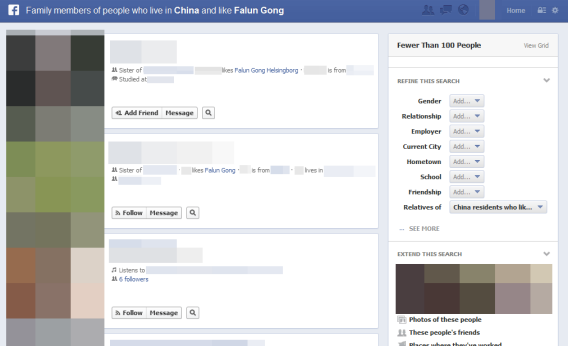 That's not even the scariest one, Scott told me in an email. "There's one I'm not putting online (or even mentioning to journalists), because it could be abused for immediate and worrying harm by sociopathic Internet users," he said. He acknowledges others that he has posted could easily be harmful as well, but doubts he's giving any ideas to repressive regimes: "I'd bet money they've already thought of it and have already done those searches," he explains in a short FAQ.
If this makes Facebook's Graph Search sound like a privacy nightmare, well, in many ways it is. There are a few mitigating features, though. The search function is carefully designed to honor users' privacy settings, so if your "likes" and status updates are set to friends-only, they won't be accessible to the public at large. Scott says all the information shown on his Tumblr has been set to "public" by users, which means they're either comfortable telling the world about it, or they don't understand how privacy works on the site (which, of course, is true of a lot of people).
Beyond that, there's the fact that Facebook "likes" and profile settings aren't necessarily accurate reflections of reality. A search for "Married people who like Prostitutes" seems more likely to turn up people who thought it would be funny to hit "like" on a page called "Prostitutes" than actual johns. And note that those "Islamic men interested in men who live in Tehran, Iran" (see screenshot at top of page) all say they're interested in both males and females, which probably just means that they interpreted "interested in" in a non-sexual way and decided not to discriminate by gender. Still, I wouldn't envy the hypothetical position of a Chinese citizen trying to convince Communist Party agents that he hit "like" on the "Falun Gong" page ironically or by accident.
Scott says his goal isn't necessarily to make a deep point about the death of privacy. "I think, at this point, we're basically all just rubbernecking—myself included," he says in his blog post. "Facebook does have good privacy settings, but there are many, many people who don't know how to use them."
If you're among them, now would be an ideal time to change that. Graph Search for now is only available to a small minority of Facebook users, but it will be ubiquitous soon. You can start by taking a quick tour of Facebook's privacy help page, available here.
Future Tense is a partnership of Slate, New America, and Arizona State University.