The Week's Best Robot Videos: A Creepy Cockroach and a Creepier Baby Bot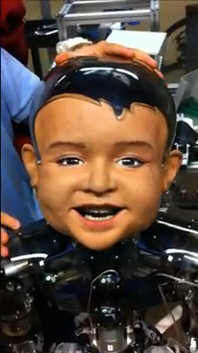 Every Friday, Future Tense rounds up the best robot videos of the week. Seen a great robot video? Tweet it to @FutureTenseNow, or email us.
From a device built to beat your PIN number to a dress that keeps others away, this week's robots are here to make you uncomfortable.
The Babyface Bot
Take a look at this, if you can. Diego-san, from UCSD's Machine Perception Laboratory, comes achingly close to reaching the other side of the Uncanny Valley—so close that you just can't look away. The child-size robot has an enlarged version of a 1-year-old boy's face, and the body stands about four feet tall. It's another example of the dedicated push to create lifelike robots that don't creep everyone out. The reward for doing that could be huge, giving researchers an extreme degree of control when studying social interactions or cognitive development, and making robots a more natural fit for other parts of our world, like the classroom.
The Roach Bot
If you're not thoroughly creeped out yet, this one might do the trick. VELOCIRoACH, as its name implies, is a fast, roach-like robot. It is made mostly of cardboard, has six legs, and can run 2.7 meters per second. That's even faster than a real roach, which tops out around 1.5 meters per second. The robot hails from UC-Berkeley's Biomimetic Millisystems Lab and propels itself forward on small C-shaped legs that hit the ground 15 times each second. As New Scientist explains, even the part where the robot runs straight into an obstacle is intentional. Like its biological counterpart, the bot rams into an object so it can bounce back and pop up onto its rear legs, giving it leverage to jump over the object. This robot is actually a finely crafted work of art, so it'll be a real shame when it inevitably meets someone's swift, well-placed boot.
The Code-Cracking Bot
With this device, no PIN number is safe. JJ, a blogger who documents his DIY projects on dashfest.com, picked up a used Garmin GPS device that had been protected by a PIN number. Using parts from around the house—like clothespins, and parts from a DVD drive and a printer—he built his own Arduiono-powered gadget to crack the navigator's code by going through all possible four-digit combinations, from 0000 to 9999. JJ estimated it would take 36 to 40 hours to cycle through all 10,000 possible choices, but he got lucky—the answer, 0248, was toward the beginning of the series. The lesson here is you may not be able to stop people from gaining access to your devices, but you can at least make your PIN number a really high value so it frustrates anyone trying to break in.
The Dressy Bot
With a little more than a week to go until the presidential inaugural balls begin in Washington, time is running out to find that perfect dress. And if your ideal gown is one that makes sure nobody gets near you, then you're in luck. Spider Dress is a rare adventure into robotic couture, created by designer Anouk Wipprecht and engineer Daniel Schatzmayr. The dress is equipped with six animatronic limbs attached at the shoulders, which can take any number of unwelcoming positions. As a person moves closer to the wearer, the legs contract into a protective position and probably scare off everyone in the vicinity. On YouTube, Wipprecht says the device was built "to give more power and 'psychological thrills' " to fashion, and it's safe to say this goal was reached.
iRobot CEO Colin Angle says personal robot butlers are still a decade away. More from the Verge.
Vote now to give robots a place in the Monopoly world! Hasbro announced that one classic token will get the ax, and another will be swapped in, based on the tallies from a Facebook poll. So please, don't let the guitar or the cat beat out the robot—and save the battleship while you're at it, too. More from USA Today.
Two seafaring robots (yellow submarines!) discovered and helped protect nine critically endangered whales off the Gulf of Maine last month. More from Yahoo News.
Future Tense is a partnership of Slate, New America, and Arizona State University.