New Digital Divide: Whites Less Likely to Own Smartphones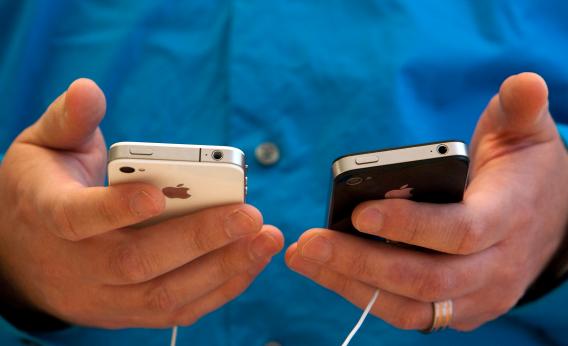 It has become a platitude in the technology industry that the future is mobile. But as more people turn to their smartphones for email, web browsing, and social networking, one group of Americans is being left behind: white people.
Nielsen's latest Mobile Insights study shows that whites are the only group of U.S. mobile subscribers who are more likely to own an old-school "feature phone" than a smartphone like the iPhone or Samsung Galaxy. Two-thirds of Asian-American mobile subscribers, 57 percent of Hispanics, and 53 percent of blacks own smartphones. For non-Hispanic whites, the figure is just 45 percent.

The Nielsen study doesn't include people who don't subscribe to mobile plans, so the figures could be slightly skewed if some groups are more likely to use prepaid phones. Still, the takeaway is that as Americans shift from using the Internet on their computers to using it on their phones, at least one form of the traditional digital divide—the racial component—should start to close. The findings are consistent with other recent studies showing that blacks and Hispanics are far more likely than whites to make purchases on their mobile phones.
It stands to reason that the income divide in terms of Internet access should shrink as well, since poor people are much more likely to be able to afford a smartphone than a laptop.

Future Tense is a partnership of Slate, New America, and Arizona State University.