Stephen Colbert Out of Character: How He Might Be as Late Show Host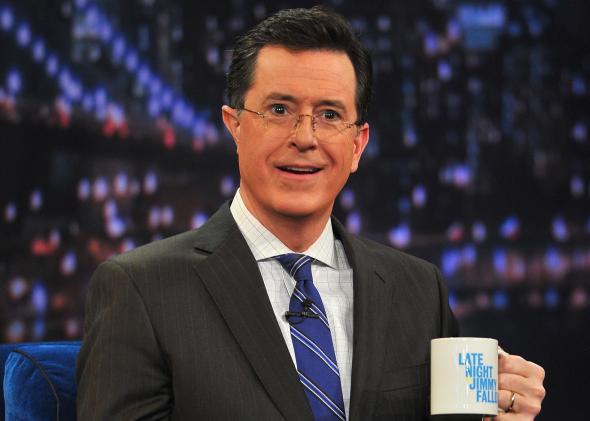 CBS announced today that Stephen Colbert will take over for David Letterman as host of The Late Show. The announcement left many curious: We know Stephen Colbert the persona from The Colbert Report, but what is Colbert like when he's playing himself?

To give a better sense of what Colbert is like out of character, we've rounded up a few of his best out-of-character clips.

1. On The Late Show with David Letterman (2005)

Before the start of The Colbert Report, Colbert went on The Late Show with David Letterman. Though he was not the household name he is today, he seemed comfortable being himself and talking about what it was like to grow up as one of 11 brothers and sisters.
2. Hosting The Daily Show (2004)

With Jon Stewart out ("suffice it to say there's a reason why the M-80 firework is banned in 49 states," Colbert cracked), Colbert hosted the Daily Show back in July 2004. His demeanor as host will be relatively familiar to fans of the Report—as he does on that show, he still emulated many of the mannerisms of the news anchor—but he didn't adopt the same blowhard-conservative persona he uses today.
3. On Meet the Press (2012)

Colbert has appeared more than once on Meet the Press. In this interview, Colbert switches in and out of character to show both Colbert the persona and Colbert the performer responding to the 2012 presidential race. As a performer, he says he was pleased "that Mitt Romney got his shit in a pile."
4. On Slate's Political Gabfest (2013)

Last March, Colbert made a special appearance at Slate's live Political Gabfest in New York City. In the tradition of the show, he offered his own "cocktail chatter," about Richard Nixon.
5. Explaining his character to John Kerry (2007)

For this video, Talking Points Memo was allowed backstage at the Report to see Colbert explain his "willfully ignorant" character to Sen. John Kerry.