Shelley Jackson Is Writing a Short Story in the Snow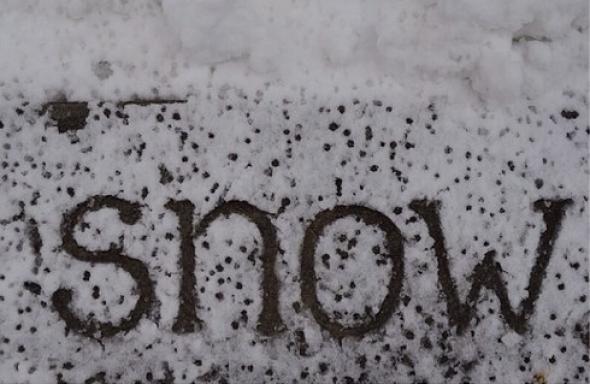 The project recalls Jackson's 2003 Skin Project, a novella that she wrote on the skin of volunteers using tattoos. The social media approach brings to mind Teju Cole's recent short story transmitted entirely by retweeting others on Twitter.

Jackson says she writes the words in the snow with her fingers, whole hand, stick, or pencil, depending on size. While she notes that typographers might be able to spot a lack of consistency in the letterforms, to this eye, they are remarkably uniform. The snow also helps with the black-type-on-white-page aesthetic that she is going for, attempting "to position my project in relation to the history of the printed book," she wrote to me in an email. "Plus, the more precise and regular my letterforms are, the more surprising they look, I think, set against the more accidental beauty of snow."

While there are some coincidental moments of meaningful juxtaposition, like the time she wrote "edges" under a circular tire swing, for the most part the words are written near her home in Brooklyn with no particular significance. "I think about things like whether it is more interesting to link the meaning of the word to its appearance (trace the word 'red' on something red) or to make them clash (put it on something green). Sometimes I go one way, sometimes the other," she added.
At first, she planned to finish all the words before making the project public, but each word took so long to do that she realized it would take years to finish even a very short story. "Plus it struck me, belatedly, that it would be much nicer to let the story precipitate slowly, like snow, a few words or sentences at a time. That was what decided me on using social media."
And while we may be a generation of bingers, it can be nice to enjoy the story like we enjoy the snow—as it unfolds slowly over Instagram. And don't worry, Jackson assures us that it's already written, "I'm not making it up as I go along—but I wrote it specifically for this project, so the form was not an afterthought!" Which is a good thing; rumor has it more snow is on the way.

It's a work in progress, but you can read the first part here:
Update, Feb. 13, 5 p.m.: This post has been updated with more information after hearing back from the artist.