It's OK to Eat Pizza With a Fork and Knife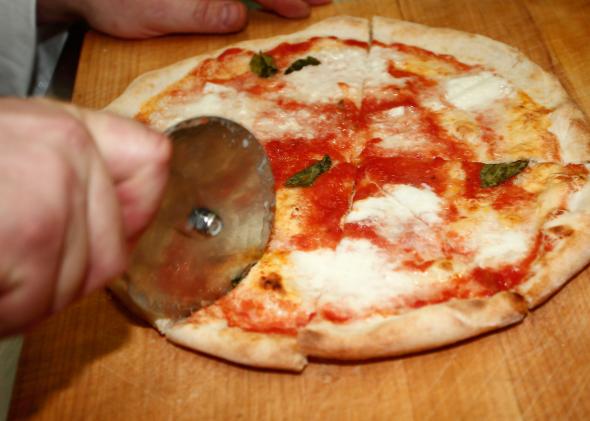 Stewart, in his scornful, profanity-laden tirade, gave voice to what he seemed to think was a truth universally acknowledged: The only proper way to eat pizza is with one's hands—especially if one lives in New York. Or, as Stewart put it, "Everyone knows you're not a real New Yorker until your shirt has at least seven see-through orange grease stains on it."
I make a living presenting my arbitrary opinions about food as though they were facts, so I understand the impulse behind Stewart's pizza prescriptivism. But the correct position on pizza-eating techniques is a flexible, open-minded one that takes context into account. Some pizza slices are sturdy, with a thick, bready foundation. Such slices are easy and pleasurable to eat with one's hands. But other pizza slices are floppy—perhaps overladen with sauce or toppings, or simply too thin-crusted to withstand the weight of the cheese—and these slices are much more enjoyable to consume when you use a knife and fork. Surface area makes as much difference as crust consistency—large slices are, as a rule, more difficult to eat by hand than small slices.

Now, whether pizza slices ought to be sturdy or floppy, broad or dainty, is a legitimate question. And if Stewart and the rest of the New York City-based media were debating the qualities that a proper pizza should possess, that would be a harmless argument. But these self-appointed pizza czars aren't presenting an argument about how a pizza should be—they're presenting an argument about how a person should be. Specifically, how a New Yorker should be. And this type of argument is obnoxious.
The implication of Stewart's diatribe is that only effete, hoity-toity types eat pizza with utensils, while real salt of the earth folks—especially real salt of the earth men—eat pizza with their hands. De Blasio presents as a tall, masculine guy, and his political persona is as a man of the people. So when he eats pizza in a way that doesn't read as sufficiently manly or populist, Stewart calls him out for it and tries to bring him back in line. It's a subtle bit of gender and class policing wrapped up in humor.
But why should eating pizza with one's hands be any manlier or more authentic than eating pizza with a knife and fork? Why shouldn't people eat pizza however the heck they want? To quote another famous New Yorker who's currently at the center of a rather more serious controversy, the heart wants what it wants. If Bill de Blasio wants to cut his pizza into bite-size pieces, let him. The new mayor should prove his populist bona fides with policy, not with pizza.