Hear All the Music Kanye Samples on Yeezus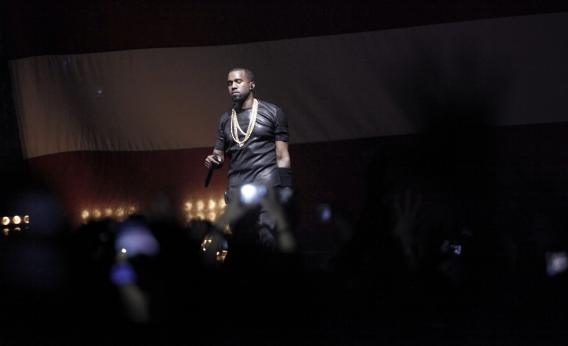 If you're still struggling to process the eclectic onslaught of Kanye West's Yeezus, which features everything from trap, drill, industrial music, and dancehall to, of course, hip-hop and soul, this mixtape of Yeezus source material from Babylon Cartel's Gianni Lee and Mike Blud is here to help.

We should note that not every last track here has been confirmed as an officially licensed sample. In particular, it seems that "Black Skinhead" did not sample Marilyn Manson's "The Beautiful People," though the two songs' drum beats do bear a strong resemblance (not to mention their similarity to a certain stadium stomper by Gary Glitter). The melody from "He'll Give Us What We Really Need," similarly, was apparently re-recorded rather than sampled. Regardless, most of this is immediately recognizable as the true Yeezus sources—even the Hungarian rock—and it is pretty great music in itself to boot.
01 Intro (Prod By Gianni Lee)
02 Holy Name of Mary Choral Family: "He'll Give Us What We Really Need ("On Sight")
03 Marilyn Manson: "The Beautiful People" ("Black Skinhead")
04 Capleton: "Forward Inna Dem Clothes" ("I Am A God")
05 Omega, Omega: "Gyöngyhajú lány" ("New Slaves")
06 Rahul Dev Burman, Asha Bhosle, Manna Dey: "Are Zindagi Hai Khel" ("I Am A God")
07 Kenny Lattimore: "Lately" ("I'm In It")
08 Nina Simone: "Strange Fruit" ("Blood On The Leaves")
09 TNGHT: "R U Ready" ("Blood On The Leaves")
10 Snoop Dogg: "Down 4 My N's "("Blood On The Leaves")
11 Lords Of The Underground: "Chief Rocka" ("Guilt Trip")
12 Pusha T ft Popcann Travis Scott: "Blocka" ("Guilt Trip")
13 Beenie Man: "Memories" ("Send It Up")
14 Wee: "Aeroplane (Reprise)" ("Bound 2")
16 Ponderosa Twins Plus One: "Bound" ("Bound 2")
17 Brenda Lee: "Sweet Nothin" ("Bound 2")