Can Five Great Photographers Really Collaborate?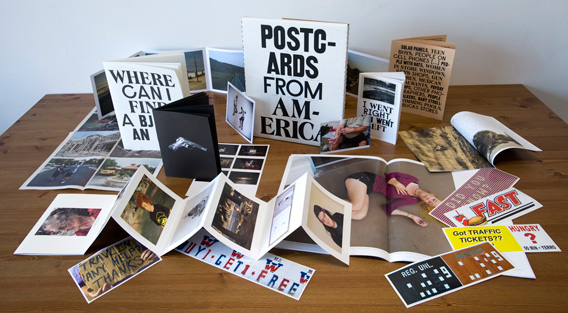 Is it possible for five established photographers to collaborate successfully? It's a lovely idea, but I confess I was skeptical upon first hearing of the Magnum "Postcards from America" project a few months back, which involved Paolo Pellegrin, Jim Goldberg, Susan Meiselas, Alec Soth, and Mikhael Subotzky taking the road, like some band on tour, attempting to create something together.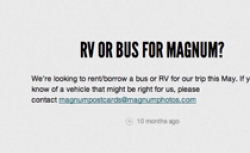 Those who are invited to become members of the Magnum collective are rockstars of the photography world. (As you may know, here at Slate we have a relationship with Magnum and feature work from their archives daily. But independent observers will tell you the same thing.) Those who make it into Magnum are known for their distinctive approaches to photography; each member is accustomed to working independently. Asking a group of them to create something together sounds great, but it's a bit like suggesting Oprah, Ellen, Maury, and Montel conduct an interview together: It would be interesting to watch, but it's hard to imagine they could pull it off.
But somehow these photographers did: Postcards from America—a box set containing zines, bumper stickers, postcards, and a build-it-yourself-poster—which became available this week, is the proof.

I talked to one of the photographers, Alec Soth, as he was picking up the boxes from a warehouse in the cold. He was clearly excited: What had begun as a casual idea thrown out by Susan Meiselas at their annual meeting had become a concrete product in his hand—a product that is different than most Magnum work, and for reasons besides form. For one, it focuses squarely on America. (Magnum photographers frequently fly to far corners of the world for their pictures.) Most strikingly, though, it's not particularly clear who made what. Entire stories are credited to more than one photographer—sometimes photographs are not attributed at all. (The box includes an easy-to-miss index where tiny thumbs of all the images have credits). This is weird, but enjoyable—like watching a movie without credits.

"We thought of it as an experiment—we won't try to produce something polished and perfect. We'll play and try new things," Soth says.

Molding a cohesive product out of a 15-day journey with five very distinct photographers was a process, he says. The metaphor of a rock band was the one the crew used most frequently as they traveled from Texas to California.
There is a funny moment on the Tumblr blog they kept along the way, where they run into the actual bands Of Montreal and Painted Palms at a motel. Soth asked Palms bassist Paul Keelan (above) for advice on living on the road. "You just gotta keep monkeying around," he said.
Taking turns playing the different roles was great, he says, except that some people just aren't meant to play bass. These photographers work for a single collective, but that does not mean that their style is remotely similar. Some like Paolo Pellegrin work quickly and shoot tons of photos.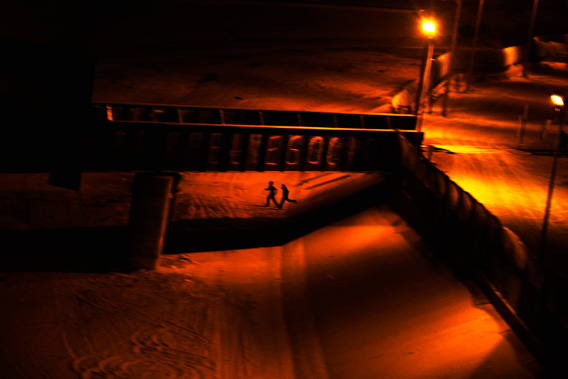 Soth comes from a large format background, which means he is used to taking fewer pictures. Meiselas, meanwhile, is accustomed to working on long-term documentary projects and has often found herself frustrated along the road.

"She sort of loathes photography that is in and out. It's kind of antithetical to the way she works. She really struggled with that."
Beyond stylistic differences, there's also the sheer fact that these photographers see differently. While in El Paso, Meiselas photographed this barbed wire fence in front of a billboard, advertising a strip club. "Non Stop Beautiful Ladies," the sign says.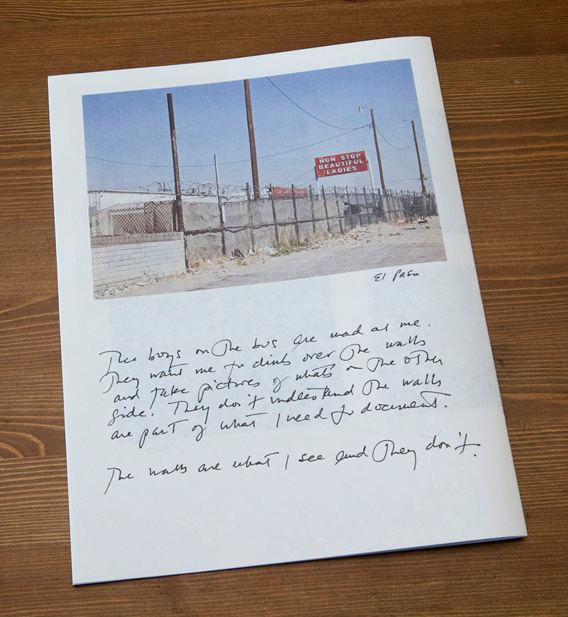 Below the photo, she writes, "The boys on the bus were mad at me. They wanted me to climb over the walls and take a picture of what's on the other side. They don't understand that the walls are part of what I need to document. The walls are part of what I see and they don't."
This hits on just what makes the project so interesting. There have been been many great photographic road trips throughout America. Usually we get one vision, but here we get five—photographers of different ages, nationalities, and styles—blended together.

The gallery at top contains photos by Subotzky and Goldberg in Del Rio, Texas.
On some days, one of the photographers (or writer Ginger Strand, who accompanied them) would pick a theme. Then they'd split up into groups or pairs. On this day the theme was water; Subotzky and Goldberg walked around the springs. The zine is called I Went right, Jim Went Left or I Went left, Mikhael Went Right depending on which side you open. In the middle, there's a photo they took together.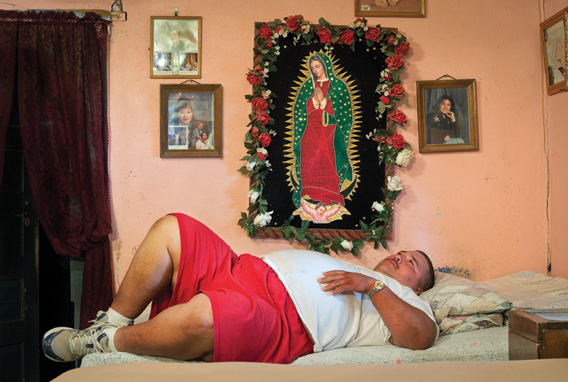 Antonio Ramos, a home care provider, lies there, un-self-consciously, beneath an image of the Virgin Mary. Just another nice photo by a Magnum photographer, right? But think about it: They started taking pictures at a park in the morning, and they were back at this man's parents' house by the afternoon. This man they had just met was comfortable enough to recline in bed in front of two strangers with cameras.
"There is something about road trip photography that is as much about the process of its making as the photograph. The Americans is as much about Robert Frank as it is about America," Soth says.

This photograph is not only about a man struggling to get by; it is also about two photographers who have known each other for a long time and worked in different parts of the world. Now they are doing something they have never done before: standing in a bedroom in Texas, making a photograph together of a man they just happened to meet at a park.

Oh Snap! is Brow Beat's weekly photo feature. More Oh Snap! posts: